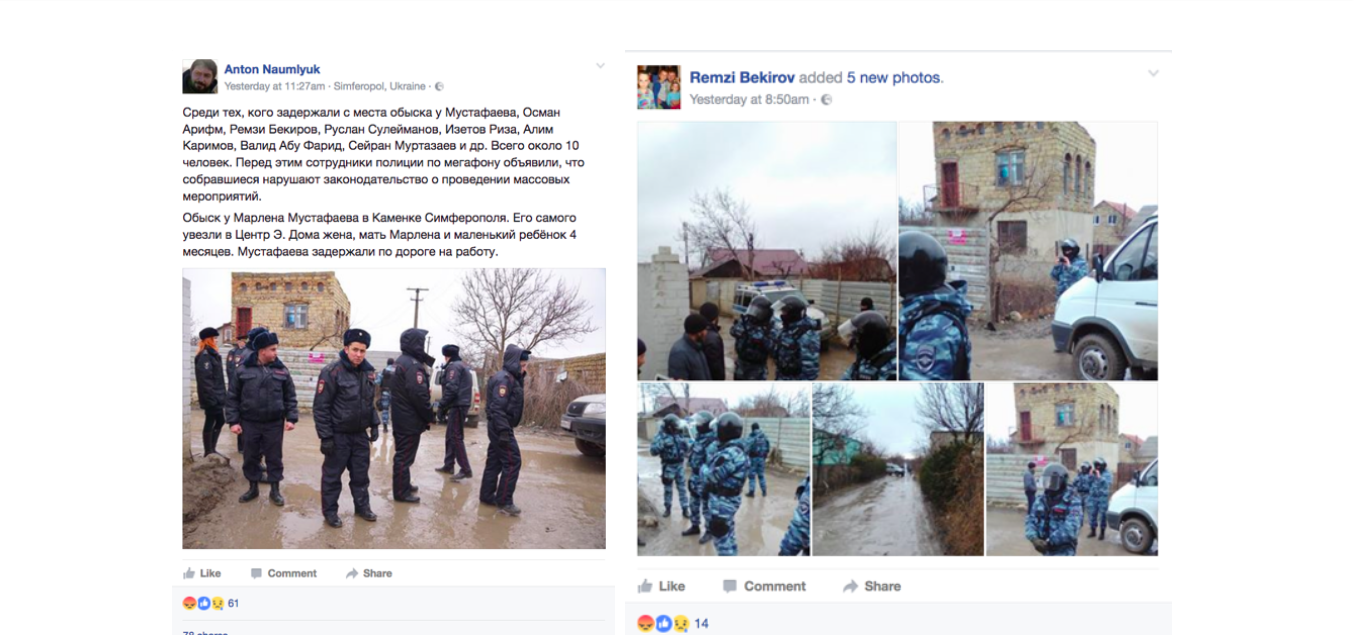 An open source investigation into a Russian security operation in Crimea
On February 21, Russian anti-extremism police forces searched Crimean Tatar Marlen Mustafaev's home and detained him on his way to work. There were reports that witnesses to the morning search were also detained.
That evening, Russian television channel Zvezda TV, which is run by the Ministry of Defense, reported on the arrest. However, an investigation into materials relating to the search on social media reveals that the Zvezda report was misleading, and used footage from another operation in its coverage of events.
Start the day with a surprise
The first report about Mustafaev's search came from Safiya Aisha, a Crimean Tatar human rights activist. At 7:59 am she posted:
"#Urgent #Crimea There are searches in Crimea again! Search is at the Kamenka dachas [country houses] in the house of Marel Mustafaev. He was taken on his way to work."
Fifty minutes later Remzi Bekirov posted images of the raid. The photos show at least five OMON special forces police officers in blue camouflage uniforms standing in a muddy street in a typical dacha setting, with predominantly single-storey buildings and a two-storey brick building.
An hour later, Safiya Aisha shared some of Remzi Bekirov's photos and elaborated on the situation:
"OMONists have gained experience. They don't want 'chaos' during the searches as it was in previous cases, including the case of Seyran Saliev and Emil Kurbedinov. All of the brothers who came to support brother Marlen were detained."
Aisha then listed the names of some of the detained supporters, including Remzi Bekirov. The fact that Bekirov was listed as having been detained at the scene, having posted images of the police action an hour before, suggests that the images he posted were genuine.
Later, at 9:54 am, Safiya Aisha posted a list of people who were detained during the raid:
The DFRLab verified that many of the people listed are in the "friends" lists on the FB or VK profiles of Mustafaev, Safiya Aisha and Remzi Bekirov, demonstrating that Mustafaev's supporters were socially connected.
Ukrainian journalist
Anton Naumlyuk, a reporter at Novaya Gazeta, also followed and wrote on the search and arrest .
At about the time that it became clear which people would be detained, Naumlyuk posted a geotagged image of a van with people inside:
"In Kamenka, Simferopol, a search at Marlen Mustafaev's house is taking place. They detained a few more people. Streets have been cordoned off."
At 11:27 am he posted an image showing the same brick building as seen in Remzi Bekirov's images. Though there were more men in police uniforms, an OMON officer in blue camouflage uniform is also visible in the background. He shared many of the same facts previously reported by Safiya Aisha:
"Those who are detained during the search of Mustafaev are Osman Arifm, Remzi Bekirov, Ruslan Suleymanov, Izetov Riza, Alim Karimov, Vald Aby Farid, Seyran Murtazaev. Overall it's about 10 people. Before this, policemen announced with a megaphone that those who are gathered are breaking the law on mass gatherings. The search is at Marlen Mustafaev's in Kamenka, Simferopol. He was already taken to the Centre E [extremism]. His wife, mother and a four-month-old child are all at home. Mustafaev was arrested on his way to work."
Later, at 3:22 pm, Naumlyuk posted the image of the van which supposedly held the detained people. The post said:
"Marlen Mustafaev and other 10 detained people are brought to Kiev District Court [in Simferopol]."
Media coverage
The posts on Facebook by the activists Safiya Aisha and Remzi Bekirov and the journalist Anton Naumlyuk were visible enough for local and national media to pick the story up.
Naumlyuk's Novaya Gazeta reported on it at 11:16 am EET:
https://www.novayagazeta.ru/news/2017/02/21/129246-v-simferopole-proshli-zaderzhaniya-krymskotatarskih-aktivistov
Ukrainski Nivini reported a minute later at 11:17 am EET :
https://www.novayagazeta.ru/news/2017/02/21/129246-v-simferopole-proshli-zaderzhaniya-krymskotatarskih-aktivistov
At 11:20 am, when it was clear which people had been detained, Crimea SOS wrote about the search:
https://www.novayagazeta.ru/news/2017/02/21/129246-v-simferopole-proshli-zaderzhaniya-krymskotatarskih-aktivistov
The same day, a broadcast was aired on Radio Free Europe/Radio Liberty's Krym Realii:
https://www.novayagazeta.ru/news/2017/02/21/129246-v-simferopole-proshli-zaderzhaniya-krymskotatarskih-aktivistov
The coverage in Ukrainian media used images from Facebook and reported the same facts shared in the posts.
At 5:30 pm, the event was also broadcast by Kremlin TV channel Zvezda:
https://www.novayagazeta.ru/news/2017/02/21/129246-v-simferopole-proshli-zaderzhaniya-krymskotatarskih-aktivistov
The Zvezda report included video footage of a raid, but its footage did not match the images shared on social media. It described the arrest as a mission of Russian Federal Security Service (FSB) and showed men in green camouflage, while the images posted on social networks showed men from the Special Police Forces (OMON) in blue camouflage.
The Zvezda coverage also included footage of the security forces inside what appears to be an apartment building (witness the number 16 on the door to the right of this screenshot), whereas the social media footage clearly showed a typical dacha scene of small, freestanding houses:
The footage also showed that there were at least three adult men in the building, while the post by Naumlyuk discussed above reported that Mustavanov's wife, mother and a four-month-old baby were all home.
The text of the online post accompanying the 19-second video headlined the claim that the detainees had extremist links; the reference to an "illegal public gathering" was relegated to the end of the story.
"About ten people were detained during a search in one of the houses in Simferopol. They are suspected of having connections with extremist organization 'Hizb ut-Tahrir', which is banned in Russia. This was reported by RIA Novosti who were informed by the Head of the Crimean government Committee on Interethnic Relations Zaur Smirnov.
"The operation was carried out by forces of the Center for Countering Extremism of the regional Interior Ministry.
"The arrest was carried out 'On suspicion of involvement in communications with Hizb ut-Tahrir', for possession of banned literature, but mainly for illegal public gathering, which prevented law enforcement agencies from carrying out operational work," Smirnov explained.
This is not the first search of its kind. One of the most visible cases was the arrest of lawyer and Crimean Tatar activist Emil Kurbedinov:
https://www.novayagazeta.ru/news/2017/02/21/129246-v-simferopole-proshli-zaderzhaniya-krymskotatarskih-aktivistov
He was accused of spreading symbols of extremism on social networks and was detained for 10 days.
Conclusion
It is clear from the social media evidence that the footage shown on Zvezda TV was not of the operation in Kamenka. The setting, the uniforms of the troops involved and the images of the detainees are inconsistent with the other online sources available.
Zvezda has a poor record for accuracy, so this could be a case of incompetence, and using stock footage without labeling it as such, rather than deliberate falsification. However, the narrative of cracking down on Crimean Tatars as "Islamist extremists" fits a broader pattern of pressure and intimidation brought to bear on Crimea's Tatars. At the very least, Zvezda's footage created a thoroughly inaccurate, if not wilfully distorted, image of events on the ground.
The digital traces of the event found on social media help to recreate the search of Marlen Mustafaev's house and offer not only different view on the event, but also facts that were misrepresented by Kremlin's TV channel.
Ben Nimmo is Senior Fellow for Information Defense at the DFRLab. Nika Aleksejeva is a Digital Research Associate at the DFRLab.