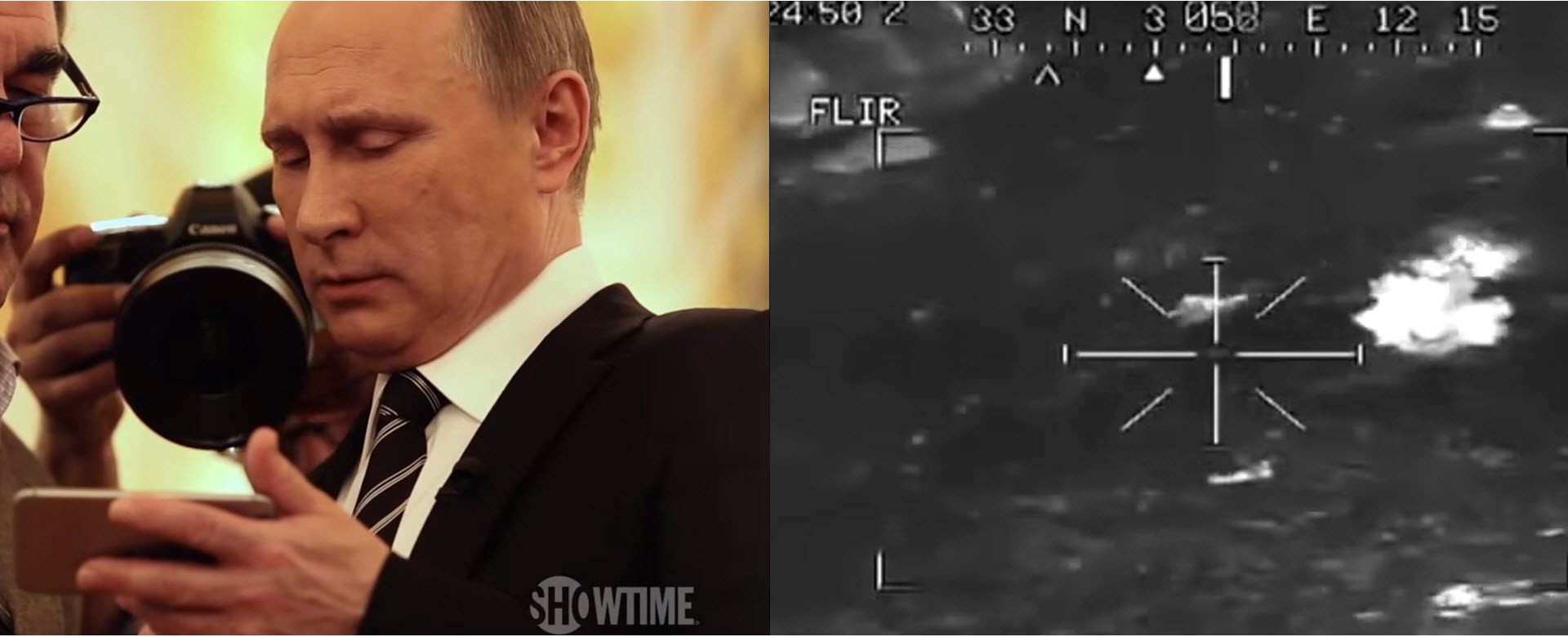 Russian president shows Oliver Stone video of U.S. in Afghanistan…not Russia fighting ISIS
In part three of Oliver Stone's "The Putin Interviews", the Russian president shows the director a video on a cell phone, showing what he calls "how our air force operates," with ISIS fighters running away "with weapons." However, this video does not show Russian aircrafts firing at ISIS fighters in Syria. Putin is actually showing an old video of a U.S. Apache helicopter firing at Taliban fighters in Afghanistan. The Conflict Intelligence Team (CIT) open source collective compared the two clips, showing that they were identical, but set to a different audio track.
Footage of "Russian helicopter bombing ISIS" shown to Oliver Stone by Putin appears to be taken from 2013 US Afghan video.H/t @meduzaproject pic.twitter.com/qmWD1W6Tnw

— CIT (en) (@CITeam_en) June 20, 2017
The original video can be seen below:
The overlaid audio, as shared on Noodle Remover News by Alexey Kovalev, is from a conversation between two Ukrainian pilots carrying out a mission over the Donbas in May 2014.
https://www.youtube.com/watch?v=tmLhLsGB2HA
With the content from U.S. and Ukrainian videos mashed and combined, the event Putin describes to Oliver Stone is not what is depicted in the video he presents as evidence. The falsified video Putin watched can be seen below, uploaded on March 9, 2016, by a YouTube user named "Edelveis Ararat."
https://www.youtube.com/watch?v=2RDlaoVSp34
The finding was originally shared on Facebook by Fedir Panasenko with credit to Artur Nalbandian. As Fedir noted, "This is all that you wanted to know about Russian propaganda — senseless and ruthless."
This is far from the first time that Russia has misrepresented its fight with ISIS in Syria. As seen in Atlantic Council's report "Distract, Deceive, Destroy", Russia often gave incorrect locations for its airstrikes in Syria, falsely claiming that they were targeting ISIS-controlled areas. For example, what was supposedly an ISIS-controlled oil storage facility in Al-Thawrah, Syria was actually a grain storage facility 150 kilometers away, near Surman.
The Russian Presidential Administration has not yet commented on the video.
UPDATE: Meduza asked Putin's press secretary, Dmitry Peskov, about the clip showing the American helicopter. Peskov's response was:
"It's not like that. Complete nonsense."
---
For more in-depth analysis from our #DigitalSherlocks follow @DFRLab.