Living in Luxury in the Donbas
Requisitioned and repurposed hotels in easternUkraine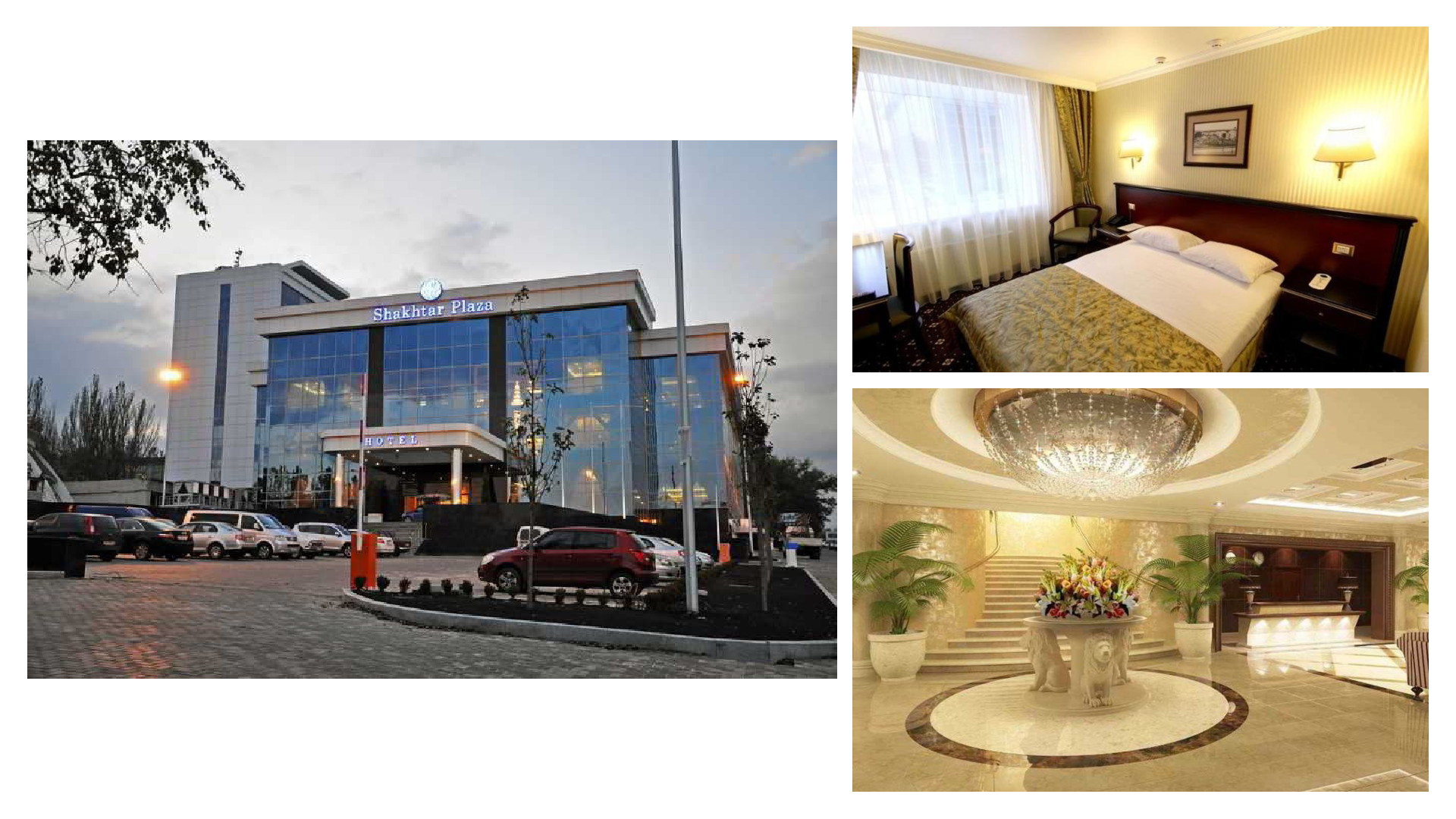 Requisitioned and repurposed hotels in eastern Ukraine
The control of private property in non-government-controlled areas remains an unresolved issue in the conflict in eastern Ukraine. In particular, civilian homes are often destroyed or used as military positions and private industries and companies have lost control of their facilities. Another issue is the use of hotels in non-government-controlled areas, particularly the city of Donetsk, where some have been outright seized by the local Russian-led authorities.
A Radio Svoboda article from December 2016 describes how buildings throughout cities and towns in non-government-controlled areas, especially Donetsk, have been converted into barracks and accommodation for Russian-led separatist forces and their so-called leadership. A former university dormitory was converted into a military barracks, the "Optima" and "Victoria" hotels now house Russian-led separatist leadership and, reportedly, Russian leadership. The current status of the Optima hotel is such an open secret that it is currently labeled as a barracks on the crowdsourced Wikimapia.
As @DFRLab reported, after months of Ukrainian protests and blockades against coal imports from non-government-controlled areas, energy companies were forced to cease operations, giving way for the Russian-led separatist takeover of factories, mines, and processing facilities. This incident was the latest sizable seizure of private property in eastern Ukraine where at least 46 companies, organizations, facilities, and even a school were "nationalized" by the so-called Donetsk and Luhansk People's Republics on March 1–2.
Ukrainian oligarch Rinat Akhmetov's DTEK Energy faced massive property seizure by separatist forces, and was largely powerless to do anything about it. DTEK reported the crime under Article 206(3) of the Criminal Code of Ukraine that states:
Obstruction of legitimate business activity, if committed by an organized group or by an official through taking advantage of his/her office, or combined with violence dangerous to life or health, or where it caused a significant damage or any other grave consequences, — shall be punishable by imprisonment for a term of five to ten years.
This brings to question an unresolved issue: how will the Ukrainian government address the issue of property seizure by Russian-led separatist forces if and when the areas are reintegrated?
The treatment of hotels in Donetsk serves as a prime example of the seizure and obstruction of legitimate business activity that has taken place in the non-government-controlled areas of the Donbas.
Park Inn by Radisson, Donetsk city
One of the aforementioned 46 properties is the Park Inn by Radisson in Donetsk city. Despite being "nationalized" and labeled "permanently closed" on Google Maps, the Park Inn by Radisson Donetsk still appears to be operational, as indicated by hotel reviews. Many of the Organization for Security and Co-operation in Europe's Special Monitoring Mission (OSCE SMM) to Ukraine's field monitors have stayed in the hotel, held several press briefings, and monitored ceasefire violations from the building. The hotel reportedly operates largely normally despite no longer being held by Radisson, charging rates in both the Russian ruble and Ukrainian hryvnia. Rather than being converted into a military barracks or destroyed, it appears local Russian-led authorities outright requisitioned the hotel.
Hotel Praha, Donetsk city
As @DFRLab reported, Zakhar Prilepin, Russia's "Hemingway," leads a battalion based in the Hotel Praha in Donetsk city (also called Hotel Praga or Hotel Prague). The 4th Reconnaissance and Assault Battalion of the Special Forces of the DNR Armed Forces (4 разведывательно-штурмовой батальон специального назначения вооруженных сил ДНР, or 4 РШБ СпН ВС ДНР for short) was created around July 2016. The hotel is no longer used for normal business or civilians; rather, it hosts concerts for separatist fighters and provides facilities (such as a gym) for them to train.
Hotel Victoria, Donetsk city
The Hotel "Victoria" in Donetsk city seems operational despite its "permanently closed" label on Google Maps. Reviews on a hotel booking websites indicate that guests have been staying at the hotel since the outbreak of the war in 2014, through the summer of 2016. However, there have not been many recent reviews or photographs from guests, and the hotel's Vkontakte page has been inactive for quite some time, indicating that there is little to no current business activity at the luxury hotel.
Instagram posts geotagged at the hotel indicate that the hotel's facilities are still used today, specifically the pool and gym; however, there are no recent images of any hotel rooms occupied.
Shakhtar Plaza Hotel, Donetsk city
Unlike many of the hotels in this post, the Shakhtar Plaza is fully operational, serving as a popular hotspot for Donetsk nightlife. Recent photographs from social media show actual (civilian) guests at the hotel.
According to many reports, Shakhtar Plaza's ownership is linked to Aleksandr Yanokovych, the son of ousted former president of Ukraine, Viktor Yanukovych. In April, the Ukrainian investigative television program Groshi profiled a night club in this hotel, calling it the "epicenter of night life" in Donetsk. Unlike the Radisson and Hotel Praha, Shakhtar Plaza has not only survived, but thrived under "DNR" occupation — likely due to its ownership group and close ties to high-ranking officials from the local "authorities."
Ramada, Donetsk city
A curious example among the Donetsk hotels is the Ramada hotel, which has maintained its previous ownership structure through the conflict. Not only has it kept its previous ownership, but it has survived through the ongoing war, as seen in the instructions provided to guests at the hotel.
Yea, totally 5 stars pic.twitter.com/lN45q1CPPY

— Dusty (@DustinGiebel) September 22, 2017
We can even find ongoing promotions on Ramada's official website for the hotel, showing that, despite the occupation of Russian-led separatist forces, the Ramada (under the ownership of Wyndham Worldwide) still has control over its property in Donetsk.
For example, on September 25, the Ramada hotel promoted a "superset" of sushi at the Donetsk location.
https://vk.com/ramadadonetsk?w=wall-40106428_2513
It is unclear why the Ramada is one of the only Western brands that continues to operate somewhat normally in Donetsk. Last year, a Vice report from Donetsk highlighted the curiousness of the Ramada:
All chains and brands — bar the lonely American spectre of the Ramada — have been kicked out.
Property "Law" in the Non-Government-Controlled Areas
In June 2015, the "Council of Ministers" of the so-called Donetsk People's Republic (DNR) approved an order establishing procedures for the "mandatory re-registration of property rights" in the so-called DNR. Property that was not re-registered per this "procedure" would be then considered "ownerless" so could be liable to expropriation. Under another so-called DNR "order," property that does not have an owner (or the owner is unknown) is considered ownerless and becomes property of the so-called DNR. Similarly, the so-called Luhansk People's Republic (LNR) underwent a property registration process where property that was not registered within the time period was promptly confiscated.
Looking forward — perhaps far, far forward — it is unclear what the fate of these hotels, along with many of the abandoned and occupied homes, will be under a reintegrated Ukraine. In the case of some hotels, such as Shakhtar Plaza and the Ramada, business has continued, and even thrived, with apparent agreements or collaboration with the occupying DNR forces. However, in the case of other hotels — namely the Praha and Radisson — the hope for the parent companies to reestablish ownership over their property is less clear.
---
Follow the latest Minsk II violations via the @DFRLab's #MinskMonitor.
Also, follow @DFRLab on Twitter for more in-depth analysis from our #DigitalSherlocks.