#ElectionWatch: Putin's First Month of (not) Campaigning
Putin's social media image in the first month of campaigning to become Russia's longest-serving president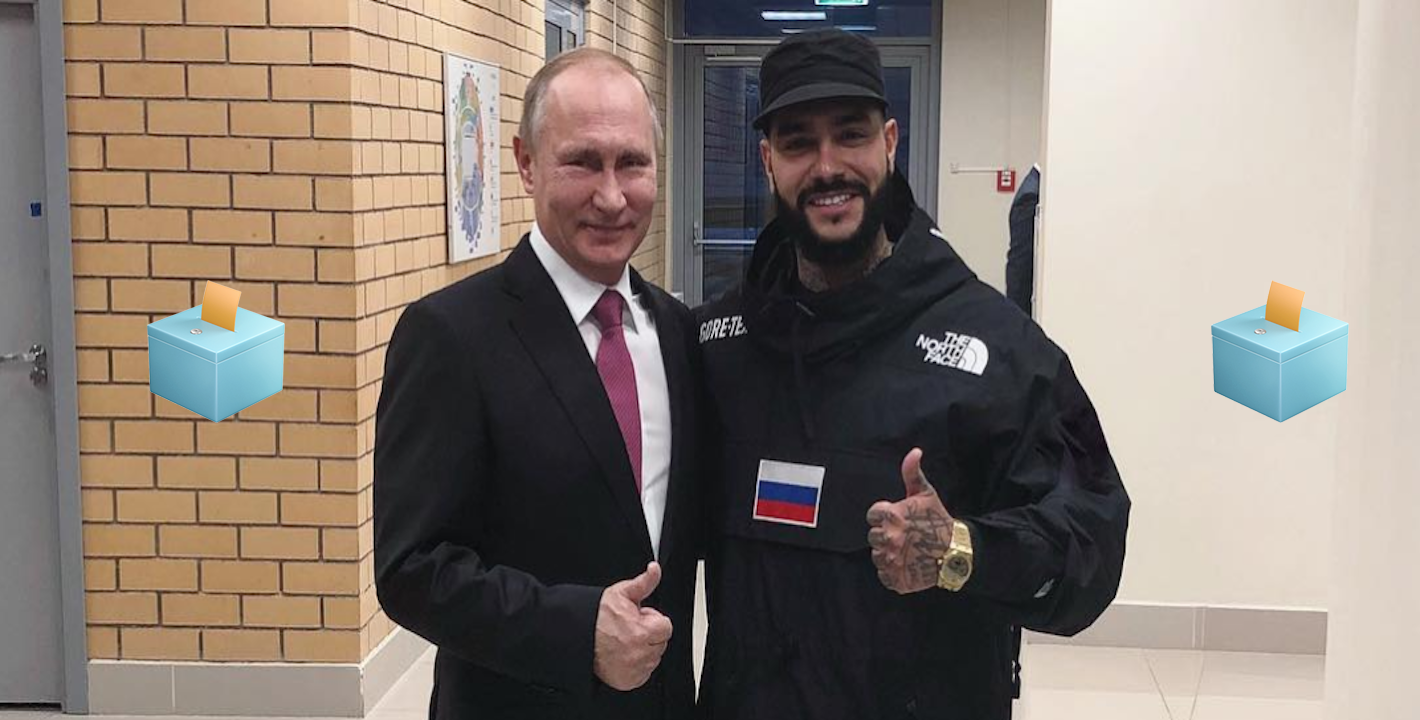 Putin's social media image in the first month of campaigning to become Russia's longest-serving president
On December 6, Vladimir Putin announced he will seek another term as Russia's President in the upcoming March elections. A month since the candidacy announcement, but Putin is yet to discuss the theme of his campaign or seed any election slogans publicly. As a result of the absence of Putin's direct involvement, at least publicly, in cultivating his campaign thus far, the candidate's social media image was left to friendly political groups, rivals, and meme-makers. The result has been mixed — from a record-breaking Instagram post in support to a public outcry over the alleged exploitation of minors in a campaign video.
We took an initial look at the leading candidate, by default, in Russia's presidential election.
Announcement
Putin's candidacy announcement on December 6 was met with a contained social media outburst with the most popular posts on VKontakte (VK) and Twitter celebrating the news.
On the day of the announcement, a Putin-founded youth movement named "All-Russia People's Front" (ONF) published a video showing a little girl writing a thank-you letter to Vladimir Putin, which her sister delivered to the president thanks to the group's network. The clip closed with a "Vladimir Vladimirovich, we are with you! #youthONF". Released less than an hour after Putin's announcement, the video achieved a whopping 5.6 million views on VK alone.
The video roll-out indicated coordination between the Kremlin and the ONF in mobilizing support for the launch of Putin's campaign on social media.
Not all social media users, however, were as supportive of Putin's candidacy. A website founded by a prominent Putin critic Mihail Khodorkovsky (khodorovsky.ru) posted on a cartoon on Twitter, which depicted Putin replacing himself in 2018 with a title "Hello again".
И снова здрасьте pic.twitter.com/8appkgVnay

— Ходорковский.ру (@khodorkovsky) December 6, 2017
While there were more posts criticizing Putin's third run, they were not as popular as the content in support of the incumbent's candidacy.
Another win for Putin occurred a day after his candidacy announcement, when a picture of him with Russian rap star Timati was posted on the celebrity's Instagram page with a note of admiration and achieved a record 1.4 million likes. The post was one of the most-liked pictures ever on Russia's Instagram.
https://www.instagram.com/p/BcZR5wEDQ9R/
Trip to Syria
A trip to Syria on December 11 was a also a domestic political success for Putin, evidenced by the popularity of the video released a week later called "One Day of Vladimir Putin" put out by a Putin fanpage on VK. @DFRLab previously reported on the policy announcements Putin made on his surprise visit to Syria. The video featured footage of Putin's trip and showed him meeting President Bashar al-Assad and Russian troops in Syria, flying to Cairo, and lastly visiting Turkey — all in one day.
The video was watched more than 600,000 times and liked 24,000 times on VK.
Press Conference
On December 14, Putin's annual end-of-year press conference offered a glimpse into dissatisfaction with his rule, at least among social media users.
A telling example was the NTV channel's live-stream of the 4-hour press-conference on YouTube, which got 18,000 likes and 43,000 dislikes.
The most popular comments under the video were hostile towards Putin's performance.
Similar negative sentiment during the press conference achieved significant engagement on VK. Popular posts mocked the repetitive nature of Putin's answers. A satirical VK page, Lentach, shared "Putin Bingo", which included words such as "sanctions", "pensions", and "renovation".
After the conference, Lentach also published a summary list mocking Putin's performance.
Тhe popularity of negative posts, and the lack of social media content praising Putin's performance, remained at odds with an opinion poll by the state-owned sociological research center, which found 88 percent of Russians, who saw the press-conference, were satisfied with Putin's answers.
Dead VK accounts
A serious blow to the campaign was dealt on December 17, when TV Rain ran a story about dead VK users writing messages of support to Putin under #PutinCool (#ПутинКрут) and using the pro-Kremlin group's Youth Gvardia logo. Meduza later reported there were only two accounts, which belonged to confirmed deceased, but that did not stop the onslaught of the memes.
Christmas campaign video
As the "Dead army" memes kept coming in, United Russia, the party Putin represented in the 2012 elections, put out a Christmas-themed campaign video, despite the fact that this time Putin is running as an independent candidate.
[facebook url="https://www.facebook.com/roissya24/videos/1933111616952214/" /]
The video featured a young girl talking to Santa Claus, telling him about the improvements in her school, hometown, and the country. She's listing her wishes, all of which focus on visiting the new public facilities built or improved by President Putin's government. Her biggest wish of all, however, is for Putin to be re-elected as President. The video ended with Santa putting his hand on the girl's shoulder and the "United Russia" logo appearing on his red glove. It closed with words: "Your dreams inspire us!"
The video was criticized for its "cynical exploitation" of children and was removed shortly after published, when the lawyers of another Presidential nominee, Ksenia Sobchak, accused "United Russia" of violating a law prohibiting the involvement of minors in election campaigns.
The incident showed that, although Putin is running as an independent candidate, "United Russia" remains an active campaigner for the party's founder.
Conclusion
In sum, Putin's social media image in Russia is currently curated by his allies, rivals, and meme-makers, with seemingly little direct or public involvement from the Kremlin or the candidate. While this strategy has the added advantage of flexibility, especially for those who seem willing to bend the rules, an underlying, unifying theme has yet to emerge.
If the existing material put out by United Russia, the ONF, and the Kremlin itself is any indication, the theme of Putin's election campaign is likely to be the stability of his regime, as well as the achievements of his government at home and abroad, which will likely be illustrated by comparing Putin's Russia with Russia before Putin — a phase which came to an end in 1999.
---
Follow along for more in-depth analysis from our #DigitalSherlocks.