#MinskMonitor: Russia Fires Across the Border
Ukrainian border guards fired at north ofLuhansk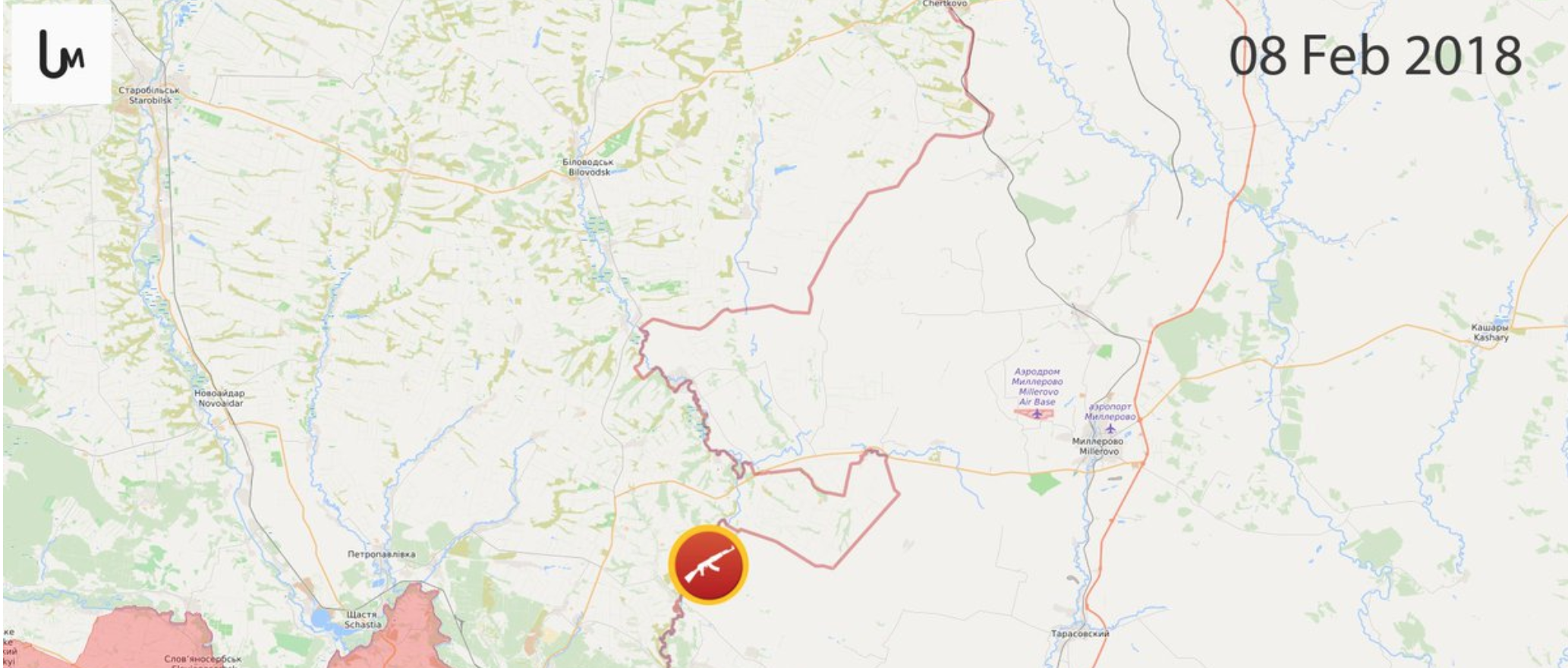 Ukrainian border guards fired at north of Luhansk
On February 8, the Ukrainian Anti-Terrorist Operation (ATO) Press Center reported that Russian forces fired "provocation" shots towards Ukrainian border guards stationed north of Luhansk. There were no injuries from the incident, and the Ukrainian border guards did not return fire. A map provided by the Ukrainian Embassy to the United Kingdom showed where the incident took place, near the Russian village of Ushakovka and Ukrainian village of Harasymivka.
It's not enough 4 RU occupants 2 shell Ukraine's Armed Forces from occupied areas of Donbas, today at 12:30 local time they opened fire directly from RU territory. Another gross violation of state border regime by RU aggressor. No losses from our side. RU must face responsibility pic.twitter.com/RfLGVZQxTb

— Ukraine's Emb. to UK (@UkrEmbLondon) February 8, 2018
Hromadske also provided a map of the situation, in which the red line indicated the area of control between the Ukrainian government and the so-called Luhansk People's Republic (LNR).
Headquarters of #Ukraine's military operations in eastern Donbas region reports shots fired from #Russia|n territory (near Ushakovka village, Rostov region — indicated by red arrow) in the direction of border guards in #Ukraine's Luhansk region. pic.twitter.com/WXk0v8NW6n

— Hromadske Int. (@Hromadske) February 8, 2018
As of this article's publishing time, there have been no photographs or videos released of the incident at the border.
Previous border skirmish at this location
Though was no corroborated evidence around this incident; however, it would not be the first time Russian soldiers opened fire against Ukrainian border agents in this area.
In December 2014, a Ukrainian hacker group called the "Ukrainian Cyber Forces" released dozens of gigabytes of data from the Russian Interior Ministry, including thousands of documents from their officials in the Rostov Oblast, near the Ukrainian border. Almost all of the leaked documents were uninteresting, but at least one was noteworthy: an August 2014 account of a border skirmish just a few kilometers north of Ushakovka, the village where today's incident took place.
A police report written by a Rostov Oblast official read as follows:
On August 25, 2014 around 3:50pm, M.V. Polstyankin, O.Yu. Volgin, Yu.A. Alekseev, and A.A. Gerasimenko, serving in contracted Unit 51182 of the Millerovo locality, suffered injuries in the performance of official duties during a clash with the forces of the National Guard of Ukraine 10km north-west of the small village of Prognoi of the Tarasovsky region. At 6:52pm on August 25, 2014, the wounded were evacuated to the Rostov garrison hospital via a Mi-8 helicopter of the Russian armed forces.
The National Security and Defense Council of Ukraine also reported on this border skirmish, reporting that four Ukrainian border guards died in the skirmish with Russian forces.
The incident from August 2014 and today's border provocation were located just a handful of kilometers from one another, reflecting how Russia's impunity towards the Ukraine's borders has not lessened.
The August 2014 border clash that left multiple Ukrainian border guards dead took place near the border south of the Ukrainian villages of Krasna Talivka and Krasnyi Derkul, while the most recent incident took place just a handful of kilometers south and west, on the border near the village of Ushakovka.
Conclusion
Today's border fire incident near Ushakovka was just the most recent of a litany of examples of Russia's direct attacks against Ukraine's sovereign borders, including hundreds of artillery strikes from Russia to Ukraine and the August 2014 border skirmish.
---
Follow the latest Minsk II violations via the @DFRLab's #MinskMonitor.
Also, follow @DFRLab on Twitter for more in-depth analysis from our #DigitalSherlocks.