Misleading claim against Venezuela's Guaidó spread abroad
Russian, Iranian, and Cuban outlets, among others, picked up anti-Guaidó rumor from pro-Maduro sites and targeted Spanish-speaking countries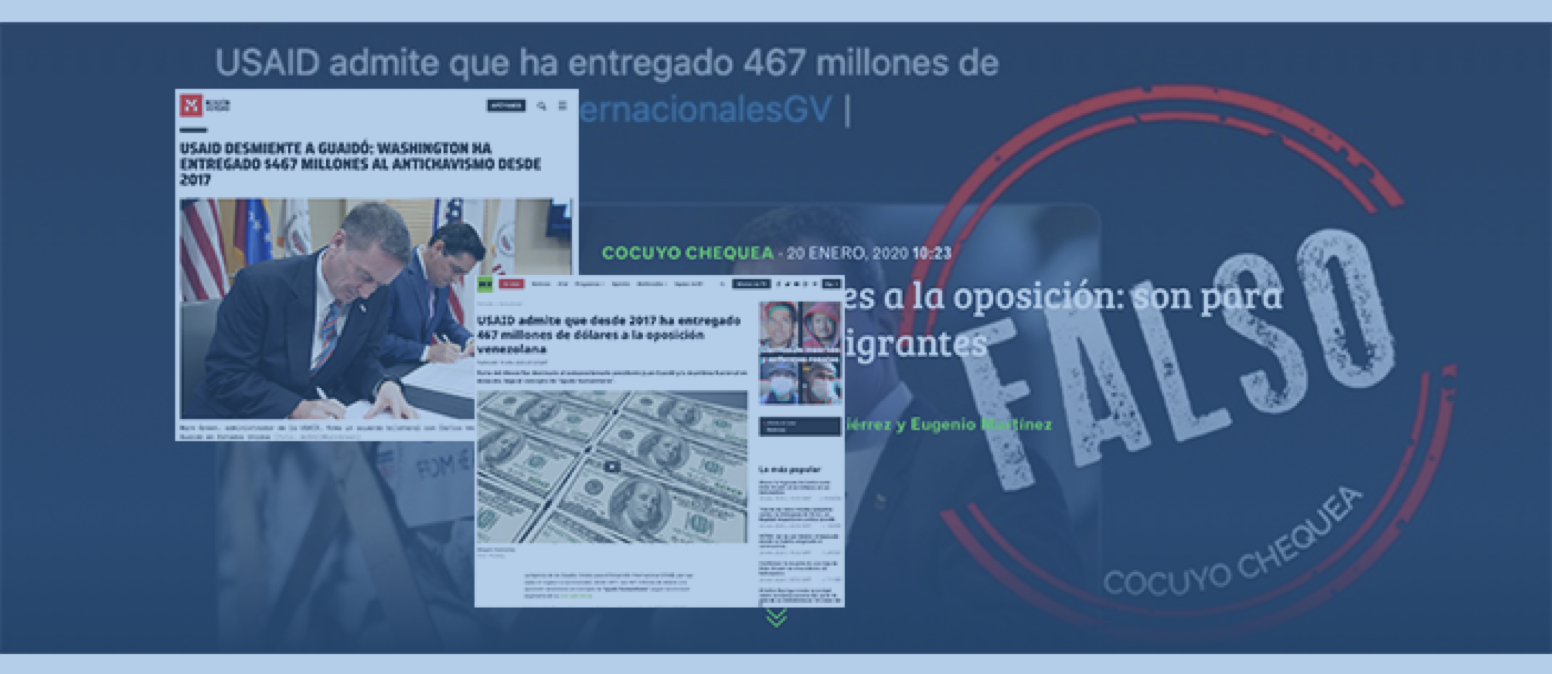 Russian, Iranian, and Cuban outlets, among others, picked up anti-Guaidó rumor from pro-Maduro sites and targeted Spanish-speaking countries
A misleading claim that Juan Guaidó benefited from millions of dollars in U.S. government funds traveled from pro-Maduro Venezuelan media to Cuban, Russian, and Iranian outlets sympathetic to the Maduro regime.
The dissemination of these stories provides a good example of the global competition for information, of how information — aimed either separately or concurrently at both domestic and international audiences — can be used a tool for geopolitics. While pro-Maduro blogs amplified the information against his rival to Venezuela's domestic audience, media outlets from other countries — many of them state-backed — that support Maduro facilitated the spread of the claims beyond Venezuela's borders to Latin America more broadly. That the articles in these non-Venezuelan outlets were published in Spanish rather than in English or other languages — especially when the outlets were based in non-Spanish speaking countries like Iran or Russia — suggested that these outlets were doubling down on an effort to shape the narrative among Spanish-speakers in Latin America, rather than in their home countries.
By targeting Guaidó, in particular, these outlets were aiding the efforts of Maduro to regain complete control of Venezuela's governmental bodies. Guaidó, however, is recognized as Venezuela's interim president by almost 60 countries, including the United States, Brazil, and Colombia. Cuba, Iran, and Russia, meanwhile, recognize Nicolás Maduro as president. Following the widely criticized 2018 election led by Maduro, in January 2019, Guaidó invoked the Venezuelan constitution and was sworn in as interim head of the country.
A false claim reappears
In late 2019, politicians linked to Maduro started spreading a series of allegations about the mismanagement of funds allegedly sent by the United States to the Guaidó administration. Prominent among the claims was one specifically related to funds received from the United States via the U.S. Agency for International Development (USAID). Regional outlets subsequently debunked the claims, including the one regarding USAID.
Despite the fact that the claims had been debunked, they resurfaced on January 14, 2020. Pro-Maduro outlets alleged that Guaidó and the National Assembly had received $467 million from USAID since 2017. Some also claimed that the money had subsequently disappeared, insinuating that Guaidó had stolen it.
USAID countered this claim, explaining on its website that the funds were given as "humanitarian and development assistance to support Venezuelans that left the country and communities from the region that receive migrants […] and for Venezuelans inside Venezuela."
According to the agency, more than $277 million was also given to Colombia, Ecuador, and Peru, among other countries; these countries are among the primary recipients of Venezuelan refugees. Additionally, more than $158 million was assigned to "community organizations, the private sector, colleges and universities, public international organizations, and non-profit non-governmental organizations" to work inside Venezuela.
While USAID did not list the organizations that received the money on its website, it did explicitly state that the money was not given directly to Guaidó or to the National Assembly.
After its first iteration, in December, the claim resurfaced on January 14, 2020, when the Brazilian left-wing outlet Diário do Centro do Mundo published an article claiming that accusations of corruption against Guaidó had created tension inside Venezuela's opposition coalition. The first outlet to uncover how the rumor started to circulate was Cazadores de Fake News.
In the following days, the information was picked up by pro-Maduro blogs and regional newspapers, which cited the Diário do Centro do Mundo article as their source. Although the Brazilian piece did not focus on the $467 million figure and instead discussed specific agreements allegedly made between USAID and the interim government, the story evolved to focus on the former when it was picked up by the website, Misión Verdad ("Truth Mission"), which brands itself as an independent news organization but publishes pro-Maduro content. On the morning of January 16, Misión Verdad published an article under the headline, "USAID contradicts Guaidó: Washington has given $467 million to anti-Chavism since 2017."
The story gained traction in international outlets when Russian-funded RT en Español (the Spanish version of RT) ran an article on it. After that, the story was also published by the Iranian-state funded HispanTV and the Cuban-state outlet JuventudRebelde, among others.
The Spanish version of RT was founded in 2009 and has expanded its influence throughout the years. The outlet's Spanish-language Facebook page currently has approximately 7.44 million likes, while the English version has 5.63 million likes. Meanwhile HispanTV, operated under the Iranian government's broadcasting apparatus, the Islamic Republic of Iran Broadcasting (IRIB), was launched in 2011. On Facebook, the HispanTV page has fewer page likes (1.08 million) than RT but is also growing fast. The DFRLab has previously reported on the expansion of RT in Latin America.
Spreading on social media
The publications that garnered the most engagement (likes, shares, and tweets, for instance) on social media were from RT en Español, the Maduro regime-controlled website Globovisión, and Misión Verdad.
The social media conversation was also influenced by Maduro supporters and influencers between January 16 and January 22. The article published by Globovisión reached the highest number of interactions, in large part due to a tweet by Argentinian journalist Carlos Montero, according to CrowdTangle. Montero's account has 506,096 followers, and his tweet garnered 1,924 retweets and 1,262 likes.
RT's article was also amplified by the Facebook groups "Amigos que apoyan a Corea del Norte y Cuba" ("Friends supporting North Korea and Cuba") and "Petro presidente 'Colombia Humana 2018–2022" (Petro for president 'Human Colombia 2018–2022'), a group supporting the Colombian leftist politician Gustavo Petro.
Lies spread faster than the truth
Articles debunking the rumor received significantly less engagement than articles spreading it. Articles on independent Venezuelan fact-checking websites Cazadores de Fake News ("Hunters of Fake News") and Efecto Cocuyo received 394 and 1,800 engagements, respectively, according to BuzzSumo.
In its debunk, Cazadores de Fake News described the pro-Maduro media publications as "misleading" and named other accounts and media promoting the unsubstantiated claims. Among those labeled as peddling false claims was Luis Parra, who was illegitimately appointed — in part through Maduro's interference — as President of the National Assembly; Parra promoted the false claim, holding a press conference on January 20 in which he announced an investigation into the USAID funds.
---
Follow along for more in-depth analysis from our #DigitalSherlocks.