Rumors of a U.S. military intervention in Venezuela grow
Blogs and YouTube videos spread the rumor that Juan Guaidó gave the United States permission to intervene militarily in Venezuela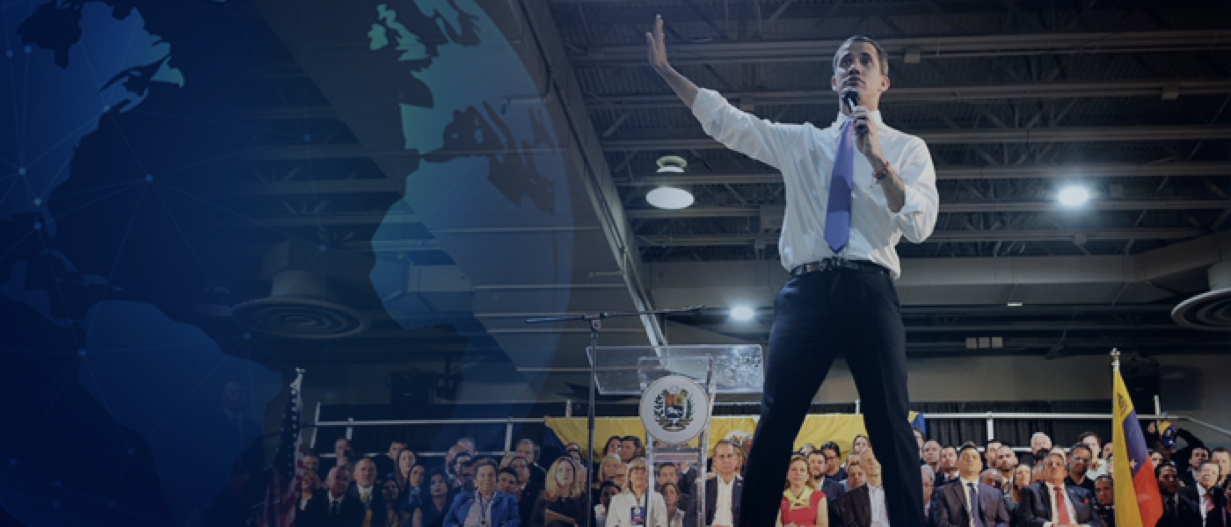 Blogs and YouTube videos spread the rumor that Juan Guaidó gave the United States permission to intervene militarily in Venezuela
Rumors claiming that Juan Guaidó had given Donald Trump permission to lead a military intervention in Venezuela started to circulate while Guaidó was on an international tour through Europe and the Americas. The claim amassed substantial engagement on social media, including on a YouTube channel that continues to publish videos making the same claim.
Venezuela has been locked in a political stalemate ever since Guaidó invoked the nation's constitution and was declared interim president by the country's National Assembly in January 2019. Guaidó has been unable to dislodge Maduro's grip on power; Maduro, meanwhile, has been unable to suppress Guaidó's support fully, in part because the latter has broad international backing as well as domestic support from democratic forces. The lingering nature of the stalemate has allowed for rumors to spread, including the one regarding the permission for U.S. military intervention in Venezuela.
The rumor gained particular momentum during Guaidó's February 2020 visit to the United States, where he appeared as one of U.S. President Donald Trump's guests at the State of the Union Address on February 4 and met with him at the White House the following day.
Seems like fabricated news
The most-watched video pushing the false narrative was published by the YouTube channel Parecen Noticias Extra ("Seems Like Extra News"). In the video, the host states that Guaidó signed an agreement with Trump to allow the U.S. military to enter the country. The video also claimed that the final decision would be Trump's and that Maduro was "on alert" because of the agreement.
Although the video did not provide evidence to support these claims, it garnered more than 100,000 views. The YouTube channel has 1.28 million subscribers, likely as a result of its transition from being a popular Panamanian television program to an outlet exclusive to YouTube. According to its description, Parecen Noticias Extra publishes "fact-based news" about international topics, as well as comedy sketches.
On Facebook, the video was shared by groups and pages, including Unidos por una Colombia Digna ("United for a Dignified Colombia"), which support conservative policies and politicians such as former Colombian President Álvaro Uribe and former Bolivian President Carlos Mesa.
On February 25, Parecen Noticias Extra published another video claiming that a military uprising to put an end to the Maduro regime was underway. The video built its argument around an incident in which a member of the Venezuelan military police killed Ayendry Moreno, an agent of the civilian National Bolivárian Police force at a Caracas military complex on February 23, 2020.
According to the video, Moreno had been killed "by mistake" in the middle of a broader crisis involving the country's military forces. The video, somewhat incoherently, connected Maduro to this relatively isolated incident, arguing that he "was in a panic" over an alleged military uprising assisted by the United States, which had supposedly provided "satellite phones to Juan Guaidó." Citing a "Presidential Palace source," the video elaborated that Maduro was desperate and that it somehow led to Moreno's death, without providing an actual causal link between the two. While the video presented no evidence to support its claims, it nevertheless garnered 80,200 views by February 26, the day after it was first posted.
The blog Alex News also published a claim regarding permission for the United States to intervene in Venezuela. The website posted a highly edited video featuring former U.S. Ambassador to Venezuela William Brownfield under the headline "U.S. sends strong ultimatum to Nicolás Maduro: 'If you touch Juan Guaidó, there will be a military intervention in Venezuela.'" In the video, Brownfield can be seen saying in Spanish that a military option remains a possibility.
The headline, however, put his comments in the wrong context, as Brownfield no longer works for the U.S. government and does not speak on its behalf. The headline, therefore, sought to mislead viewers into believing Brownfield's comments were the official position of the U.S. government. In fact, the video has been circulating since May 2019, and similar claims around it had already been debunked by fact-checking organizations.
The Alex News article was republished on multiple Facebook groups, including The ones that support a military intervention in Venezuela and groups impersonating media outlets, such as CNN en Español and CNN in Spanish Latinoamerica.
Guaidó's international tour
Guaidó finished his international tour on February 11, after spending two weeks visiting at least seven countries. While U.S. and Venezuelan independent media saw the warm reception Guaidó received from President Trump as a nod to his legitimacy, pro-Maduro media described it as a sign of Venezuela's diminishing sovereignty.
Venezuelan independent outlet Runrun.es described Guaidó's meeting with Trump and his appearance at the State of the Union address as "impressive." Meanwhile, The Washington Post noted that on February 5, after Guaidó met with Trump, "there were clear signs of relief from Guaidó's supporters" in the streets in Caracas, and "all sides sought to portray Guaidó's red-carpet treatment in Washington as evidence that Trump had stepped up and offered him the full backing he needed to lessen fears of arrest, or worse, upon his return."
Meanwhile, Maduro regime-backed broadcaster Telesur published an article on February 4 that called Trump's support for Guaidó a "threat to regional sovereignty," claiming the U.S. president was interfering with the Latin American people's right to self-determination. The article also claimed that, while Trump spoke about giving hope to Venezuelans, he avoided talking about sanctions, which it described as illegal.
On February 8, Telesur also quoted remarks by Tarek El Assami, Maduro's vice president of economy, given during a live broadcast. Assami announced, "the Public Ministry will be requested to conduct investigations against representative Guaidó, who went to the United States to request more sanctions."
Separately, RT en Español (the Spanish version of Kremlin-funded media outlet RT) published an article on February 5 regarding the Maduro regime's response to Trump's support. The article quoted Jorge Arreaza, Maduro's minister of foreign affairs, who described Trump's words as "violent threats" and stated that the Venezuelan people will "never allow the United States to plague our America with miseries, in the name of false freedom." According to Arreaza, he was quoting a letter by Venezuelan national hero Simón Bolívar to British Colonel Patricio Campbell.
RT also used Guaidó's visit to Spain to boost Maduro and undermine Guaidó's position. RT en Español published an op-ed that was among the most engaged-with articles about Guaidó's international tour, according to BuzzSumo. The op-ed, "El Gobierno de España degrada a Juan Guaidó a turista y trata a Nicolás Maduro como presidente" ("The Government of Spain downgrades Juan Guaidó to a tourist and treats Nicolás Maduro as president"), garnered more than 28,000 interactions on Facebook and Twitter combined.
In the piece, Luis Gonzalo Segura, a "former lieutenant of the Spanish Army," claimed that the Spanish government showed more support for the Maduro regime than for Guaidó. The article referred to the decision of Spanish Prime Minister Pedro Sanchéz not to meet with Guaidó in Madrid.
Kremlin-funded outlets, as well as Maduro-backed ones, seized on Guaidó's trip as an opportunity to spread false information to discredit him, amassing significant engagement in the process.
---
Follow along for more in-depth analysis from our #DigitalSherlocks.