Inauthentic accounts fuel Oregon wildfire arson rumors
Fake social media profiles and doctored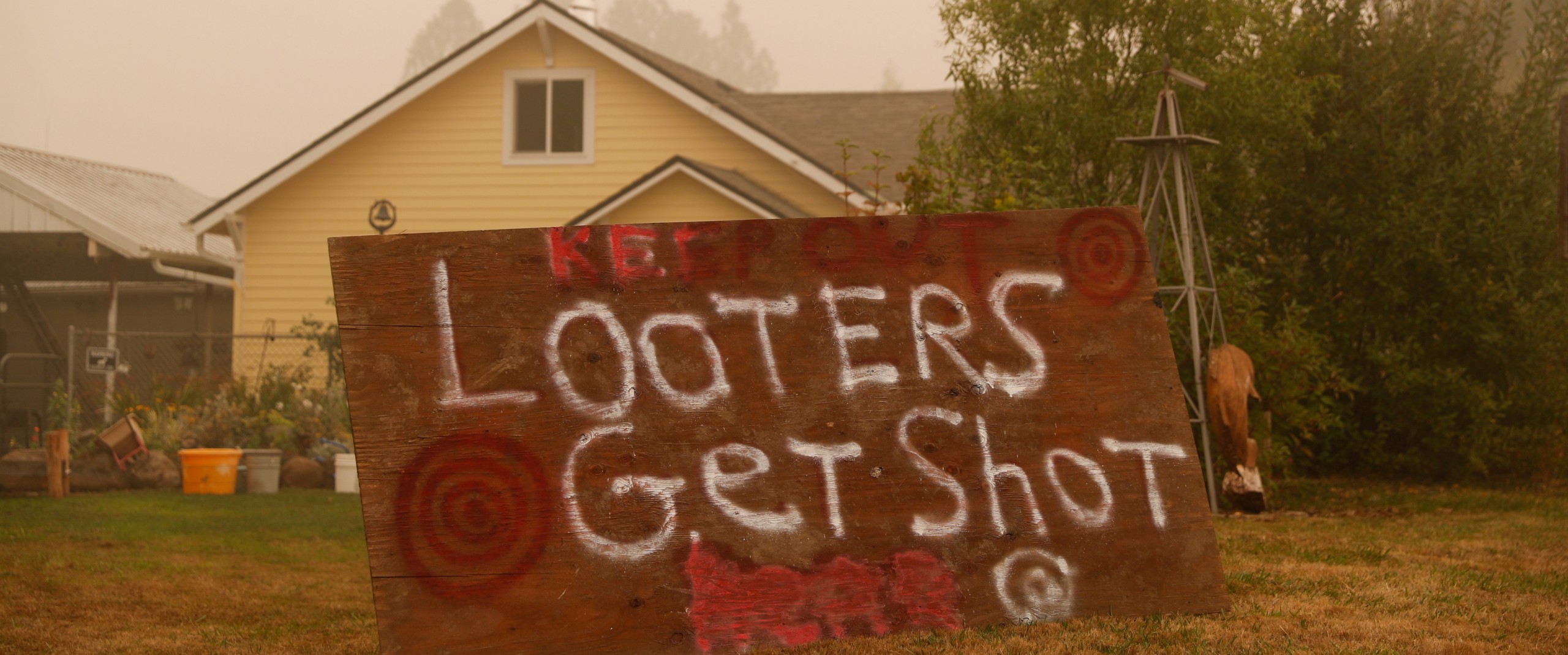 Fake social media profiles and doctored posts primarily blame Antifa for deadly blazes
As wildfires ravage Oregon and large parts of the U.S. West Coast, inauthentic social media accounts and doctored Facebook posts are attributing the Oregon fires to arson primarily to Antifa activists. As a result, law enforcement officials in the affected counties have had to divert resources to debunk claims attributing the fires to Antifa, though there was also one rumor attributing them to the right-wing militant Proud Boys, which has previously engaged in violence. Emergency operators in these counties have been inundated with calls primarily attributing acts of arson to Antifa, fueled by posts on Facebook and Twitter politicizing the fires. To date, false narratives targeting Antifa and protesters in general seem to have been more widespread and successful.
The influx of these reports has hampered the coordination of relief efforts. Local sheriff's offices throughout the affected areas have also had to take to social media to urge the public to rely on official sources for information, and to refrain from sharing unverified rumors.
"Someone needs to make more"
Several conservative Facebook groups and pages shared a screengrab of an alleged Antifa Twitter account that claimed responsibility for the fires. The @ScarsdaleAntifa Twitter account stated they collaborated with other Antifa groups to start the fires in order to raise climate change awareness.
Although Twitter suspended the account early on September 12, 2020, screengrabs of the tweet are still being used as "proof" that Antifa started the Oregon fires.
There is evidence, however, that the @ScarsdaleAntifa account was an inauthentic account created by a 4chan user. Archived historical posts from 4chan's /pol board indicate that the @ScarsdaleAntifa Twitter account was one of several such fake Antifa accounts created in the spring of 2017 to troll or confuse Antifa supporters.
The account also staged and promoted a fake Antifa protest for April 2, 2017, using images that had been shared by several other obviously fake Antifa Twitter accounts. The account was first identified as a fake as far back as August 2017 by New York Magazine.
"Tweet not 100% accurate"
Additional tweets saw Antifa activists being blamed for the fires, with rumors being amplified primarily by conservative voices.
Paul J. Romero, Republican Senate candidate for Oregon, tweeted on September 9, 2020 that a "pallet company" allegedly confirmed that an Antifa arsonist was caught on camera starting the fires, while another six Antifa arsonists were supposedly in custody. The Douglas County Sheriff's Office has since debunked this claim, stating that emergency response has been overwhelmed by phone calls reporting in these unfounded claims. They urged people to only follow official sources and to stop spreading unverified rumors.
Romero later admitted to CNN that his post may not have been 100% accurate, but said he had no intention of removing the false information.
Romero's tweet was retweeted more than 10,000 times, with social media analysis tool Meltwater Explore indicating that the tweet has been shared around 15,000 times. CNN also reported that Romero's tweet was amplified by adherents of Qanon after a message posted by the group's anonymous leader — a so-called Q-drop — referenced Romero's tweet.
To show the effect that the Q-drop had on the reach of the tweet, the DFRLab used Meltwater Explore to find tweets mentioning a segment of Romero's tweet. This returned around 14,900 different tweets, which included retweets of Romero's original tweets and several "copy-pasta" type tweets. Using the UTC timestamps for these tweets, the number per hour was plotted over time, revealing the massive spike in engagements after the Q-drop to the messaging board 8kun at 06:20 UTC on September 20.
Meanwhile, conservative activist Katie Daviscourt circulated a screenshot of a Facebook post by the Molalla Police Department in Oregon urging residents to be on the lookout for suspicious individuals. Her tweet added the unfounded claim that the fires are allegedly "linked to Antifa and the Riots."
Molalla Police Department had to clarify that their post did not relate to either Antifa or the setting of fires, but to possible looters roaming the affected areas. Although Daviscourt appended the update to her initial tweet, it was only retweeted 71 times, compared to 3,100 times for her original tweet linking Antifa to the arsons.
Daviscourt also amplified an article by the far-right Law Enforcement Today, citing unnamed sources claiming that the fires are "coordinated and planned." The article has subsequently been updated to reflect that there is no evidence linking either right or left-wing activists with these fires, and the headline changed to remove references to the coordinated attacks.
According to Buzzsumo, the article attracted more than 360,000 interactions, the majority of which came from Facebook. But according to CrowdTangle, only about 10% of these interactions occurred on public facing profiles, with the other 90% being shared in private groups and pages inaccessible to researchers and journalists.
Proud Boys also blamed
On the other side of the political spectrum, a fabricated Facebook post claiming that the Medford Police Department had arrested five members linked to the Proud Boys circulated over the weekend of September 12. The image, showing a fake Facebook post by the Medford Police's official page, claimed that five perpetrators linked to the Proud Boys were arrested following anonymous tip-offs. The image used in the post was that of an arrest by the Medford Police from October 22, 2018 in respect of an unrelated crime.
The Medford Police later debunked claims that they have arrested either Proud Boy or Antifa affiliated activists. Facebook also removed posts containing the original image or mentions of the arrest. Although this means it is impossible to track the spread of this rumor, this post was anecdotally less viral than the campaigns blaming Antifa for the fires.
---
Jean Le Roux is a Research Associate, Southern Africa, with the Digital Forensic Research Lab and is based in South Africa.
The DFRLab team in Cape Town works in partnership with Code for Africa.
Follow along for more in-depth analysis from our #DigitalSherlocks.