How RT DE spread COVID misinformation on YouTube
YouTube banned RT DE in September 2021 after the Russian network revived an old channel to avoid an initial suspension.
How RT DE spread COVID misinformation on YouTube

BANNER: RT DE logo as seen on its Facebook page. (Source: Facebook)
On September 28, 2021, YouTube permanently removed RT DE and Der Fehlende Part, two German-language channels linked to Russian state-backed broadcaster RT, after they violated the video hosting platform's terms of service by using an alternative account to circumvent a ban on uploading, which was initially issued for spreading COVID-19 misinformation.
YouTube's decision prompted Russia's internet regulator Roskomnadzor to send a letter to Google in which it accused the company of censorship and demanded the channels be reinstated. Roskomnadzor threatened to restrict access to YouTube in Russia if the demands were not met. The Russian Ministry of Foreign Affairs called YouTube's decision an "act of unprecedented information aggression against RT" and asked other state bodies to take retaliatory measures against YouTube and German media. Meanwhile, RT editor-in-chief Margarita Simonyan dismissed YouTube's decision as "a full-fledged declaration of media war against Russia by Germany."
RT DE, which ran both its namesake YouTube channel and the Der Fehlende Part channel, operates its media business in Germany under the limited liability structure of RT DE Productions GmbH, a sister company to Russia's RT. Since RT is controlled by a foreign government, German broadcasting rules prevent RT itself from obtaining a broadcasting license in Germany, thus forcing the operation through a sister company. RT has tried to obtain a broadcast license in Luxembourg as a means of getting around the German regulation, but it has failed in that effort to date. The German-language RT DE has been under the scrutiny of German politicians and media for downplaying the severity of the pandemic or outright publishing falsehoods about COVID-19. In March 2020, RT DE published an article that cast doubt on the effectiveness of frequent hand washing. Germany's Ministry of Interior said RT DE's "targeted misinformation" could "threaten public safety and order."
RT DE also provides a platform for COVID-19 skepticism. A March 2020 article with the headline "The epidemic that never came" featured German physician Claus Köhnlein, who downplayed the danger of the virus and questioned the effectiveness of COVID tests. A December 2020 article titled "No 'second wave'?" featured Mike Yeadon, a former scientist at Pfizer and well-known anti-vaccine activist, speaking about a "pseudo-pandemic" and claiming that the pandemic in the United Kingdom had ended in June 2021, because the population had long been immune and that new COVID-19 cases were the result of malfunctioning test system. Remarkably, one month after RT DE published this article, the daily number of new COVID-19 cases surpassed 68,000 in the United Kingdom.
YouTube put restrictions on RT DE's account on September 27, 2021 for violating its COVID-19 misinformation policy. The channel was blocked from uploading new videos for one week. RT DE tried to bypass the restriction on its channel by uploading videos to a different YouTube channel named Der Fehlende Part ("The Missing Part"). Using a second channel to bypass restrictions is a violation of YouTube's terms of service and resulted in the company permanently terminating both channels.
The DFRLab analyzed the posting history of both channels to confirm that RT DE evaded its YouTube ban by using a second channel to continue uploading COVID-19 related content.
YouTube removed RT-linked channels
The two channels removed by YouTube were operated by the broader RT network; RT DE is the main German language channel for the Russian broadcaster, while Der Fehlende Part was a flagship TV program on RT DE until August 2020. The Der Fehlende Part channel was used as far back as 2016 to upload an RT-produced documentary about hackers shortly after the release of former Secretary of State Hillary Clinton's emails. Der Fehlende Part continued to upload RT-produced content until July 2020, when its Facebook page announced the program would air its last broadcast.
Der Fehlende Part remained dormant until April 2021, when it was resuscitated after RT DE's main YouTube channel was blocked from posting. This resurgence coincided with a one-week ban served on the RT DE channel for distributing COVID-19 related misinformation.

At the time of this investigation, both channels had already been removed from YouTube, but the DFRLab was able to view archival content posted on the RT DE and Der Fehlende Part channels by using social media listening tools. Although the video content had not been preserved, other data such as view counts, upload dates, and video descriptions could still be analyzed.
The DFRLab collected a dataset comprised of videos uploaded between October 8, 2020 and September 28, 2021 that contained links to the RT DE domain (de.rt.com) in either the video title or description. A secondary dataset was created by narrowing down these results to videos that included at least one of 25 keywords associated with COVID-19 or vaccines.
The data confirmed that the Der Fehlen Part channel was heavily used, but only during the periods when RT DE was blocked from posting content. These surges in activity ceased as soon as RT DE was allowed to post again.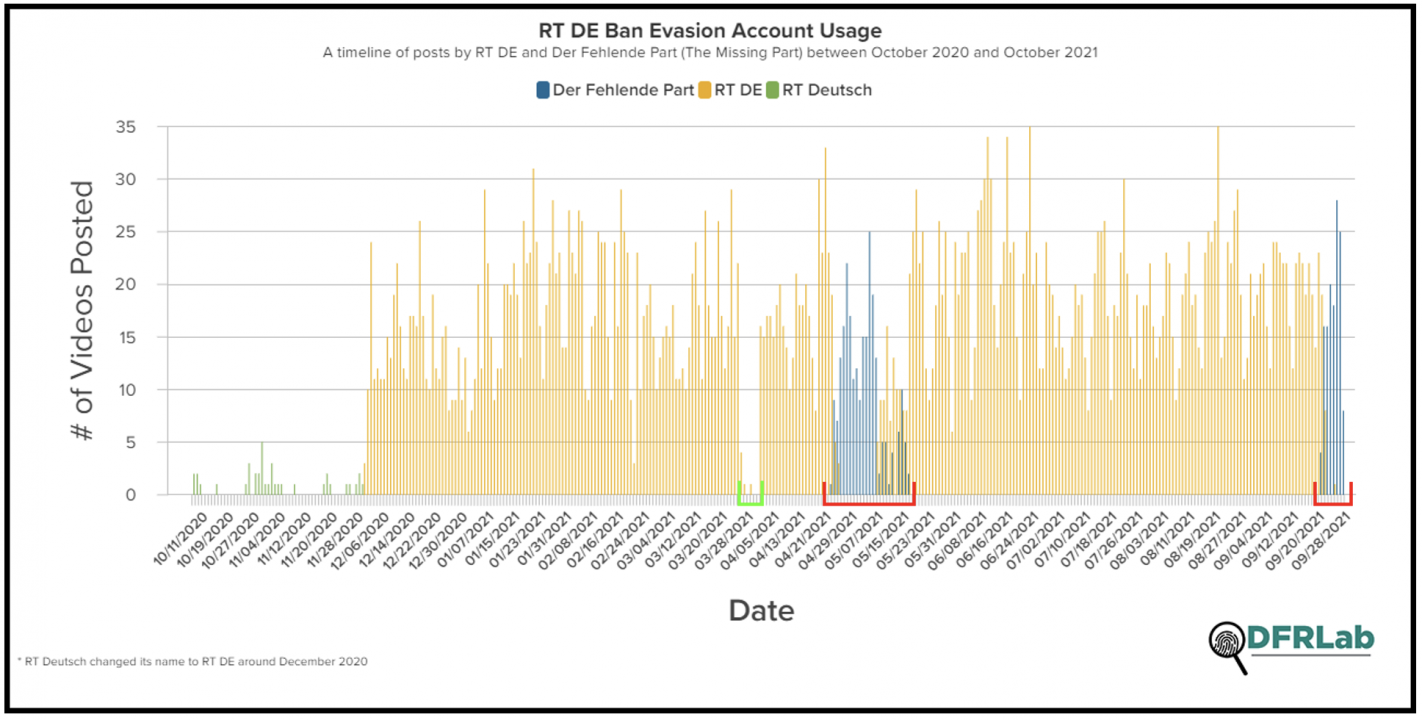 Notably, the DFRLab's research showed a significant decline in overall COVID-19 related content after the second strike in April 2021, suggesting these community strikes could be an effective deterrent to posting medical misinformation.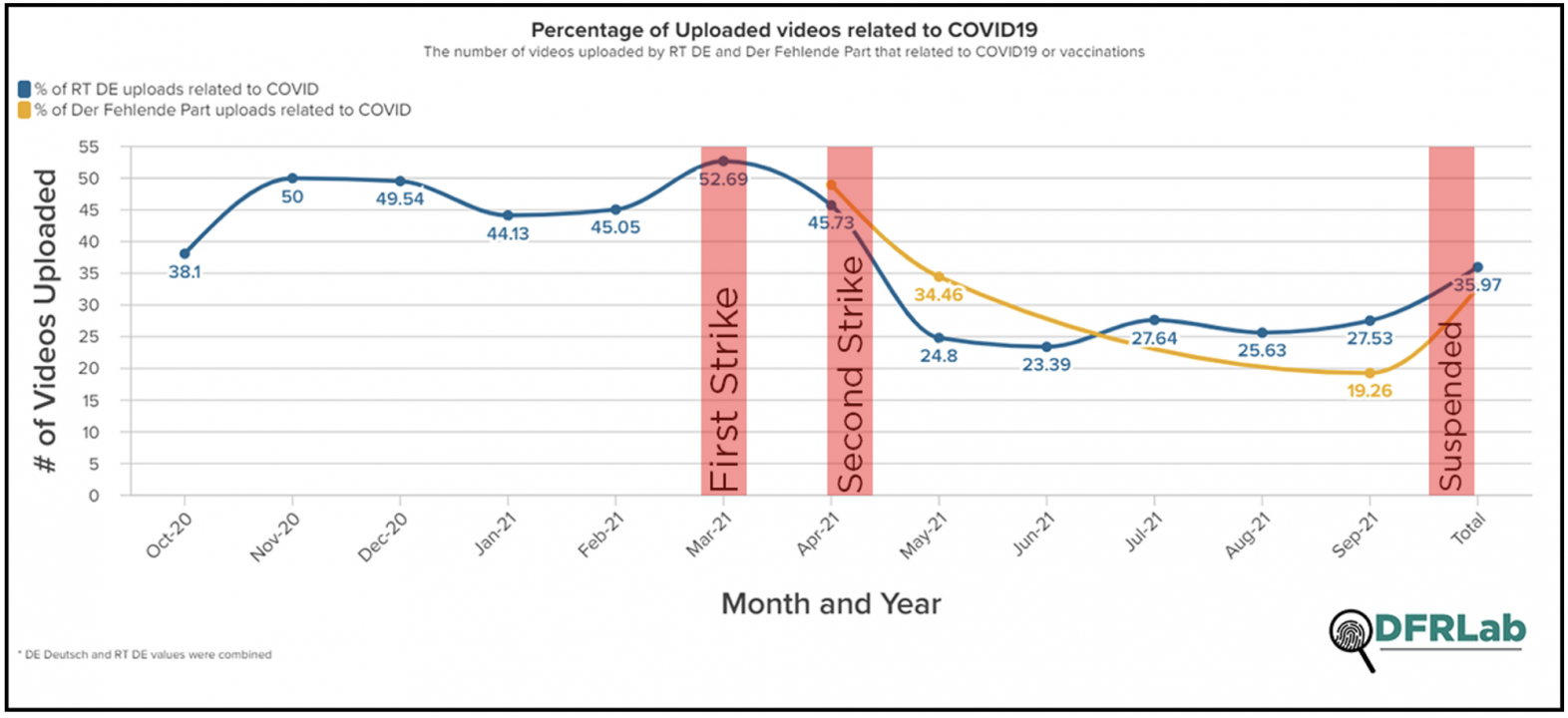 Having said that, after RT DE received a second strike for spreading COVID-19 misinformation, it did not appear to reduce the amount of COVID-related content that it posted when transitioning to the Der Fehlende Part channel. By comparing the volume of content related to COVID-19 versus the total volume of content uploaded by each channel, the DFRLab found that the posting behavior was roughly the same over the period investigated. On the channels, COVID-related content accounted for 35.9 percent and 32.7 percent of the videos uploaded to RT DE and Der Fehlende Part, respectively.
RT DE website a hub for COVID-19 misinformation
The DFRLab used social media listening tool BuzzSumo to analyze RT DE's website content and its levels of engagement across social media. The analysis found that nine out of the 10 most engaged-with articles published between October 2020 to October 2021 were about the COVID-19 pandemic and vaccines. More specifically, some of these articles highlighted negative side effects of the COVID-19 vaccine, portrayed mandatory vaccination in a negative light, and reported on post-vaccination deaths in a German nursing home. RT DE also amplified voices critical of Germany's management of the pandemic. Overall, RT DE's website published more than 13,500 articles from October 2020 to October 2021, and these articles garnered 13.8 million engagements in total on digital platforms.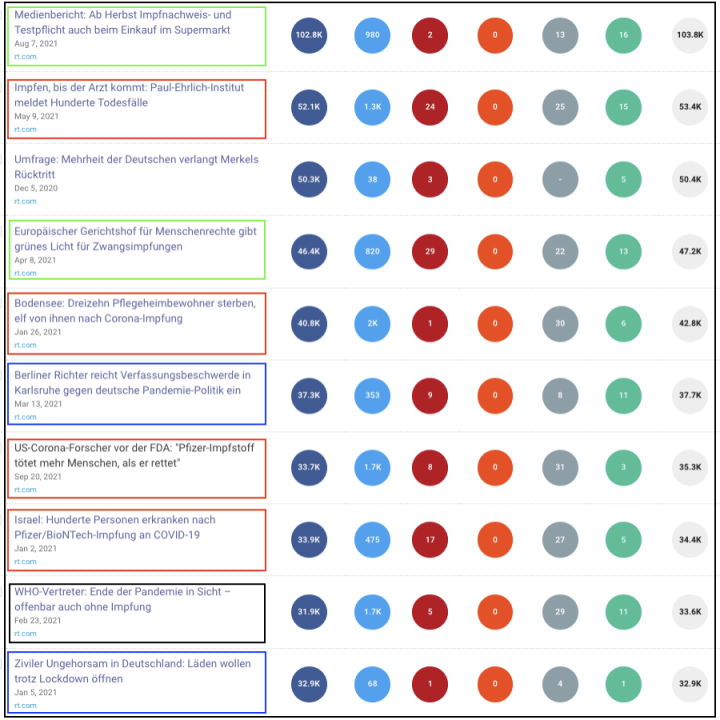 One August 2021 RT DE article that received more than 103,000 social media engagements claimed that a COVID-19 vaccination certificate or negative test result would soon be required for shopping in German supermarkets beginning that autumn. The DFRLab was not able to find any mention of such a plan from the German government, nor have any such restrictions been put in place to date, though some policymakers are advocating stronger measures.
A March 2021 report from the Alliance for Securing Democracy found that more than 20 percent of the 100 most active Facebook pages and groups which shared content from the RT DE website have names with a clear reference to vaccines or other public health measures. Researchers found that almost all of these assets were promoting anti-vaccine, anti-mask, or anti-lockdown narratives.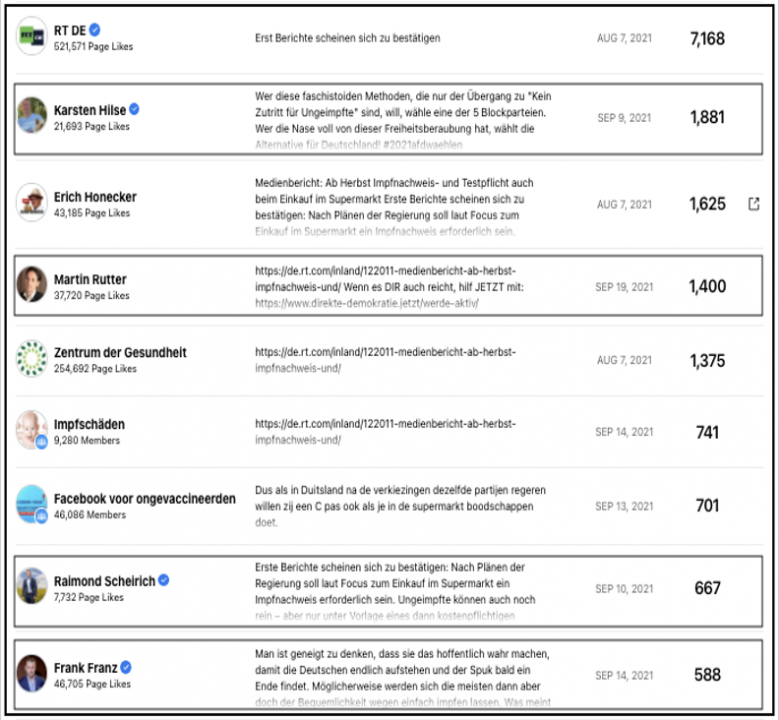 RT DE eyes other social platforms after YouTube ban
The DFRLab examined how the removal of RT DE's YouTube channel impacted the organization's audience growth on other platforms, specifically Telegram, Facebook, and Twitter. After the YouTube channel was removed on September 27, 2021, a banner appeared on RT DE's website stating, "YouTube removed RT DE, follow us on Telegram." The DFRLab used the social listening tool Meltwater to examine content published on RT DE's Twitter account after September 27, 2021, and discovered that "andere kanälen" ("other channels" in German) was the most mentioned keyword in a word cloud.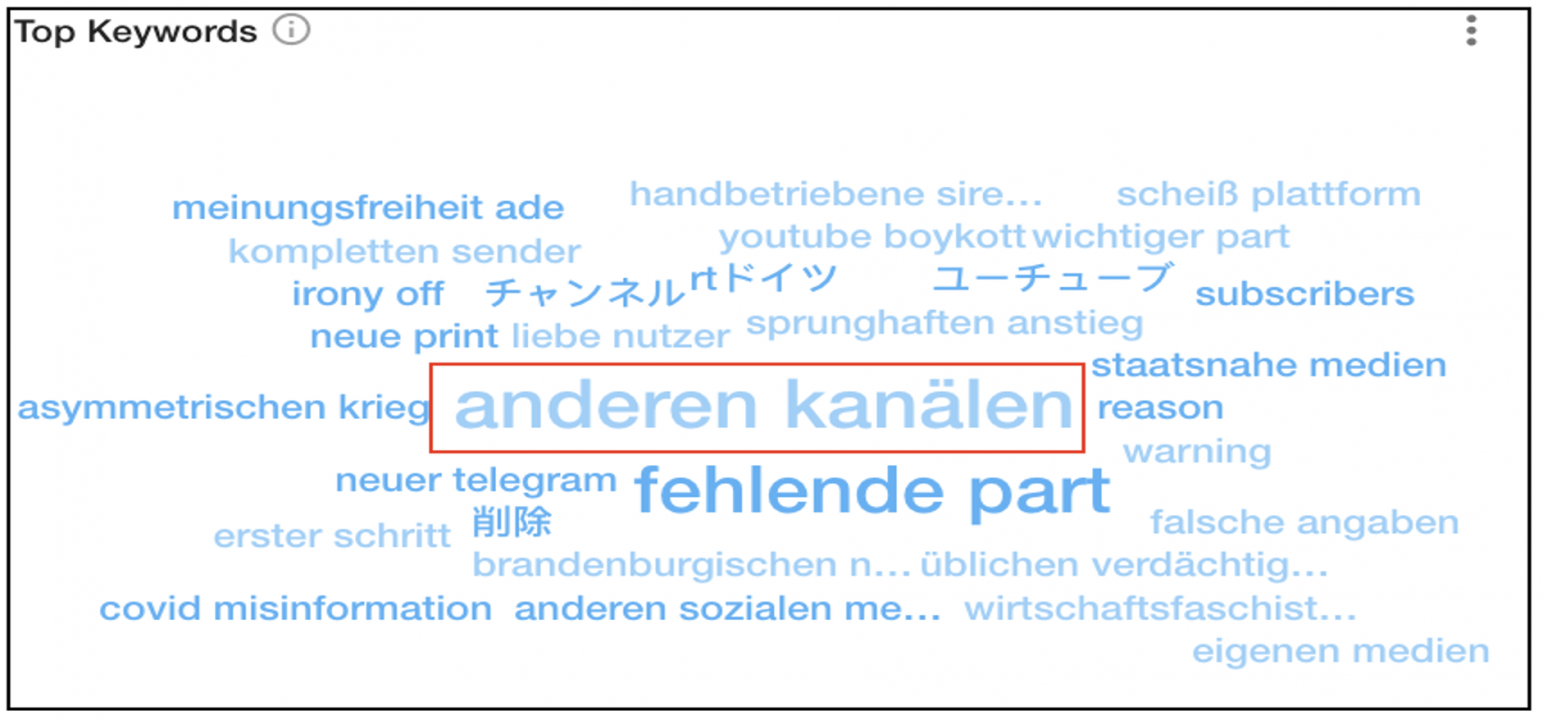 Conducting a query using Telegram analytics tool TGStat, the DFRLab found the number of subscribers to RT DE's Telegram channel increased by more than 220 percent from September 27, 2021, to November 9, 2021. In the first two days after the YouTube channel deletion, RT DE's follower base on Telegram doubled and the number of views increased fivefold, indicating that not all visitors subscribed to the channel. These findings reveal that visits to the RT DE Telegram channel did increase after the banner appeared on RT DE's website.

The DFRLab also examined RT DE'saudience on Facebook and Twitter and found the increase in new followers was not as remarkable as in the case of Telegram. More specifically, archives found using the Internet Archive's Wayback Machine showed the number of followers on RT DE's Twitter account increased by 1.5 percent from September 26, 2021 to November 9, 2021, reaching 48,801 followers by November 9, 2021. Along similar lines, RT DE's audience on Facebook increased by just 0.05 percent during the same observation window, reaching 633,158 followers by November 9, 2021.
---