Polish social media accounts revive anti-Ukrainian sentiments
Poland expects to host around one million Ukrainian refugees amid Russia's invasion of Ukraine.
Polish social media accounts revive anti-Ukrainian sentiments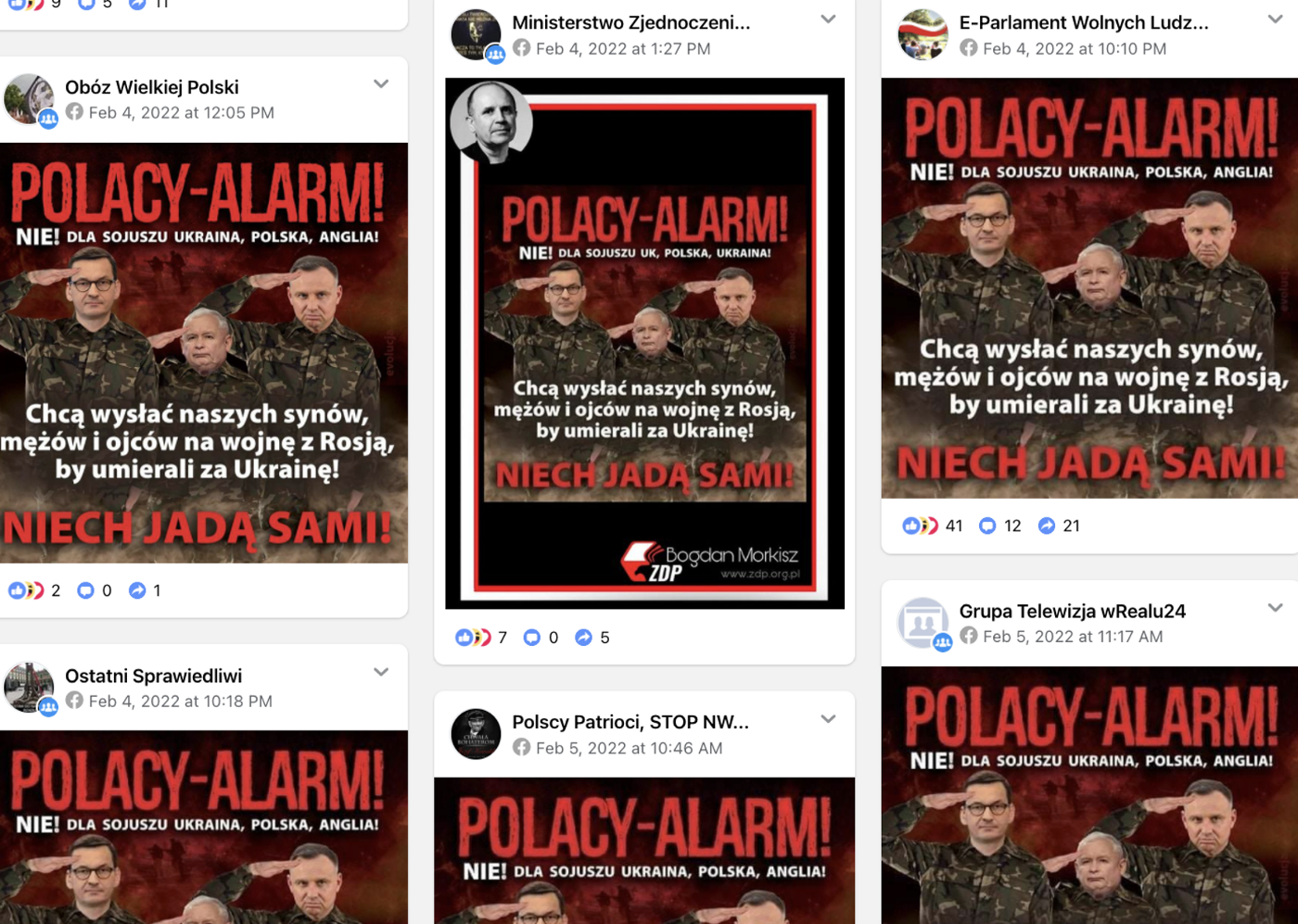 BANNER: Montage showing the spread of a meme against the Polish-UK-Ukrainian alliance across multiple Facebook groups. (Source: CrowdTangle)
Over the course of Russia's military build-up prior to invading Ukraine, some Polish social media accounts started to disseminate anti-Ukrainian and pro-Russian content. According to a DFRLab analysis, these mentions of anti-Ukrainian Polish hashtags significantly increased after Russia invaded Ukraine on February 24, 2022.
One week prior to the invasion, Poland, the United Kingdom and Ukraine formed a new partnership to reinforce security and trade between three countries. On February 25, Poland offered an approximately $1 million currency swap to Ukraine, and continues to provide ammunition and Man-Portable Air Defense Missiles (MANPADS) to Ukraine's army. Moreover, Poland expressed readiness to host refugees from Ukraine; as of February 26, more than 100,000 Ukrainians had entered Poland since the outbreak of military conflict and an additional 900,000 are expected to follow. Support for welcoming Ukrainian refugees is widespread among the normally migrant-skeptical society, with a recent survey conducted by the Institute of Public Affairs in Poland showing that 56 percent of Poles supported this policy, with only 22 percent against it. At the same time, as Ukrainian women, children, and the elderly enter the country, Ukrainian residents of Poland are returning back to Ukraine to protect their country from Russian aggression.
Despite their current rapprochement, Ukraine and Poland have a troubled past, in part due to the WWII-era massacre of Poles by the Ukrainian Insurgent Army in Volyn city between 1942 and 1943. After the collapse of Soviet Union, Poland and Ukraine started a reconciliation process by bridging the historical gaps between two countries, but this process remains somewhat unfinished. Ukrainians represent the largest minority group in Poland, and various surveys have revealed growing negative sentiment towards Ukrainians in the past years. The DFRLab analysis showed that amid Russia's aggression against Ukraine, some actors in Poland are trying to capitalize on past disagreements between two countries and revive negative sentiments towards Ukraine within Polish society.
Anti-Ukrainian and pro-Russian content on Facebook
On February 7, 2022, Polish foundation We Remember Volyn launched an anti-Ukrainian campaign on Facebook with a slogan "I do not support Banderite Ukraine," in reference to right-wing 20th century Ukrainian nationalist Stepan Bandera. The DFRLab found that posts with this slogan appeared on 23 Facebook pages and three Facebook groups between February 7–18, 2022. Memes disseminated by the organization also contained slogans "I am Polish, I do not support worshippers of the murderers of the Polish nation"; "Ukraine!!! Own up to genocide of Polish nation"; and "The Ukrainian, who glorifies genocide of Polish nation has Polish blood on his/her hand." According to the website of We Remember Volyn Foundation, its main objective is to educate and make Poles aware of the Ukrainian genocide against Poland.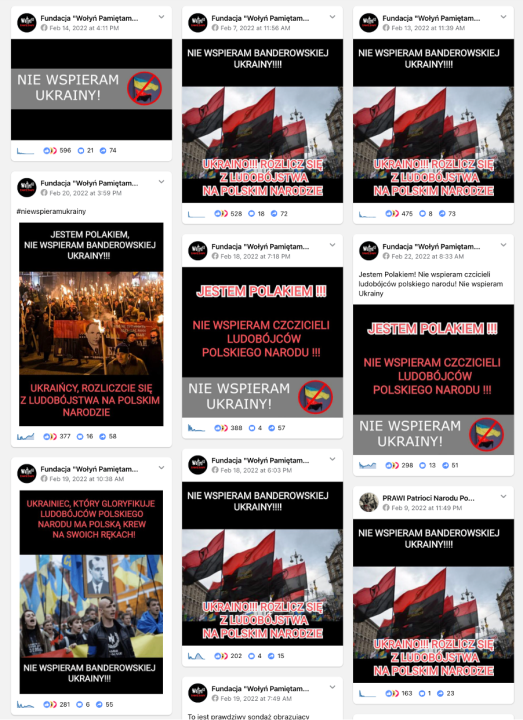 On February 5, a Facebook account launched an anti-Ukrainian campaign with a slogan "I do not support Banderite Ukraine, which glorifies murderers of Poles." A post with Stepan Bandera statue and the slogan was shared in 29 Facebook groups between February 5 and February 7. The post was first published by an account of Robert Szafran. The account does not display personal information about the user, but contains photos with far-right connotations. Another account under a name Robert Kockiewicz posted Szafran's post on multiple Facebook groups, garnering 190 shares in total. Kockiewicz's account also does not contain personal information, and the majority of its posts are nationalistic and anti-Ukrainian with very low engagement.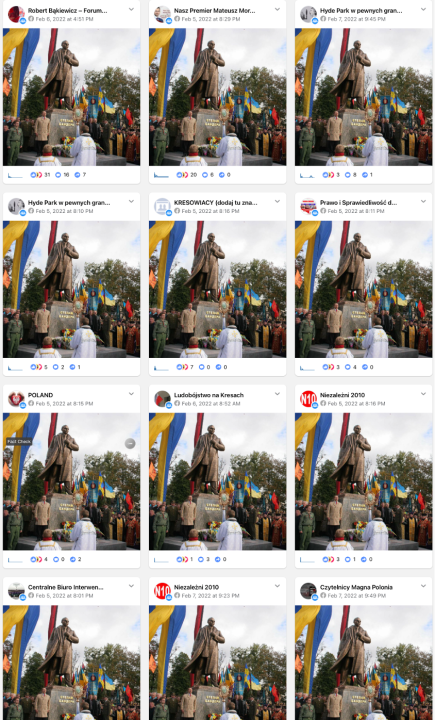 Appeals to the Polish government against supporting Ukraine
On February 4, the anti-Ukrainian Facebook page Sprawa Kresowa — Sprawa Narodowa launched a campaign against the recently-formed alliance between Poland, Ukraine and the United Kingdom, asserting that Polish people did not want to send their sons, husbands, and fathers to die for Ukraine. Memes featuring this text appeared on four Facebook pages and 22 groups, including some groups that claim modern Ukraine symbolizes the WWII-era Ukrainian Insurgent Army, and that Poles should not die for it.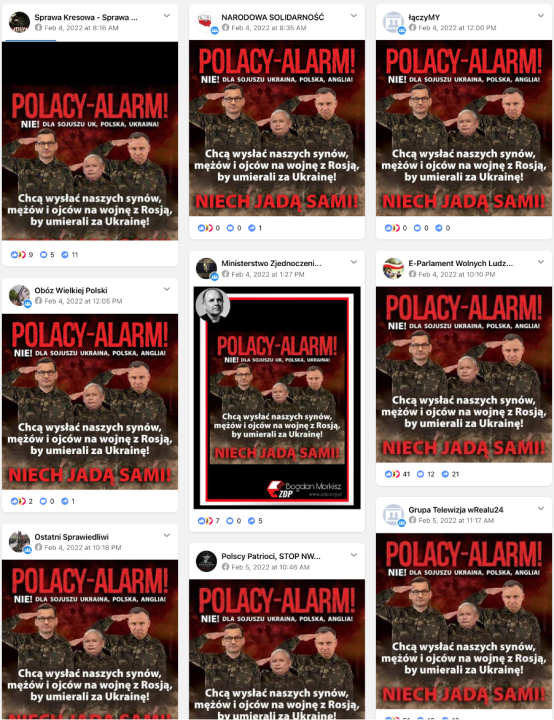 On February 12, some Polish Facebook accounts started distributing memes in Facebook groups with an appeal to Polish soldiers to not fight for Ukraine, despite the fact that Poland does not have any current plans to do so. Text visible on memes state, "Polish soldiers, don't fight for Ukraine, Stop the war, Let's not allow ourselves to repeat the history of 1939." Other memes posted to Facebook groups called for the Polish government to abandon its alliance with the United Kingdom to avoid causing a war with Russia. Posts with this content appeared in 21 public groups between February 5–12, 2022.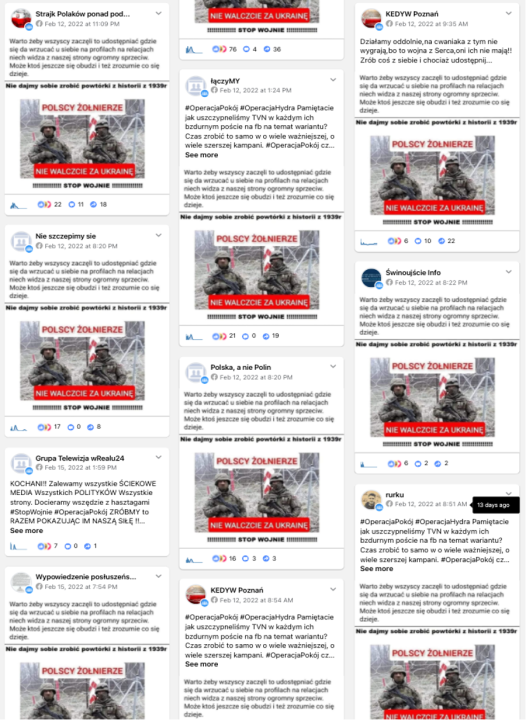 On February 12, the Association of WWII Polish Combatants appealed to Polish authorities with a demand to stop supporting Ukraine. Other demands included withdrawal of the US troops from Poland and forming better relationships with Poland's eastern neighbors — eg, Russia and Belarus.
On February 16, the People's National Alliance Facebook page published a similar appeal with some additional demands, such as closing the Belarusian independent TV channel Belsat, which is mostly funded by the Polish government, and cease funding Belarusian opposition leaders. CrowdTangle analysis showed that both appeals were posted on three Facebook pages and in 14 Facebook groups between February 12–16.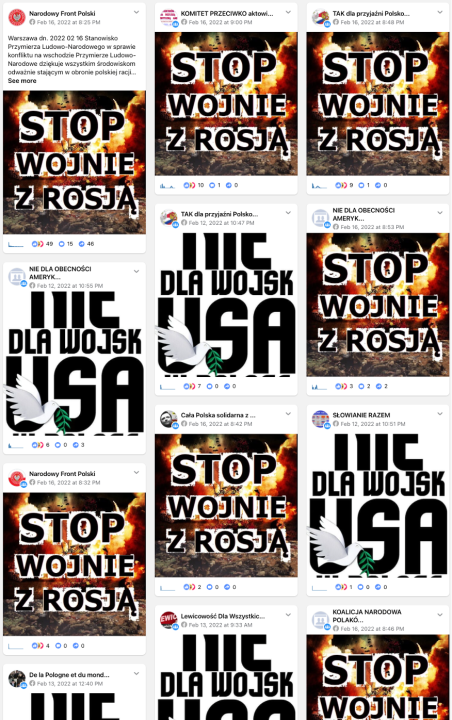 Overall, the campaign launched by I Remember Volyn garnered the highest number of interactions (more than 4,500 in total), while the campaign launched by Robert Szafran and Robert Kockiewicz accounts with the slogan "I do not support Banderite Ukraine, which glorifies murderers of Poles," was reposted the most often, but garnered just 152 engagements.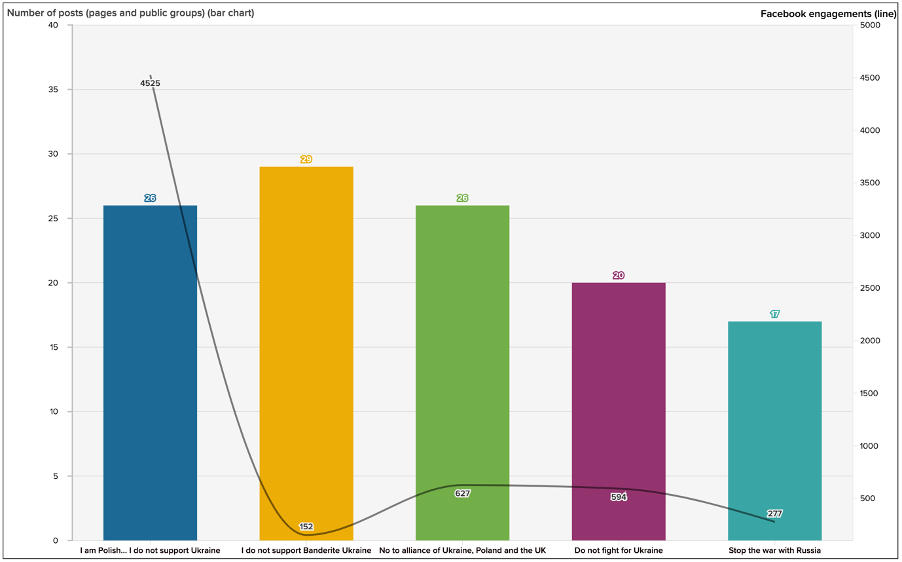 Anti-Ukrainian hashtags on Twitter
The DFRLab collected eight anti-Ukrainian hashtags and used used Meltwater Explore to analyze their mentions. They were mentioned more than 9,300 times between January 28 and February 26, 2022, with mentions increasing significantly after Russia recognized the self-proclaimed Donetsk and Luhansk People's Republics as independent states, and again after Russia invaded Ukraine on February 24.
The DFRLab analyzed the hashtags #niewspieramukrainy (#IDoNotSupportUkraine); #UkraińskieLudobójstwo (#UkrainianGenocide, in reference to the Volyn Massacre of WWII); #banderowcy (#banderites, in reference to Stepan Bandera); #WolynPamietamy (#IRemembervolyn); #Je***Ukrainę (#F***Ukraine); #zbrodnieUPA (CrimeUPA, which refers to the WWII-era crimes of the Ukrainian Insurgent Army against Poland); #RzezWolynska (#VolynSlaughter, also a reference to the Volyn massacre); and #ToNieNaszaWojna (#ThisIsNotOurWar). As can be seen, these anti-Ukrainian hashtags mainly refer to the massacre of Poles in Volyn by the Ukrainian Insurgent Army in 1943, which remains a painful event in Polish public memory.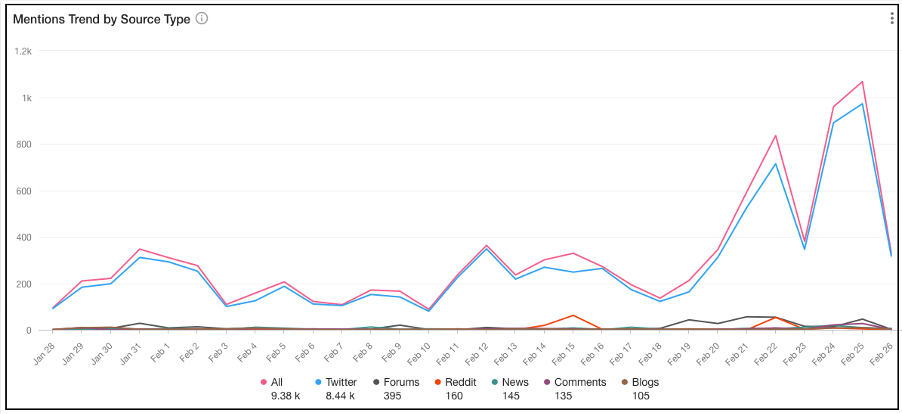 Meanwhile, DFRLab analysis also showed that the hashtag #niedlasegregacjisanitarnej (#NoToSanitarySegregation) was the third most-common anti-Ukrainian hashtag. "Stop sanitary segregation" is one of the slogans of Polish anti-vaccine activists on Twitter. The Polish Institute of Internet and Social Media Research recently noted that anti-vaxxer accounts started to push anti-Ukrainian and pro-Russian hashtags. Meltwater analysis confirmed that people who post anti-Ukrainian hashtags also frequently posted the hashtag to protest COVID restrictions.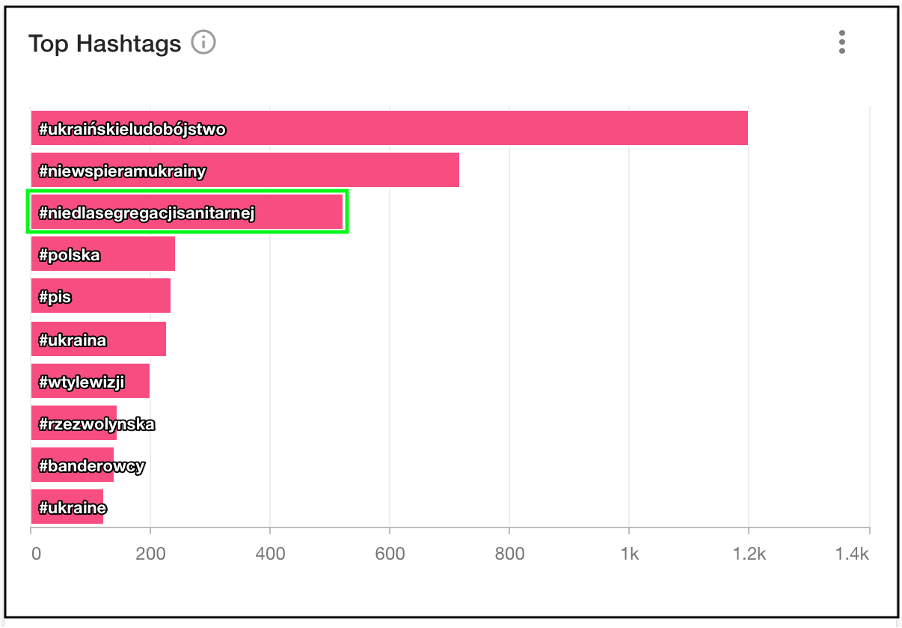 Apart from amplifying anti-Ukrainian hashtags, certain Twitter users also used graphic images in their tweets, depicting dead corpses of children from the Volyn massacre, apparently in an attempt to increase negative sentiments towards Ukrainians within Polish society. (Please note these links are disturbing and may prove upsetting to some readers.)
Malicious actors are trying to nurture anti-Ukrainian narratives via social media in light of Russian aggression against Ukraine, with the objective to change perceptions of Polish people towards Ukraine. Even though recent polling suggests that the majority of Poles currently welcome refugees from Ukraine, anti-Ukrainian social campaigns in Poland may affect public sentiments towards Ukrainians, potentially making Poles less willing to provide support to Ukrainian refugees.
---
Cite this case study: