Russian gamer banned after drawing the letter Z during esports competition
Russian team Virtus.pro was competing against Ukrainian players during Dota 2 tournament at the time of the incident.
Russian gamer banned after drawing the letter Z during esports competition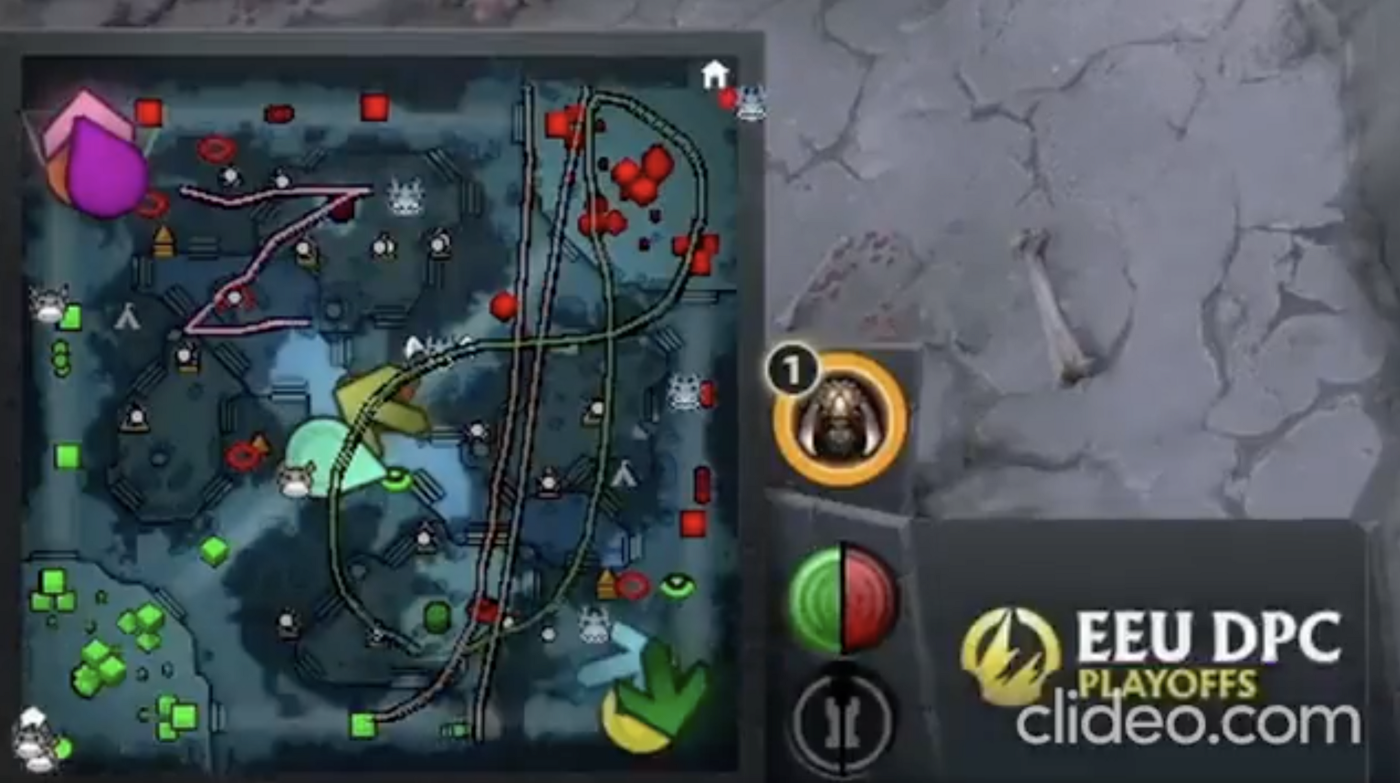 BANNER: Russian gamer Ivan "Pure" Moskalenko draws a Z (top left corner) during an idle moment of a Dota 2 game against a team with two Ukrainian players. (Source: @KoTHunt/archive)
On April 29, eighteen-year-old Russian esports player Ivan "Pure" Moskalenko was banned and his team subsequently disqualified for his drawing of the letter Z during a tournament match of the popular videogame Dota 2. Moskalenko and his Russian national team had been playing against a team with two Ukrainian members. The incident has shocked the competitive gaming community, as Russian and Ukrainian gamers have long competed on mostly friendly terms. The letter Z has become a pro-war symbol in Russia, ever since it was seen painted on Russian tanks in the days and weeks leading up to the February 24 invasion.
In a widely shared video of the match, Moskalenko's cursor can be seen using the doodle function to draw a Z on the Dota 2 minimap as his teammates draw other squiggles and shapes. One teammate, recognizing the potential for scandal, tried to draw over the Z before it was spotted by the audience.
Moskalenko subsequently apologized, claiming that he had been mindlessly scribbling and drawn a Z without realizing it. "Peace to all," he added.
This explanation was found unconvincing by Valve, creator of Dota 2 and principal organizer of the Dota Pro Circuit Easter European qualifier in which the Russian players had been competing. Valve ruled that Moskalenko and his teammates could no longer compete and would forfeit all matches. This decision represents the closest that Valve has come to a political statement on the war and may have far-reaching consequences in the gaming community. Valve also owns and operates Steam, the world's most popular PC gaming library service, which has so far continued to serve millions of Russian users despite Ukrainian calls for a boycott.
The scandal also illustrates the complex tensions that have disrupted Eastern European esports since the start of the war. The banned Russians were all members of Virtus.pro, a popular Russian esports team founded in 2003 and owned today through intermediaries by VKontakte. One of the few esports organizations to avoid taking a strong stance against the invasion, Virtus.pro had already been disinvited from most competitions over the past two months. Although its team membership is largely Russian, its roster also includes several Ukrainian players as well as a Latvian who has publicly denounced the war and is currently seeking to leave the team.
Virtus.pro's general manager is Sergey Glamazda, a Ukrainian who was born in Kharkiv and educated in Kyiv. In a leaked March 2022 memo, Glamazda urged teammates and staff to avoid political or "personal" content when discussing the war on social media. Virtus.pro members were reportedly allowed to use emojis of the Ukrainian flag, but only in the context of calling for peace. When Virtus.pro issued its first public statement on March 1, it framed itself as against war in general. "We do not support any war there is or ever was: in Ukraine, Syria, Afghanistan, Yugoslavia or any other," the team wrote. "But forcing someone to take a public stand does not lead to peace, but instead it drives people further away from each other and fuels hatred."
A day after the incident, Virtus.pro terminated its contract with Moskalenko, citing a zero-tolerance policy for "inciting hatred in esports." The organization also condemned Valve's decision to ban Virtus.pro members from competing due to the action of one team member, warning that the punishment could set "a whole new precedent."
---
Cite this case study: