Allegations of platform manipulation stir tensions in online white nationalist movement
Former associates of white nationalist podcaster Nicholas Fuentes allege Cozy TV manipulates view counts, though the truth is unclear.
Allegations of platform manipulation stir tensions in online white nationalist movement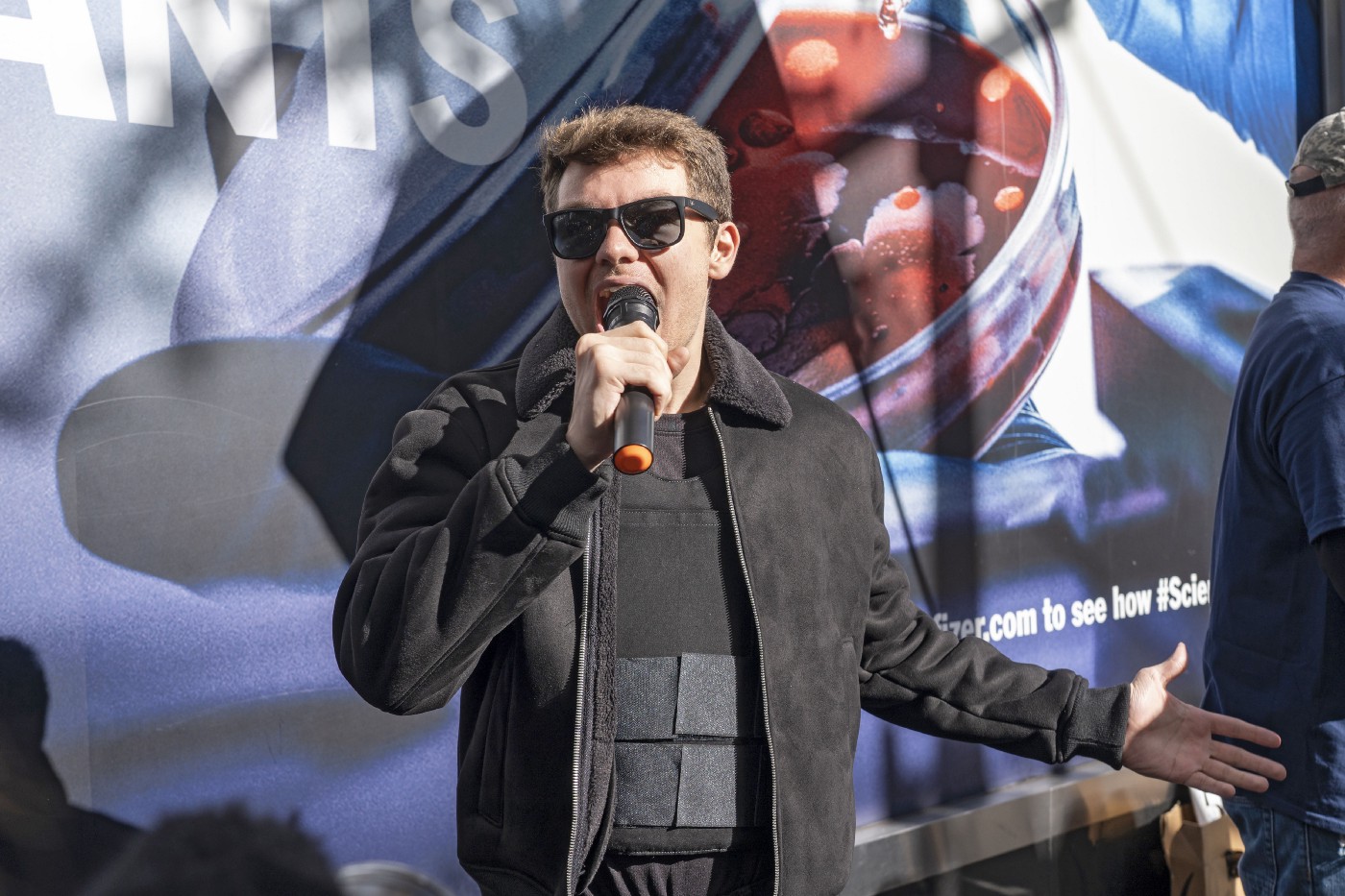 BANNER: Nicholas Fuentes of far-right group America First speaks at an anti-vaccine protest in front of Pfizer world headquarters in New York, November 13, 2021. (Source: Reuters/Ron Adar /SOPA Images/Sipa USA)
Two former associates of white nationalist Nicholas Fuentes have alleged that the live video platform created and spearheaded by Fuentes, Cozy TV, has misrepresented the number of viewers it displays on its content. The DFRLab attempted to verify the accuracy of those claims using methods the associates offered to the public online but determined that more information would be needed to determine the claims' veracity.
The claims come amid escalating divisions within the white nationalist movement. Movement supporters have often downplayed or scoffed at reporting about platform manipulation and misinformation when related to their in-group, making the allegations against Cozy TV a notable shift in tone.
Fuentes is a white nationalist livestreamer and leader of a slice of the modern white nationalist movement. He was a major figure in the Stop the Steal election denialist movement of 2020 and stood outside the U.S. Capitol building as some of his supporters rioted in Congress, hoping to prevent the certification of President Joe Biden's electoral win. In recent years, Fuentes has found powerful allies in hard-right Republican Party figures; his most recent America First Political Action Conference (AFPAC) event featured addresses from Reps. Marjorie Taylor Greene and Paul Gosar, Arizona state Sen. Wendy Rogers, Ohio Lt. Gov Janice McGeachin, and former Maricopa County Sheriff Joe Arpaio.
Two close ex-associates of Fuentes, Simon Dickerman and Jaden McNeil, appeared on an hours-long live podcast on May 6 to air a multitude of allegations against Fuentes and the methods in which he has led his portion of the domestic extremist movement in the United States. McNeil served as the treasurer for Fuentes' nonprofit foundation; Dickerman has been described as having a "technical role" in Fuentes' movement. (Despite being listed as treasurer of Fuentes' foundation, McNeil said he was kept unaware of the group's financial activity and that he didn't know "what the fuck's going on behind the scenes there.")
The duo alleged that Fuentes' Cozy TV platform was purposefully displaying inflated view count numbers to visitors in hopes of boosting outward perceptions of Fuentes and his fellow streamers' popularity. Dickerman made similar claims on Twitter, alleging discrepancies between the displayed view counts on episodes of Fuentes' podcast and numbers displayed within archived copies of code connected to the platform's application programming interface (API).
"I promise you wholeheartedly as a Christian, when I was working on AmericaFirst.Live and Cozy.tv through December 2021, we were applying a multiplier to Nick's viewer count," Dickerman tweeted. In other tweets, Dickerman has suggested that the website approximately doubles the displayed view count and promised to have "private data" proof.
The DFRLab attempted to corroborate some of Dickerman's claims as they were offered to the public. We examined copies of Cozy TV API pages that were archived by the Internet Archive Wayback Machine at times extremely close to other existing archives of the public-facing Cozy TV homepage for the kinds of discrepancies alleged. The DFRLab reviewed about a dozen instances that met those conditions, though our scope was limited by the fact that many archived instances of Cozy TV listed on Wayback Machine cannot be displayed properly.
After reviewing current and archived copies of the Cozy API page, the DFRLab was not able to find any inconsistencies in the API information put forward in the accusations that would satisfyingly prove or disprove claims of intentional platform manipulation. We determined that the evidence shared by Dickerman was insufficient and that more information would be necessary to assess their accuracy.
Dickerman and McNeil also alleged during the live podcast that Fuentes used non-disparagement agreements to threaten those who defected from his clique. Additionally, Dickerman alleged that Fuentes used online chat rooms to direct his interns to build information and blackmail on perceived turncoats, including Joe Kent, after that Trump-endorsed Washington congressional candidate criticized Fuentes. McNeil also said that Fuentes had threatened to give the private information of defectors to federal law enforcement.
Speaking of the people allegedly targeted by Fuentes, Dickerman said, "A lot of these guys were nineteen, twenty, twenty-one [years old]. Some of these guys worked political campaigns. Some of them were working, you know, in pretty important jobs. Some of them were at Fortune 500 companies, if you can believe that."
McNeil also alleged that Fuentes had been soliciting money from fans while misleading them about his own financial situation. The Southern Poverty Law Center reported last year that Fuentes claimed federal law enforcement took "lots and lots and lots of money" from one of his checking accounts after the Capitol riot. (In the lead up to January 6, Fuentes and other supporters of the Capitol attack received large sums of donated bitcoin from an overseas donor.) Fuentes has long used the claim of federal financial seizure in the story he tells about his movement being under attack — a plea that McNeil disputed.
"The [confiscated] $500k? He's had that for almost a year, OK? He's had that back from the feds for almost a year and he's just been using that [claim] to raise money," McNeil said, adding that Fuentes had purchased an expensive vehicle while claiming to not have access to money those federal authorities were said to have seized.
McNeil claimed that after his podcast appearance criticizing Fuentes, his account was signed out of Cozy TV and the site operators changed his login credentials.
Fuentes initially scoffed at the allegations on his Telegram channel. After several days, Fuentes dedicated the May 10 episode of his podcast to dismissing claims against him as "tabloid gossip" and painting McNeil and Dickerman as troubled sources, citing his frayed relationships with duo.
Of the claims he did address, Fuentes said that his finances were still under federal investigation, though he did not say whether his assets were unfrozen as McNeil alleged. Fuentes declined to elaborate on specifics of the investigations, due to them being ongoing legal matters, and denied ever asking fans to donate money for the purpose of recuperating frozen funds. He also denied that his interns were ever threatened, extorted, or revealed to federal officials. Fuentes did not deny that view counts were being inflated on Cozy TV but disputed the proof offered by Dickerman and called it "bullshit."
---
Cite this case study: