Notorious hate group website displayed prominently in Google search results
Google displays Patriot Front URL in search results sidebar despite blocking other racist website URLs from appearing there.
Notorious hate group website displayed prominently in Google search results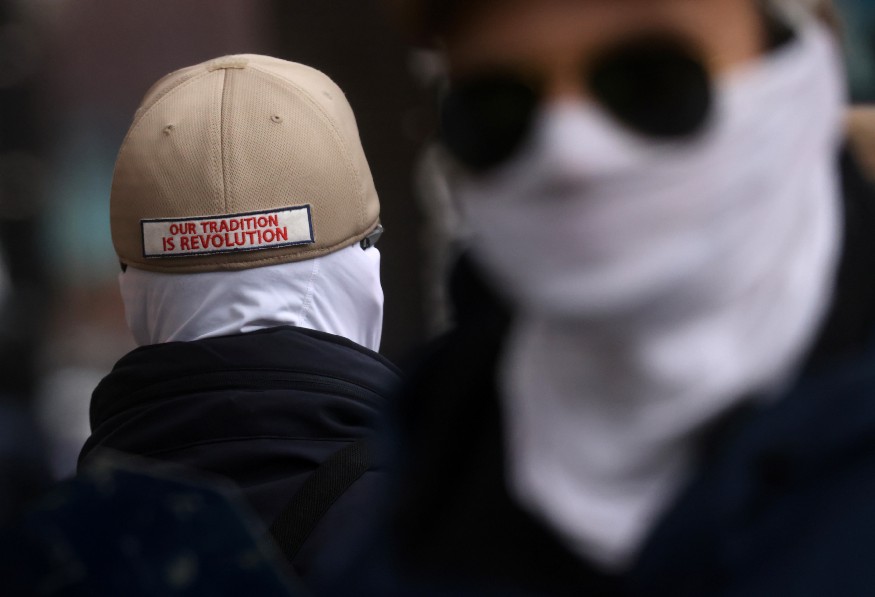 BANNER: Google displays Patriot Front URL in search results sidebar despite blocking other racist website URLs from appearing there
A Google search for the neo-Nazi fascist group Patriot Front using the desktop Chrome browser displays a sidebar panel linking to the group's website. When Google users search for news about Patriot Front, the quick accessibility of their website URL presents a potential tool for recruitment and radicalization.
The sidebar in Google search results is called a knowledge panel, and typically displays information about the searched subject from Wikipedia and other sources. According to Google, the knowledge panel is automatically generated, but the search subjects can request to have their knowledge panels updated with relevant information. Google has also acknowledged that while hateful content is not allowed, "Our systems automatically strive not to show information that would violate our policies listed below. However, the scale of search is so large that no system can be perfect. This is why we provide public reporting systems."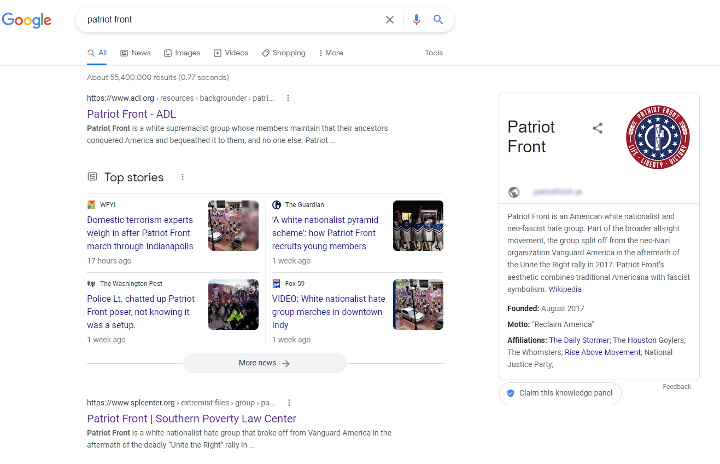 Google search results for other neo-Nazi and white supremacist extremist groups generally do not include links to their websites in their knowledge panels on the desktop Chrome browser. For example, the Google search results for the Daily Stormer — a notorious neo-Nazi website — do not include a website link in the knowledge panel.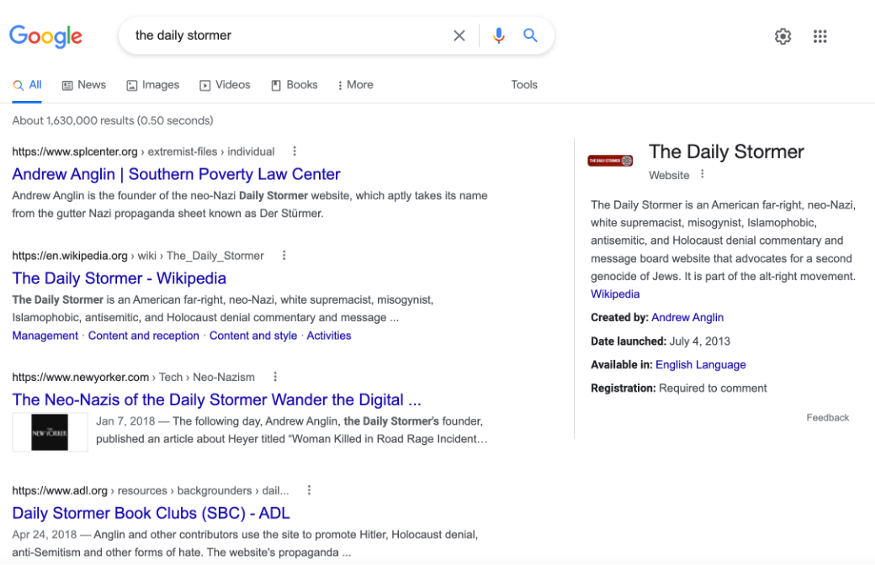 It is possible that this discrepancy is an oversight or mistake on Google's end, given that other white supremacist groups do not have accessible web links on their knowledge panels. Another possibility is that members of Patriot Front were able to successfully request that Google update their knowledge panel to include their website, although this seems unlikely given that there is still a "Claim this knowledge panel" at the bottom.
However, what seems most likely is that Patriot Front is using better search engine optimization than other white supremacist groups. The DFRLab reviewed the website source code of a dozen other national white supremacist groups for SEO plugins and discovered that Patriot Front used a WordPress plugin called All in One SEO. (The Oath Keepers website also previously used the plugin, but the site is currently down.) According to a WordPress post on the plugin, All In One SEO functions so "you will be able to setup all the advanced WordPress SEO features like… Open Graph SEO Knowledge Panel information."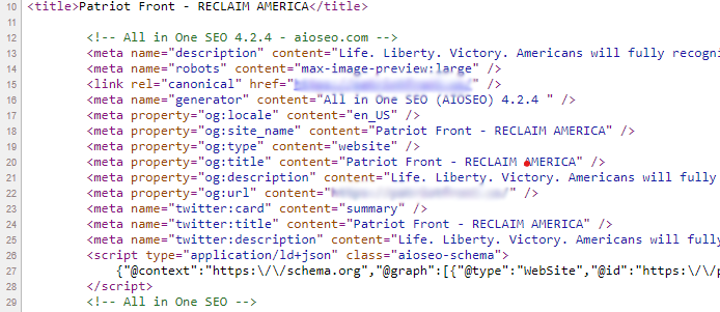 The prominence of the link in Google search results could inadvertently assist ongoing Patriot Front recruitment efforts. Patriot Front actively organizes, recruits, and advertises in many US states. A promotional Telegram channel claims that they've engaged in an average of twenty two "instances of activism" per day during July and August 2022, across forty six states and the District of Columbia.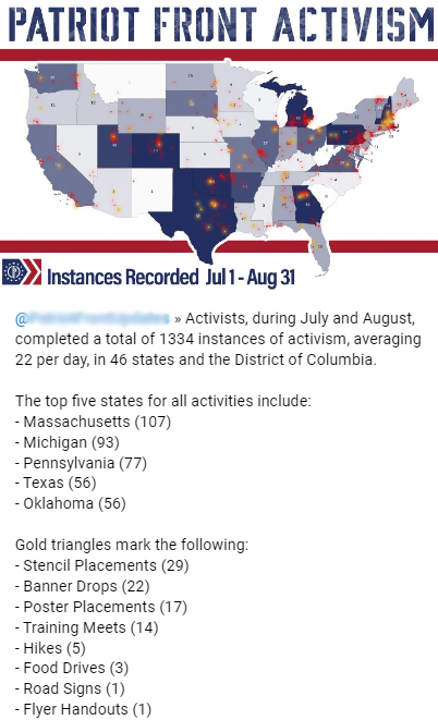 Much of this "activism" appears to be putting up posters and creating stenciled logo graffiti. The Patriot Front Telegram channel requires members to submit evidence of them engaging in these activities weekly, many of which are posted to the channel. But Patriot Front has also been in the news lately — they staged a march in Indianapolis over the first weekend of September 2022. According to local reporting, around seventy five Patriot Front members participated. The mayor of Indianapolis said of the march, "Hate has no place in Indianapolis. The individuals who marched Downtown yesterday do not represent the values of our community."
Patriot Front shared updates about the march on their website. Their website also prominently links to their manifesto and membership information, as well as links to their Telegram, Odysee, Gab, and Bitchute channels.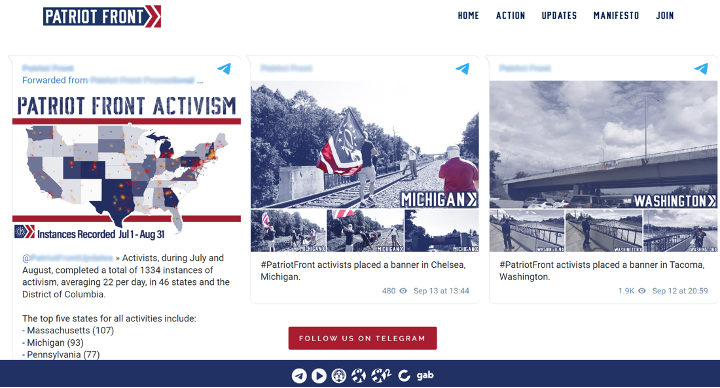 Unwitting Google users could end up in far more extreme places from an initial Google search for news on Patriot Front activities. Google Trends shows us that in July and August 2022 — the timeframe Patriot Front boasted about in its Telegram channel — Massachusetts ranked highest in user Google searches regarding Patriot Front. This could be attributed to local events: in Boston, over 100 Patriot Front members marched along Boston's Freedom Trail on July 3, 2022. Some of them allegedly assaulted a Black man, who was taken to a hospital treat lacerations he received during the attack.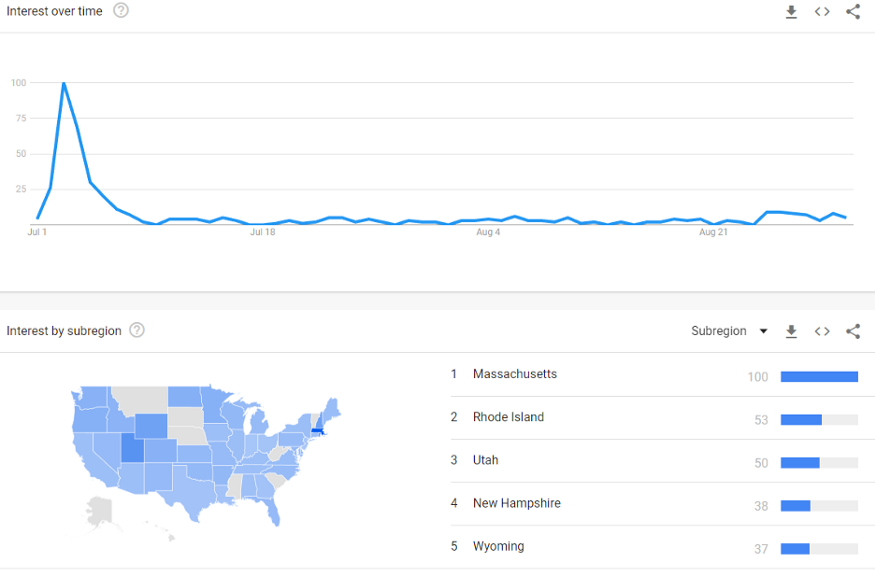 Patriot Front's URL appears in Google search results on desktop versions of Chrome rather than mobile, and does not appear in Google's Incognito search results. The DFRLab was unable to replicate the results on other browsers — including Firefox and Edge. It should also be noted that different DFRLab researchers received varying results, with the URL appearing inconsistently. On less widely used search engines including Bing and DuckDuckGo, search results for Patriot Front and other white supremacist groups included links to their sites in sidebars equivalent to Google's knowledge panel.
While the Patriot Front URL's appearance in Google's knowledge panel seems to be a discrepancy given that other white supremacist groups do not have website links in their knowledge panels, the fact that it does occur, even intermittently, points to the challenges of content moderation at scale. Extremist groups leverage social media and the online ecosystem more broadly in the attempt to push their racist worldviews into the mainstream. Patriot Front has a history of producing slick propaganda in an effort to recruit more members and promote white supremacist ideology. The prominent display of their link on Google search results, even if unintentional, serves as a promotional opportunity for a hate group that does not deserve the spotlight.
---
Alyssa Kann is a Research Associate with the Digital Forensic Research Lab.