How Russian YouTube copycat RUTUBE promotes pro-Kremlin narratives
RUTUBE's mix of Kremlin narratives and entertainment has seen a surge of referral traffic since Russia's February 2022 invasion of Ukraine.
How Russian YouTube copycat RUTUBE promotes pro-Kremlin narratives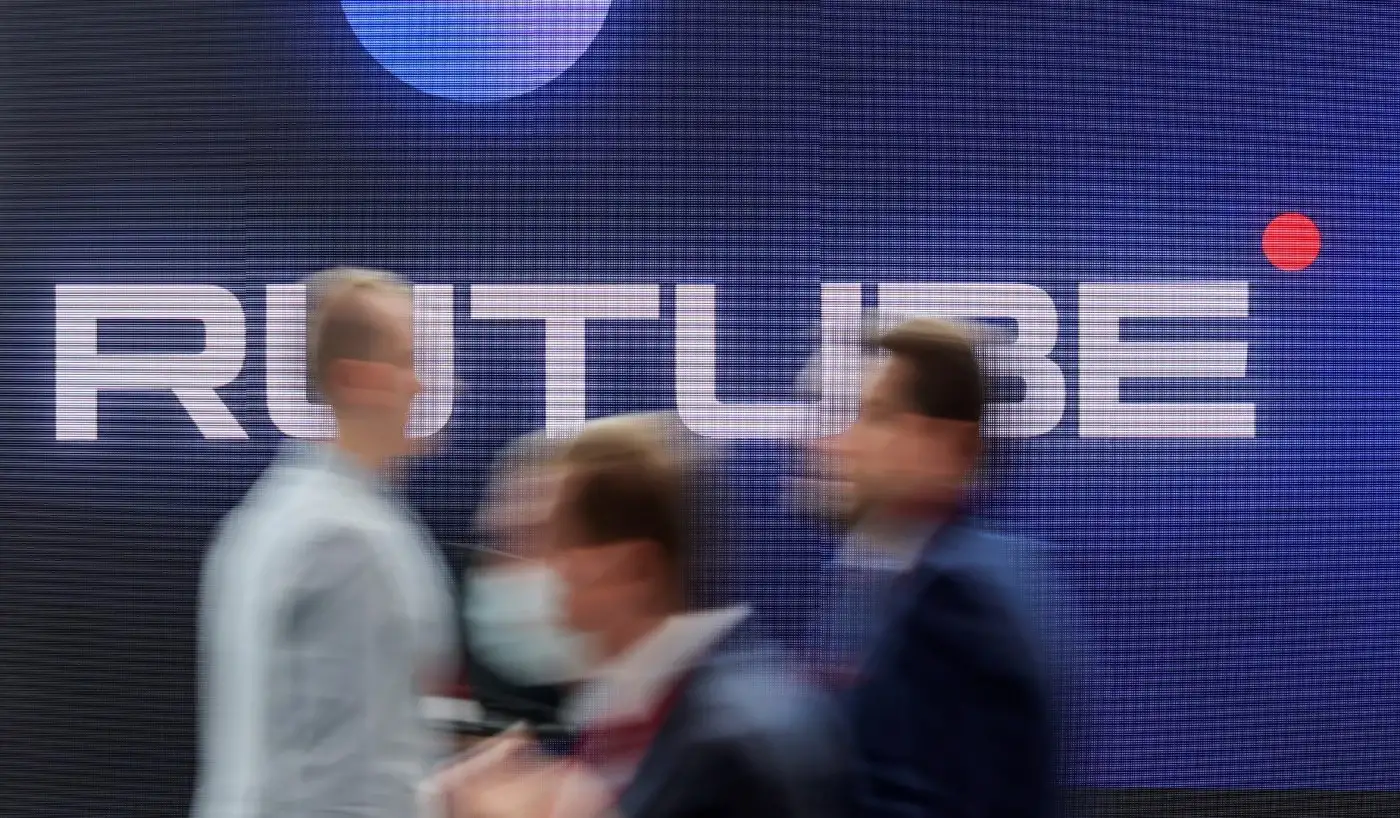 BANNER: RUTUBE's mix of Kremlin narratives and entertainment has seen a surge of referral traffic since Russia's February 2022 invasion of Ukraine
The Russian video platform RUTUBE interlaces Russian propaganda with entertainment content to deliver Kremlin narratives to a broader and potentially apolitical audience. RUTUBE supports the Kremlin's propaganda machine by using entertainment content as a gateway to Kremlin-backed narratives. The platform primarily targets domestic audiences and is of great importance to the Kremlin as it delivers controlled information through arguably the most digestible medium — video.
RUTUBE first launched in 2006 as YouTube experienced one of its first surges in popularity; the growing name recognition of YouTube inspired the copycat branding choice. RUTUBE's founders, Mikhail Paulkin and Oleg Volobuyev, also created the video game Dozory; they were pushed out of the video game company in a 2007 hostile takeover by Vzglyad publisher Dmitry Itskov. The following year, Gazprom-Media, part of the state-owned energy conglomerate Gazprom, purchased RUTUBE from the Paulkin and Volobuyev. Gazprom is loyal to the Russian government and provides substantial geopolitical leverage for the Kremlin.
Initially, RUTUBE was not an incredibly effective instrument for Gazprom-Media or the Kremlin. One of the first documented attempts by the Russian government to engage with video blogging can be traced back to a 2010 initiative called "Spasibo, Eva!" ("Thank you, Eva!)", which launched on YouTube rather than RUTUBE due to disagreements between the producers and Gazprom-Media. "Spasibo" kickstarted the careers of many Russian influencers that remain popular today, including Ruslan Usachev, Ilya Maddyson, Danila Poperechny, Ilya Prusikin, and others. In 2012, the hacktivist collective Anonymous accessed and leaked a tranche of emails from the initiative revealing it was sponsored by the Russian Federal Agency for Youth Affairs, making it one of the Kremlin's first recorded attempts to influence a video platform. The same year, Gazprom-Media ordered a rebranding of RUTUBE that appeared to be an attempt to distance the platform from its increasingly popular Western counterpart.
From 2013 to 2021, RUTUBE made several deals with Russian companies, including search engine Yandex, to increase its user base. However, the platform saw little significant development during this period. The Russian government turned its attention back to RUTUBE after opposition leader Alexei Navalny used YouTube to publish two documentaries in December 2020 and January 2021 uncovering details about his assassination attempt and rampant Kremlin corruption. The YouTube documentaries triggered Navalny's detention and prompted a series of large-scale protests across Russia. By the end of 2021, the Kremlin entrenched its control over social media when Gazprom affiliates Gazprombank and Sogaz purchased a controlling stake in VK, which owns the two most prominent social networks in Russia, Vkontakte and Odnoklassniki.
Russia's February 2022 invasion of Ukraine marked a turning point in the development of RUTUBE. The invasion triggered the platform's rapid growth, with a 161 percent increase in the platform's monthly audience from March to April 2022, according to state-owned news outlet TASS. In addition, a DFRLab backlink analysis of RUTUBE's domain showed that the number of backlinks remained relatively unchanged for more than two years until a spike in March 2022 kicked off a rise in backlink referrals that lasted until October of that year, indicating a surge in popularity of RUTUBE following the invasion of Ukraine.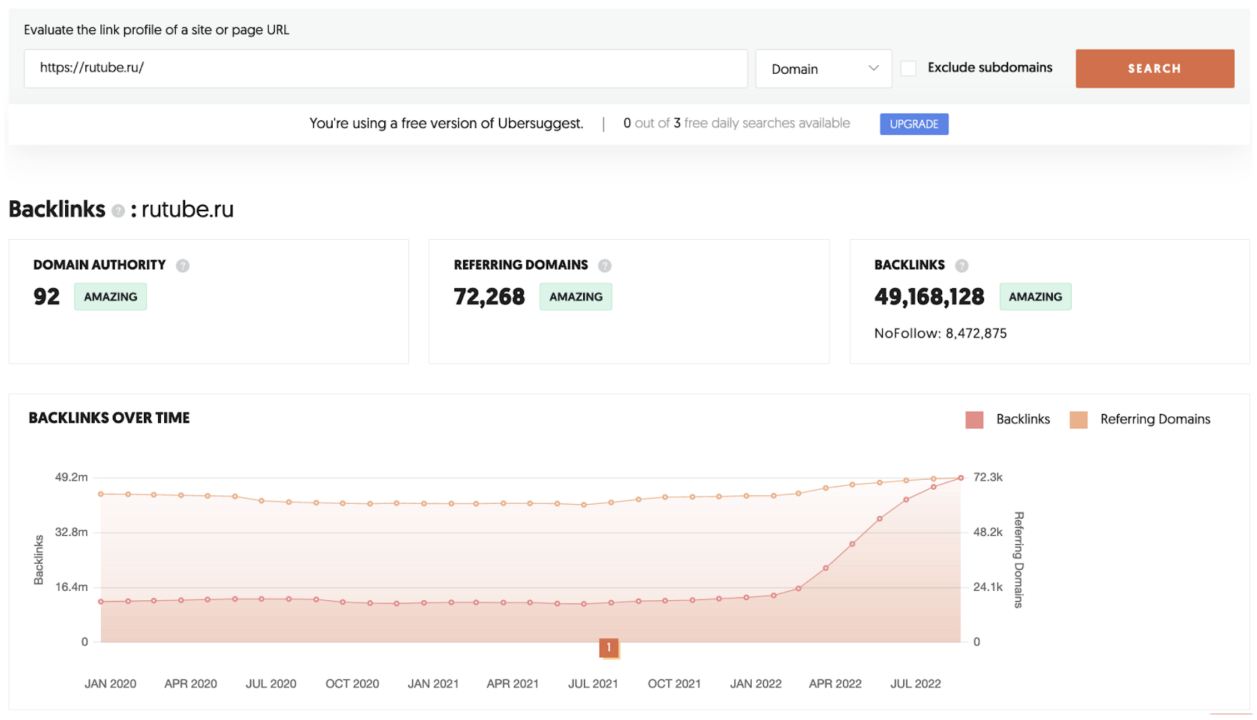 Entwining political narratives and entertainment
RUTUBE provides a platform for Russian state-backed television channels banned by YouTube in March 2022. The platform directly embeds state-owned TV channels, like Channel One Russia, Rossiya 1, and NTV into the platform's toolbar, superseding its algorithmic content.
Another indicative feature of RUTUBE is the Now Searching section on the homepage, which ostensibly showcases trending searches on RUTUBE, but displays a mix of general-interest content and political messages. For example, on October 1, 2022, the section entwined general topics like "World Animal Day," "Mushroom Season," and "How to Get Rid of Stress" with "DNR and LNR [Donetsk and Luhansk People's Republics] Joining Russia," "Partial Mobilization," and "DNR and LNR Referendums."
A deeper analysis of RUTUBE's Trending page confirmed that the platform serves as a conduit for Kremlin narratives. The DFRLab scraped videos from RUTUBE'S Trending page on October 12, 2022. Of the thirty videos collected, seventeen dealt with political messaging, including fifteen related to Ukraine. A second scraping conducted on October 14 found that nineteen out of thirty trending videos focused on politics, of which seventeen referencing Ukraine.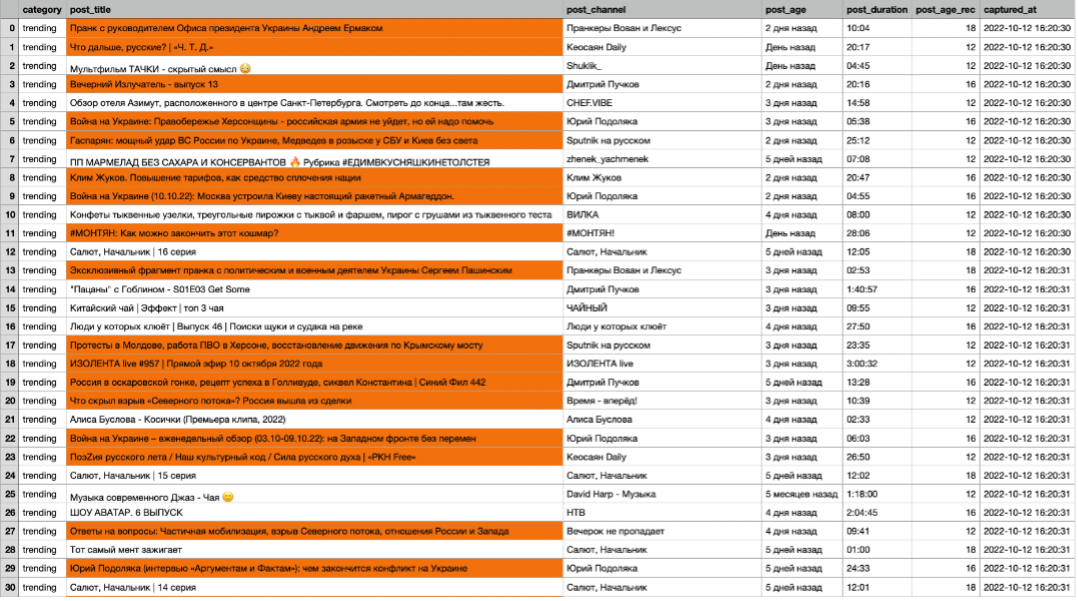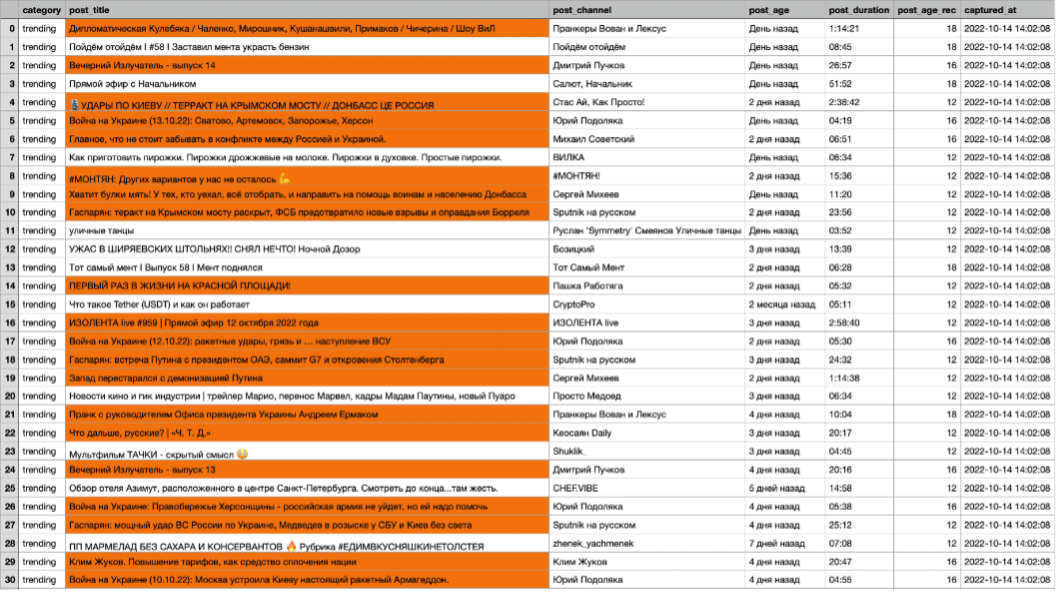 RUTUBE also regularly promotes videos about the Ukraine war on its news pages. The videos are most frequently presented in a daily or weekly news format. Other formats include talk shows that attempt to analyze the war through a prism favoring Russia, including live streams from the highly jingoistic Soloviev Live. For example, when Russia announced a partial mobilization in September 2022, videos ranged from news pieces to explanatory lectures about the implications for regular citizens.
This analysis of RUTUBE is indicative of a slow but persistent shift toward homemade Russian internet platforms that has only escalated since Russia invaded Ukraine in February 2022. Kremlin restrictions and crackdowns on Western social media platforms appear to have helped the platform gain traction domestically, but RUTUBE management admits its platform is still far behind YouTube.
"In the case of YouTube, the initial focus was on the English-speaking audience," RUTUBE CEO Alexander Moiseev told Kommersant in September 2022. "The focus of RUTUBE is the Russian-speaking audience. And I think that, from her point of view, we will overcome the amount of content of other platforms very soon. There are many people in the world who speak Russian, and this is actually a large community that also wants to offer interesting content. When we achieve perfection in this, then, of course, we will go further."
---
Andrii Umanskyi was a Fall 2022 Young Global Professional at the DFRLab. He currently attends American University, where he is pursuing a bachelor's degree in international studies with a minor in applied physics.
Cite this case study: