Russia-friendly media outlets in Global South frame French anti-government protest as anti-NATO  
Russian state media coverage of protest in Paris picked up by outlets across the Global South
Russia-friendly media outlets in Global South frame French anti-government protest as anti-NATO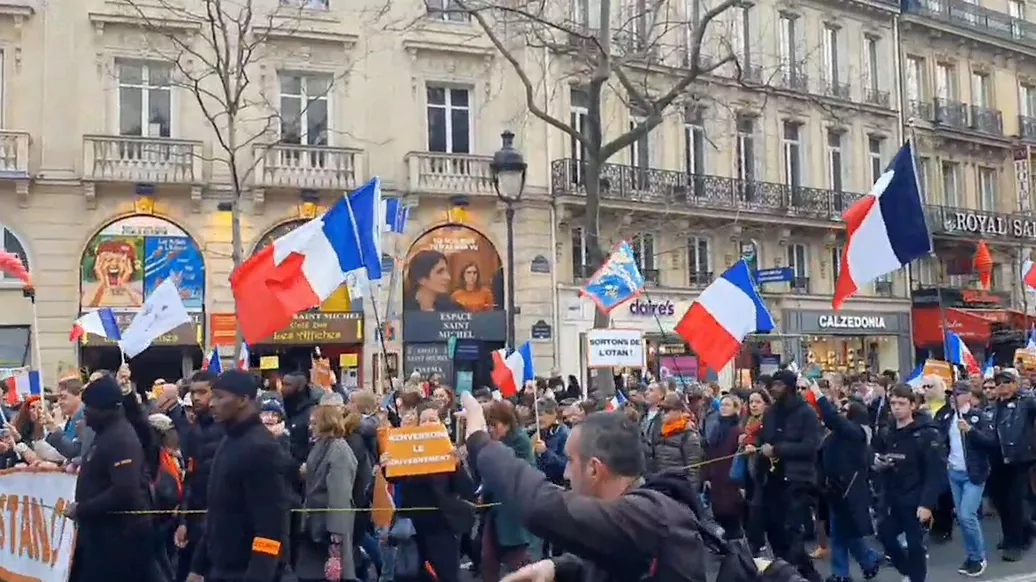 Anti-NATO March in Paris, March 18, 2023. (Source: RIA Novosti)
Several Russia-friendly media outlets in the global south reported on a demonstration organized by Les Patriotes, a far-right political party in France, after party leader Florian Philippot tweeted, "If Zelenskyy loses, NATO will become more radical."
While France leaving NATO was one of the protest's slogans, Philippot did not put much emphasis on this angle in his social media posts about the protests. On TikTok, Instagram, Twitter, and Facebook, he called for a motion of censure for the current French government. The confidence vote occurred on March 20, but the motion did not pass.
Meanwhile, Kremlin-owned outlets RIA Novosti and TASS reported on a "march for France to exit NATO." Similar headlines appeared in the English version of outlets that publish in the Global South, with the articles citing RIA. The reports came from Al Mayadeen (pro-Hezbollah Lebanese outlet), Urdu Point (Pakistani outlet), News Unrolled (fringe English outlet), Bernama (Malay outlet), China Daily, The Vibes (Malay outlet), TeleSUR (Venezuelan outlet), and Iran Press. The story was also posted on the French version of the Chinese state-owned Xinhua press agency and in a Cameroonian news outlet.
Some media outlets cited a tweet from the self-described "independent Lebanese geopolitical commentator" Sarah Abdallah. The BBC previously identified Abdallah's account to be one of the leading purveyors of disinformation about the Syrian war. In her tweet, Abdallah asked, "Why is Western media ignoring the anti-NATO protests happening today in Paris, France?" In a second tweet, she wrote, "Aujourd'hui dans les rues de Paris: « Sortons vite de l'OTAN! » Today in Paris: Thousands of people chanting 'Let's get out of NATO quickly!'" The now-deleted tweet contained a video also tweeted by Tamila Tapayeva, a Les Patriotes party member; the footage does indeed show people chanting in French, "Let's leave NATO!"
The DFRLab used Meltwater Explore to identify 18,752 mentions on Twitter of the anti-NATO protest in France (query: ("anti-NATO" OR "leave NATO") AND protest* AND (France OR Paris) from March 12 to March 21). These included 11,525 retweets and 512 quote tweets of Abdallah's tweet, the latter of which were further retweeted 836 times. This indicates that 68.65 percent of the conversation were based on Abdallah's tweet. The second most retweeted tweet in the data set was by @ChuckCallesto, who tweeted, "Anti-NATO protests in France.. ZERO media coverage?" The combined number of this tweet's retweets, quote tweets, and retweets of quote tweets was 5,049, constituting 26.93 percent of the conversation. Combined, these tweets populated 95.58 percent of the English-language conversation about the protest on Twitter.
In the French Twitter space, there was minimal discussion on leaving NATO. The phrase "exit from NATO" (query: "sortie de l'OTAN" from March 12 to March 21) was mentioned 782 times, with 62.02 percent of the conversation revolving around the amplification of Tamila Tapayeva's tweet about people chanting "Let's leave NATO!" during the Les Patriotes protest. One of the amplifiers was @mrrussianz, who tweeted Tapayeva's video in Japanese, saying, "Anti-NATO protests in Paris today. Of course, the main media is silent."
There appears to be little discussion of the protest on Telegram, as only one occurrence of the narrative was identified in the InfoDefFrance Telegram channel, which the DFRLab previously identified as being part of a larger pro-Kremlin disinformation network.
The DFRLab did not identify bot-like Twitter accounts amplifying Tapayeva's video in English or French.
---
Cite this case study:
Nika Aleksejeva and Valentin Châtelet, "Russia-friendly media outlets in Global South frame French anti-government protest as anti-NATO," Digital Forensic Research Lab (DFRLab), March 24, 2023, https://dfrlab.org/2023/03/24/russia-friendly-media-outlets-in-global-south-frame-french-anti-government-protest-as-anti-nato.