What to expect from the world's democratic tech alliance as the Summit for Democracy unfolds
Ahead of the Biden administration's second Summit for Democracy, stakeholders from the Freedom Online Coalition gave a sneak peek at what to expect on the global effort to protect online rights and freedoms.
What to expect from the world's democratic tech alliance as the Summit for Democracy unfolds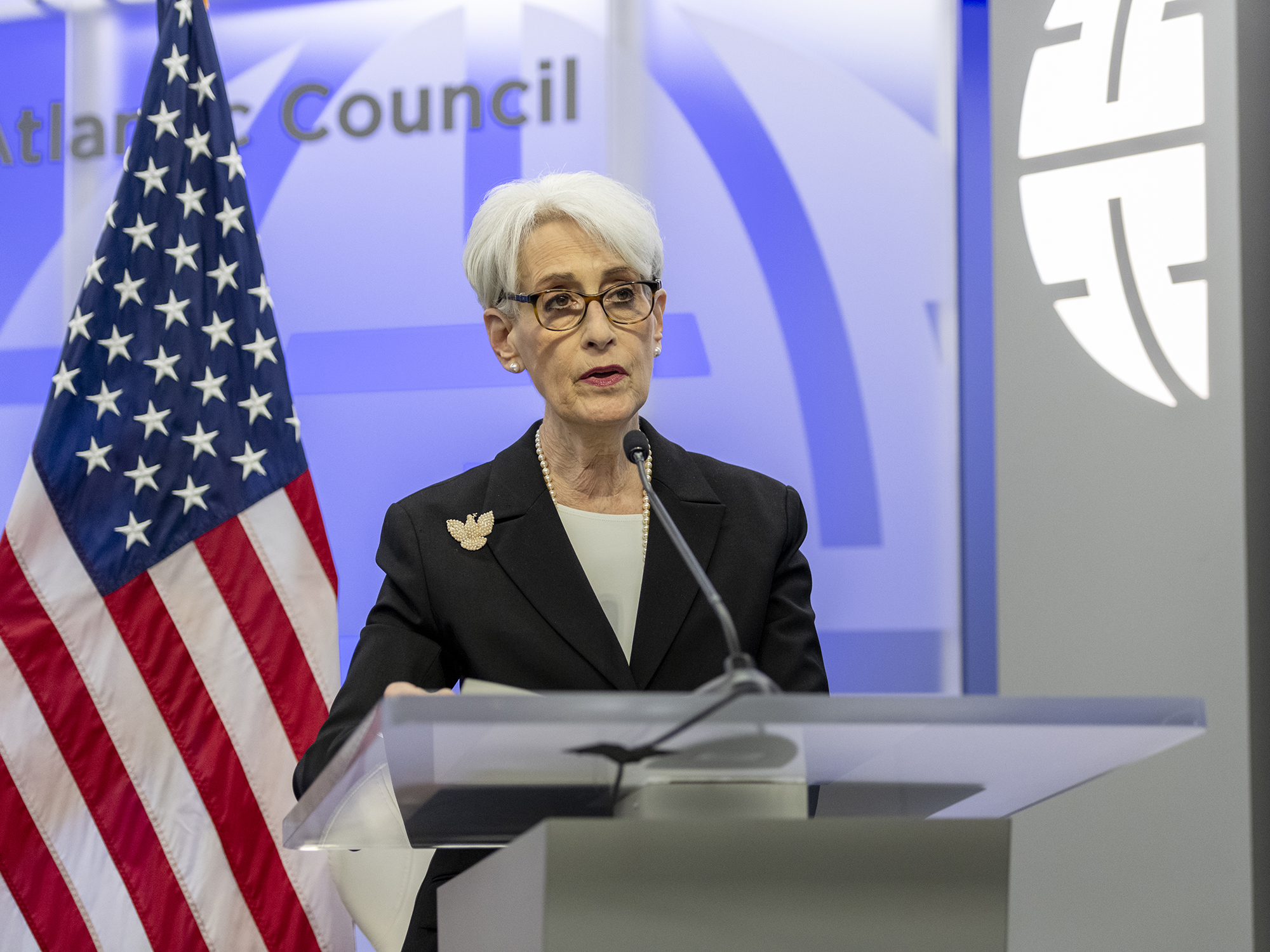 Ahead of the Biden administration's second Summit for Democracy, US Deputy Secretary of State Wendy Sherman gave a sneak peek at what to expect from the US government on its commitments to protecting online rights and freedoms.
The event, hosted by the Atlantic Council's Digital Forensic Research Lab on Monday, came on the same day that US President Joe Biden signed an executive order restricting the US government's use of commercial spyware that may be abused by foreign governments or enable human-rights abuses overseas.
But there's more in store for this week, Sherman said, as the United States settles into its role as chair of the Freedom Online Coalition (FOC)—a democratic tech alliance of thirty-six countries working together to support human rights online. As chair, the United States needs "to reinforce rules of the road for cyberspace that mirror and match the ideals of the rules-based international order," said Sherman. She broke that down into four top priorities for the FOC:
Protecting fundamental freedoms online, especially for often-targeted human-rights defenders

Building resilience against digital authoritarians who use technology to achieve their aims

Building a consensus on policies designed to limit abuses of emerging technologies such as artificial intelligence (AI)

Expanding digital inclusion
"The FOC's absolutely vital work can feel like a continuous game of catch-up," said Sherman. But, she added, "we have to set standards that meet this moment… we have to address what we see in front of us and equip ourselves with the building blocks to tackle what we cannot predict."
Below are more highlights from the event, during which a panel of stakeholders also outlined the FOC's role in ensuring that the internet and emerging technologies—including AI—adhere to democratic principles.
Deepening fundamental freedoms
Sherman explained that the FOC will aim to combat government-initiated internet shutdowns and ensure that people can "keep using technology to advance the reach of freedom."

Boye Adegoke, senior manager of grants and program strategy at the Paradigm Initiative, recounted how technology was supposed to help improve transparency in Nigeria's recent elections. But instead, the election results came in inconsistently and after long periods of time. Meanwhile, the government triggered internet shutdowns around the election period. "Bad actors… manipulate technology to make sure that the opinions and the wishes of the people do not matter at the end of the day," he said.

"It's very important to continue to communicate the work that the FOC is doing… so that more and more people become aware" of internet shutdowns and can therefore prepare for the lapses in internet service and in freely flowing, accurate information, Adegoke said.

On a practical level, once industry partners expose where disruptions are taking place, the FOC offers a mechanism by which democratic "governments can work together to sort of pressure other governments to say these [actions] aren't acceptable," Starzak argued.

The FOC also provides a place for dialogue on human rights in the online space, said Alissa Starzak, vice president and global head of public policy at Cloudfare. Adegoke, who also serves in the FOC advisory network, stressed that "human rights [are] rarely at the center of the issues," so the FOC offers an opportunity to mainstream that conversation into policymakers' discussions on technology.
Building resilience against digital authoritarianism
"Where all of [us FOC countries] may strive to ensure technology delivers for our citizens, autocratic regimes are finding another means of expression," Sherman explained, adding that those autocratic regimes are using technologies to "divide and disenfranchise; to censor and suppress; to limit freedoms, foment fear, and violate human dignity." New technologies are essentially "an avenue of control" for authoritarians, she explained.

At the FOC, "we will focus on building resilience against the rise of digital authoritarianism," Sherman said, which has "disproportionate and chilling impacts on journalists, activists, women, and LGBTI+ individuals" who are often directly targeted for challenging the government or expressing themselves.

One of the practices digital authoritarians often abuse is surveillance. Sherman said that as part of the Summit for Democracy, the FOC and other partners will lay out guiding principles for the responsible use of surveillance tech.

Adegoke recounted how officials in Nigeria justified their use of surveillance tech by saying that the United States also used the technology. "It's very important to have some sort of guiding principle" from the United States, he said.

After Biden signed the spyware executive order, Juan Carlos Lara, executive director at Derechos Digitales, said he expects other countries "to follow suit and hopefully to expand the idea of bans on spyware or bans on surveillance technology" that inherently pose risks to human rights.
Addressing artificial intelligence
"The advent of AI is arriving with a level of speed and sophistication we haven't witnessed before," warned Sherman. "Who creates it, who controls it, [and] who manipulates it will help define the next phase of the intersection between technology and democracy."

Some governments, Sherman pointed out, have used AI to automate their censorship and suppression practices. "FOC members must build a consensus around policies to limit these abuses," she argued.

Speaking from an industry perspective, Starzak acknowledged that sometimes private companies and governments "are in two different lanes" when it comes to figuring out how they should use AI. But setting norms for both good and bad AI use, she explained, could help get industry and the public sector in the same lane, moving toward a world in which AI is used in compliance with democratic principles.

Lara, who also serves in the FOC advisory network, explained that the FOC has a task force to specifically determine those norms on government use of AI and to identify the ways in which AI contributes to the promise—or peril—of technology in societies worldwide.
Improving digital inclusion
"The internet should be open and secure for everyone," said Sherman. That includes "closing the gender gap online" by "expanding digital literacy" and "promoting access to safe online spaces" that make robust civic participation possible for all. Sherman noted that the FOC will specifically focus on digital inclusion for women and girls, LGBTI+ people, and people with disabilities.

Starzak added that in the global effort to cultivate an internet that "builds prosperity," access to the free flow of information for all is "good for the economy and good for the people." Attaining that version of the internet will require a "set of controls" to protect people and their freedoms online, she added.

Ultimately, there are major benefits to be had from expanded connectivity. According to Sherman, it "can drive economic growth, raise standards of living, create jobs, and fuel innovative solutions" for global challenges such as climate change, food insecurity, and good governance.
Katherine Walla is an associate director of editorial at the Atlantic Council.