Pro-government Twitter accounts push hashtag promoting Egypt's support for human rights
Twitter accounts identified as part of a network promoting pro-government content initiated a hashtag in support of government actions
Pro-government Twitter accounts push hashtag promoting Egypt's support for human rights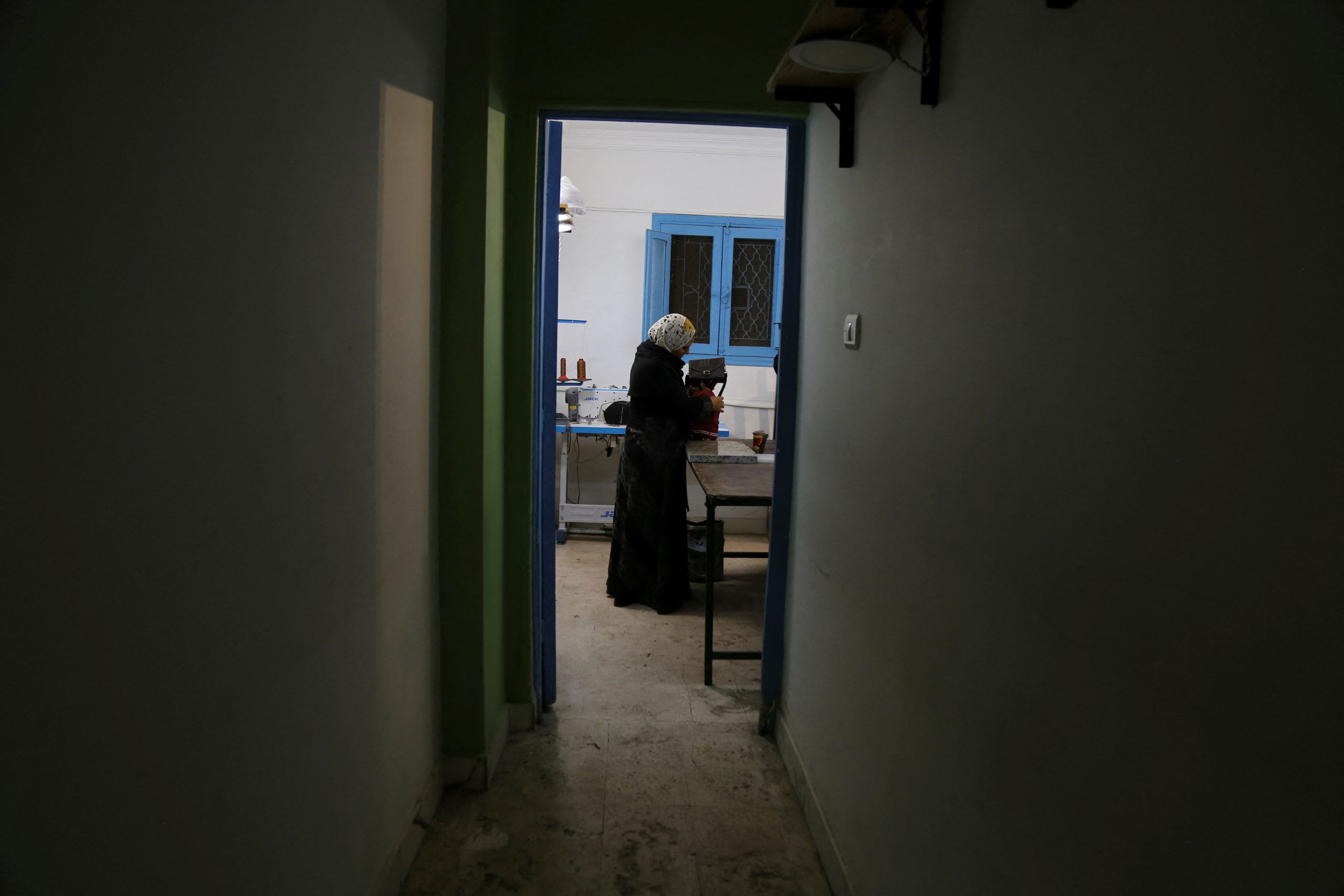 BANNER: A woman makes leather bags, during training provided by the Children of Female Prisoners' Association. (Source: Reuters/Hanaa Habib)
During a ceremony to honor Egyptian women and mothers on March 21, 2023, Egyptian President Abdel Fattah El-Sisi announced his decision to pardon eighty-five debtors ahead of Ramadan and provide families with financial aid during the holy month. The Ministry of Interior also announced on the same day the replacement of fifteen prisons with correctional and rehabilitation centers. On the day of the announcement, Twitter accounts previously identified by the DFRLab as being part of a pro-government Twitter network started to promote the news using the hashtag #مصر_تدعم_حقوق_الانسان ("Egypt supports human rights").
In Egypt, debtors, or gharemaat in Arabic, refers to individuals who borrow money from others, or act as a grantor for other borrowers, to cover their immediate financial needs but are unable to pay back their debts, leading to their imprisonment. Women comprise a majority of debtors in Egypt, with an estimated 30,000 debtors in 2022. The Egyptian government has made efforts to address the rising phenomenon with a "prisons without debtors" initiative launched in 2018 to free and assist impacted debtors. As part of the initiative, Egypt released 627 imprisoned debtors in 2018, eighty-nine in 2019, and eighty-five in 2023, all through a presidential pardon.
Several of the accounts promoting the hashtag are part of a network previously identified by the DFRLab that often promotes pro-government hashtags and that previously amplified a hashtag attacking a fact-checking organization. That network includes twenty-one active Twitter accounts participating in possible coordinated amplification of pro-government hashtags and content. Three of the accounts in this network, @BassemElMassry, @soha_elsisi777, and @ _sola_3, are among the top authors of tweets amplifying the hashtag promoting Egypt's support for human rights.
The DFRLab analyzed the hashtag on Twitter. Accounts promoting the hashtag posted content praising El-Sisi as a reformer for releasing debtors in the country and opening correctional and rehabilitation centers. The first account to tweet the hashtag, on March 21, 2023, was @BassemElMassry, who posted in Arabic, "Today, on the occasion of the opening of reform and rehabilitation centers and the closure of 15 prisons, we want to inform the world that #Egypt_supports_human_rights, #retweet we are all one hand."
In the previous investigation, the DFRLab tracked a similar pattern of user activity from @BassemElMassry in initiating hashtags and encouraging others to amplify them alongside associated content. The @BassemElMassry account posted the hashtag thirty-one times, either as original tweets or retweets, making the account the second most-prolific author to tweet using the hashtag.
The account with the highest use of the hashtag was @sydmkyd with forty-four tweets, followed by @BassemElMassry, @ _sola_3 (twenty-six tweets), @soha_elsisi777 (twenty-two tweets), and @rodaamohamed1 (seventeen tweets). The DFRLab previously identified the accounts @ _sola_3 and @soha_elsisi777 as being part of the network engaging in coordinated amplification of pro-government hashtags.
The accounts @sydmkyd, @rodaamohamed1, and @Nadia_Elmasry11 may also be part of the identified network, as they exhibit similar suspicious behavior. The three accounts all follow @BassemElMassry and primarily post content featuring pro-government hashtags promoted by @BassemElMassry's account. They also have overlapping followers, as illustrated below in their followers list. The three accounts were temporarily restricted on Twitter in April 2023 but have since been restored.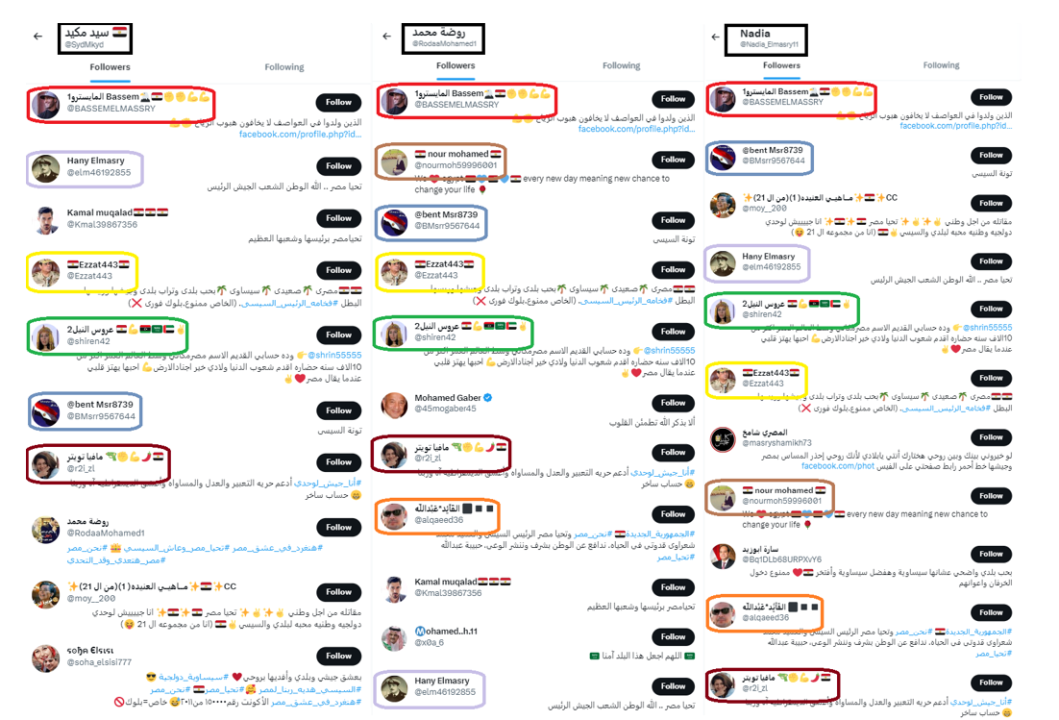 Some accounts amplifying the hashtag posted similar or identical tweets using the same photo within a short time frame. One of these accounts, @ibnMasr0, which tweeted an identical post to @BassemElMassry, was suspended on Twitter at the time of writing. One photo included in several tweets has appeared in Egyptian media since 2020, most often used in articles related to Egyptian debtors and prisoners.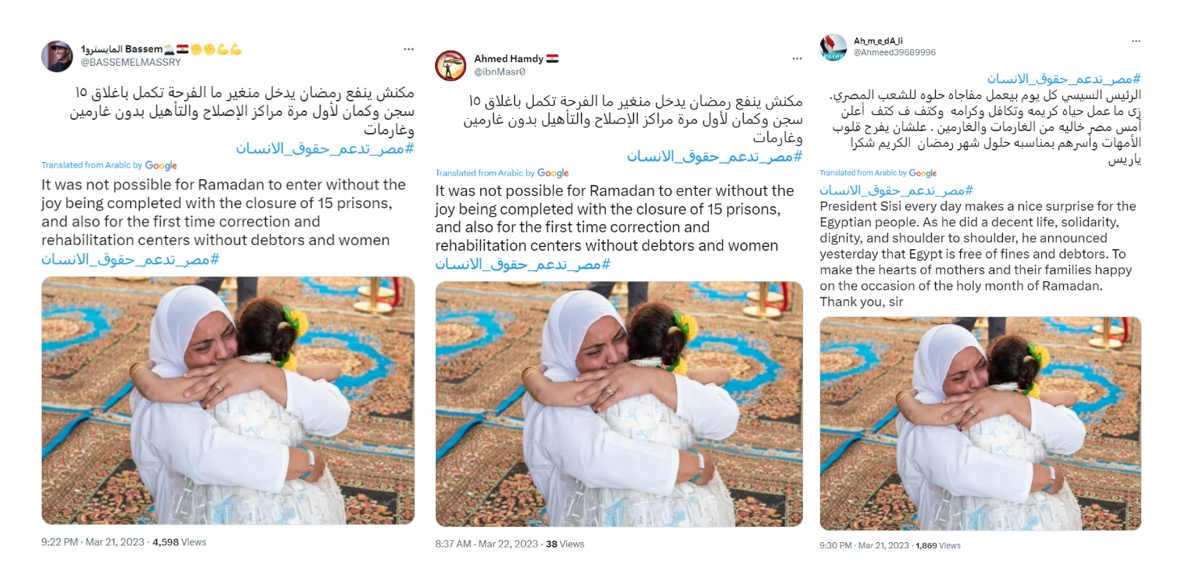 The account @AlasylKmal utilized the hashtag to post tweets attacking imprisoned activists and human rights defenders Alaa Abd El-Fattah and Ahmed Douma. @AlasylKmal also actively amplifies pro-government hashtags and associated content promoted by some of the other Twitter accounts cited in this case study. Since March, @AlasylKmal's account has amplified other pro-government hashtags, including #هندعم_السيسي_ل2030 ("we will support al-Sisi for 2030"), #المصريين_علي_قلب_رجل_واحد ("Egyptians are in the heart of one man"), and #تحيا_مصر_وعاش_السيسي ("long live Egypt and Sisi").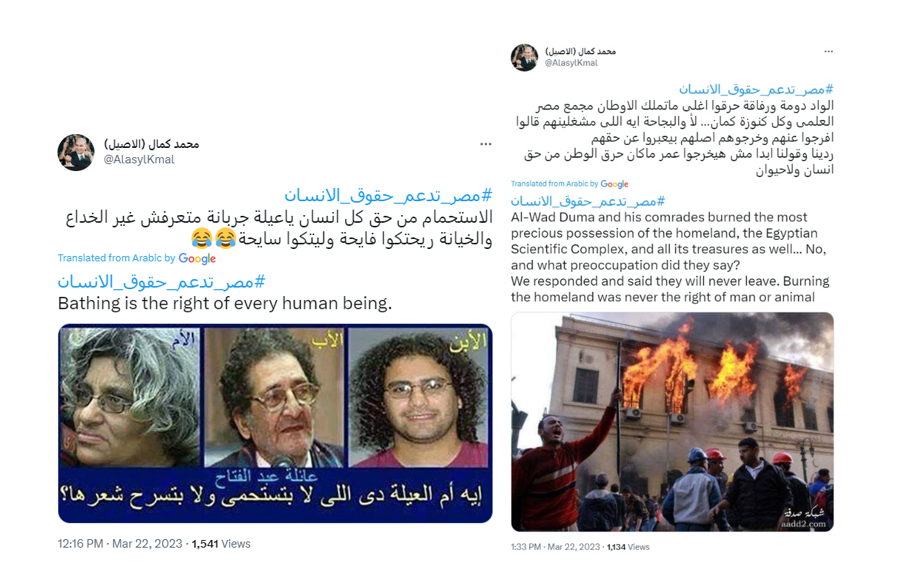 A Meltwater Explore query showed that the hashtag #مصر_تدعم_حقوق_الانسان ("Egypt supports human rights") peaked between March 20-27, 2023. It was used by 352 users, receiving 1,084 mentions and fifty-seven original tweets that were retweeted 646 times and quote-tweeted 216 times. Overall, the hashtag was short-lived and did not gain much traction among audiences to circulate it further. The original tweets were posted primarily by the accounts with the highest number of tweets using the hashtag on March 20 and 21, with content related to freeing the debtors and opening new correctional and rehabilitation centers. The tweets also tagged other users calling for them to retweet the hashtag.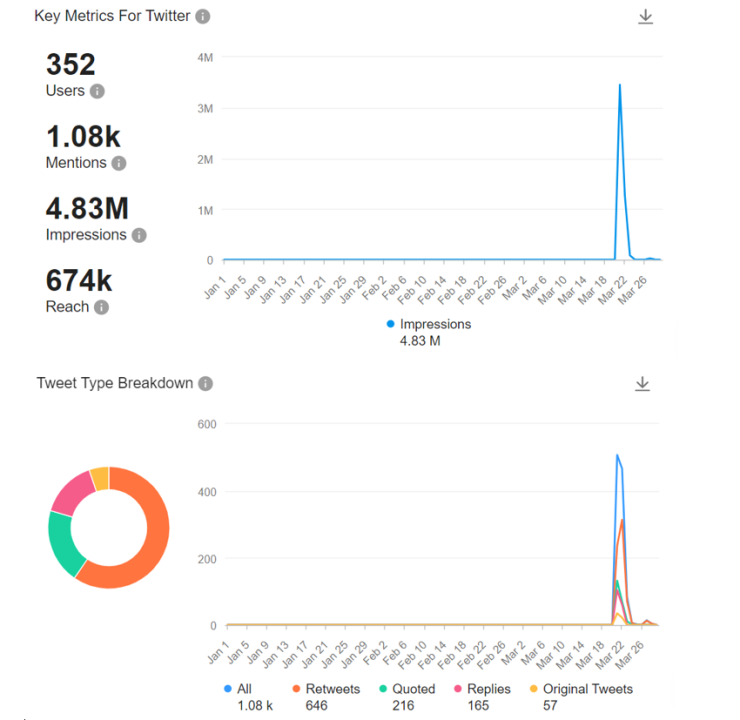 The hashtag comes at a time when human rights organizations have documented abuses and reports of suicides and hunger strikes in Egypt's Badr Correctional and Rehabilitation Center. The Egyptian government opened the Badr Center in December 2021 to improve jail conditions as part of a five-year human rights strategy. Reported abuses in Egyptian prisons and lack of transparency about the number of prisoners and their conditions call into question the country's support for human rights. Ahead of the COP27 climate summit in November 2022, the Egyptian authorities arrested more than one hundred people calling for peaceful protests. For 2021, the Arabic Network for Human Rights Information (ANHRI) documented sixty-nine (three in military tribunals) trials against 432 civilians and 143 sentences in cases related to public affairs by the Egyptian judiciary. However, exact figures about Egypt's prison population are not publicly available, and several organizations have called on Egyptian authorities to release prison population data to increase transparency.
In March 2023, the United Nations Human Rights Committee (UNHRC) expressed concerns about "reports of arbitrary detention, systematic use of pretrial detention and the recycling of charges to avoid statutory limits on the length of pretrial detention, a practice often used to punish journalists, human rights defenders and political opponent" in Egypt. The UNHRC also asked Egypt to consider abolishing capital punishment due to the frequency of its use as an often arbitrarily applied punishment and the high number of death sentences doled out in situations such as mass trials. In January 2022, concerns over human rights in Egypt led the United States to block $130 million of military aid, around 10 percent of its $1.3 billion annual package. El-Sisi responded by releasing hundreds of prisoners, prompting the US to agree to release $75 million to Egypt, however, Senate Appropriations Chairman Patrick Leahy blocked the action, preventing the funds from reaching Egypt. The US Department of State's 2022 Human Rights Report noted significant human rights issues in Egypt, including arbitrary arrest and detention, unlawful or arbitrary killings, cases of torture and mistreatment, and arrest and censor media.
---
Cite this case study:
Dina Sadek, "Pro-government Twitter accounts push hashtag promoting Egypt's support for human rights," Digital Forensic Research Lab (DFRLab), May 31, 2023, https://dfrlab.org/2023/05/31/pro-government-twitter-accounts-push-hashtag-promoting-egypts-support-for-human-rights.