Prigozhin-owned media outlets experienced narrative whiplash during and after Wagner mutiny
Online outlets operated by Prigozhin's Patriot Media Group initially supported his actions, but switched to pro-Putin rhetoric once the mutiny ended
Prigozhin-owned media outlets experienced narrative whiplash during and after Wagner mutiny
Share this story
THE FOCUS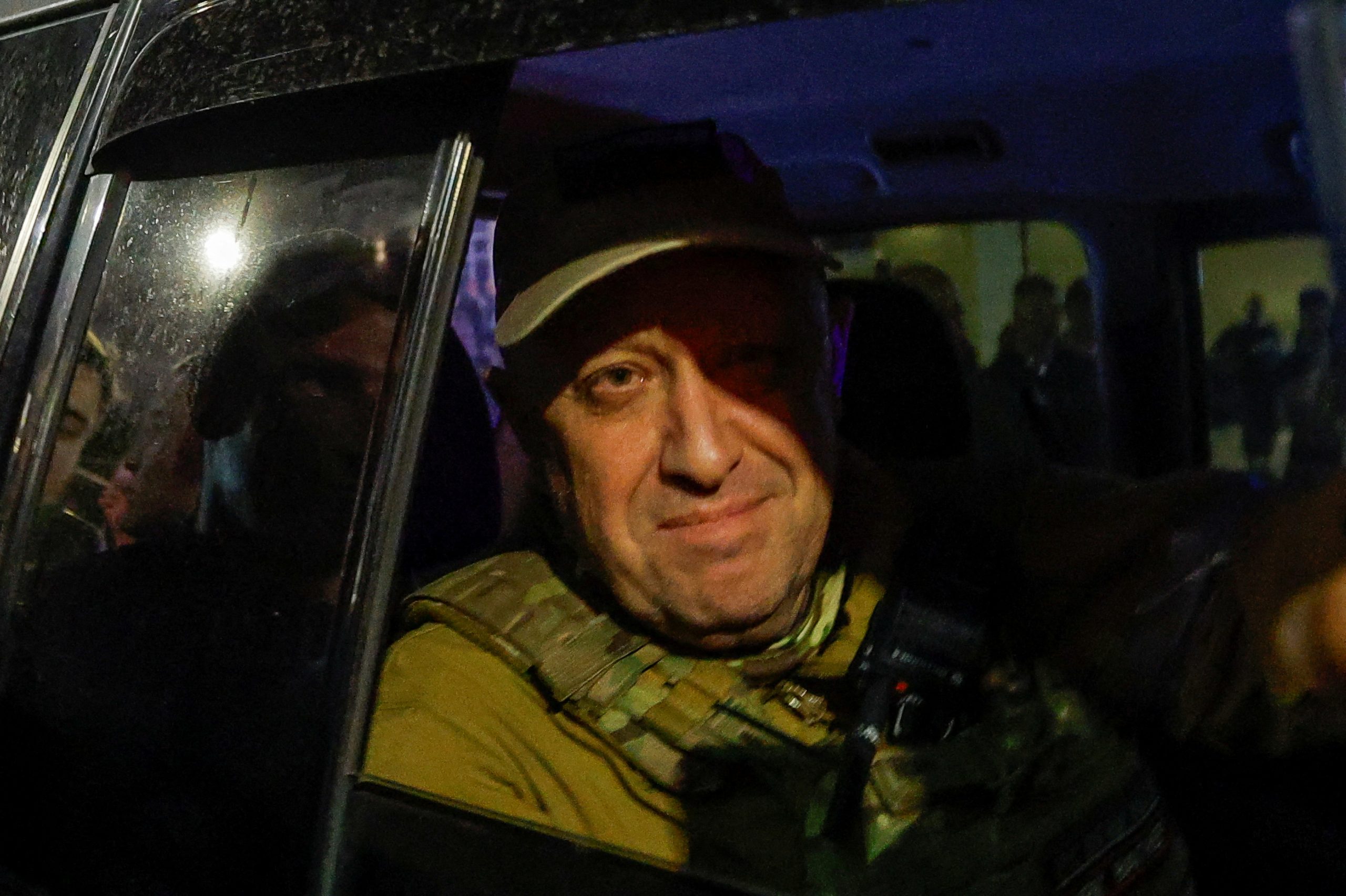 Banner: Wagner chief Yevgeny Prigozhin leaves the headquarters of the Southern Military District amid the group's pullout from the city of Rostov-on-Don, Russia, June 24, 2023. (Source: Reuters/Alexander Ermochenko)
The Wagner mutiny in Russia, led by Wagner Group head Yevgeny Prigozhin on June 23-24, caused media outlets also operated by Prigozhin to demonstrate their own narrative confusion about the events. At first, Prigozhin's media apparatus pushed messages targeting members of the Russian government, notably Russian Minister of Defense Sergei Shoigu, before returning to pre-Mutiny pro-Russia boosterism.
On June 24, the second and final day of the Wagner mutiny, Russian internet regulator Roskomnadzor blocked access to internet resources linked to Wagner Group in order to "prevent the spread of calls for participation in a military rebellion." This applied to the media properties of Yevgeny Prigozhin's Patriot Media Group, including the news agency RIA FAN as well as small editorial sites such as Politexpert and iReactor, among others.
Despite Roskomnadzor blocking access to Patriot Media Group websites, the websites continued publishing articles following the mutiny. This allowed the DFRLab to compare their narrative stance during the mutiny and how it evolved after the insurrection ended. In multiple cases, we found examples of Prigozhin-owned media properties supporting the mutiny and justifying his actions until it became clear the mutiny had failed, at which point many Patriot Media Group articles pivoted to once again push messaging in support of Russian President Vladimir Putin.
The DFRLab also reviewed Russian domestic accessibility of these three websites at the time of the mutiny with the tool Open Observatory of Network Interference (OONI), which registered a significant number of anomalies for each website, suggesting a high likelihood of network blocking. On June 30, Russian Telegram channel Mash reported that Prigozhin had decided to shut down Patriot Media Group and dissolve its media holdings.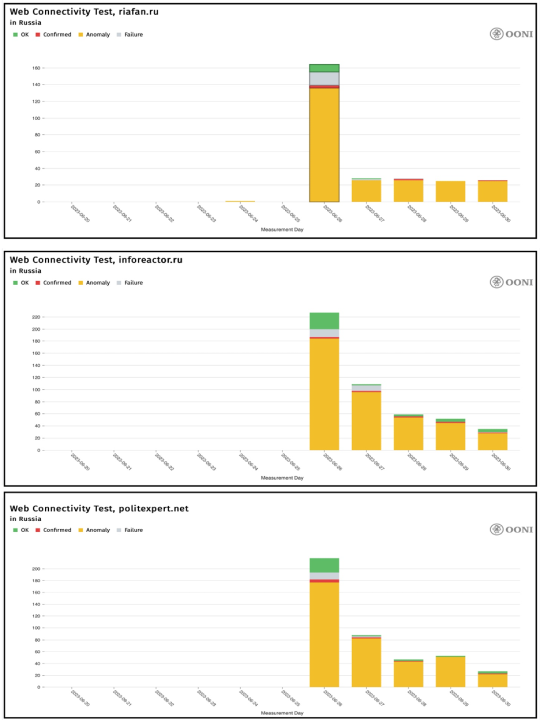 On June 23, the first day of the mutiny, RIA FAN published Prigozhin's statement in which he claimed that Defense Minister Shoigu had arrived in Rostov in order to carry out an operation aimed at eliminating Wagner's fighters. Another article published less than an hour later argued that the Russian National Guard had received orders to fight Wagner fighters but that the officers refused to do so. RIA FAN also quoted Russian commentator Ruslan Ostashko saying that people responsible for the alleged June 23 missile strike on Wagner camps needed to be punished, regardless of who was responsible for it.
Economy Today, another media website operated by Patriot Media Group, published a June 24 Prigozhin statement claiming that "half of Russian army was ready to join Wagner" and march to Moscow. Meanwhile, Politics Today quoted a post from the Release the Kraken Telegram channel arguing that the Russian Ministry of Defense was trying to destroy Wagner and that the mutiny was an attempt to restore justice.
After the mutiny ended, RIA FAN published remarks by Prigozhin in which he attempted to reframe his actions as a protest rather than a mutiny or insurrection. "The first point is that we did not want to shed Russian blood," he said. "The second point is that we went to demonstrate our protest, and not to overthrow the government in the country." RIA FAN articles also presented Putin's actions in a positive light; in one piece, it quoted Putin crediting the Russian military and law enforcement officers for preventing a possible civil war. Later, on June 26, RIA FAN re-published comments from blogger Vadim Manukyan, who had reportedly witnessed Wagner's temporary occupation of Rostov, in which he stated that residents had treated Wagner fighters respectfully while "at the same time showed full support for President Vladimir Putin."
Other media outlets under the Patriot Media Group continued to release pro-Putin content. On June 26, Russian Economics published a post noting that Putin had expressed his gratitude to Wagner soldiers and commanders for their patriotic participation in Russia's "special operation" in Ukraine. Two days later, iReactor quoted Chinese media outlet NetEase, noting that Putin had signed legislation to commemorate the defeat of Japan in World War II because of Japan's current support for Ukraine. Politics Today, meanwhile, also praised Putin's assertive foreign policy, noting that "Putin would not be scared with attempts to turn the EU into a defense block because of Ukraine."
While media outlets under the Patriot Media Group actively covered statements made by Prigozhin before June 24, they continued to portray Putin in a positive light after the failed mutiny and almost completely discontinued covering developments that took place on June 24-25.
---
Cite this case study:
Givi Gigitashvili, "Prigozhin-owned media outlets experienced narrative whiplash during and after Wagner mutiny," Digital Forensic Research Lab (DFRLab), August 17, 2023, https://dfrlab.org/2023/08/17/prigozhin-media-mutiny/.