Anti-LGBTQ+ narratives connect disparate neo-fascist groups
Neo-Nazi groups are taking their online collaborations offline as they continue to threaten LGBTQ+ and Jewish communities
Anti-LGBTQ+ narratives connect disparate neo-fascist groups
Share this story
THE FOCUS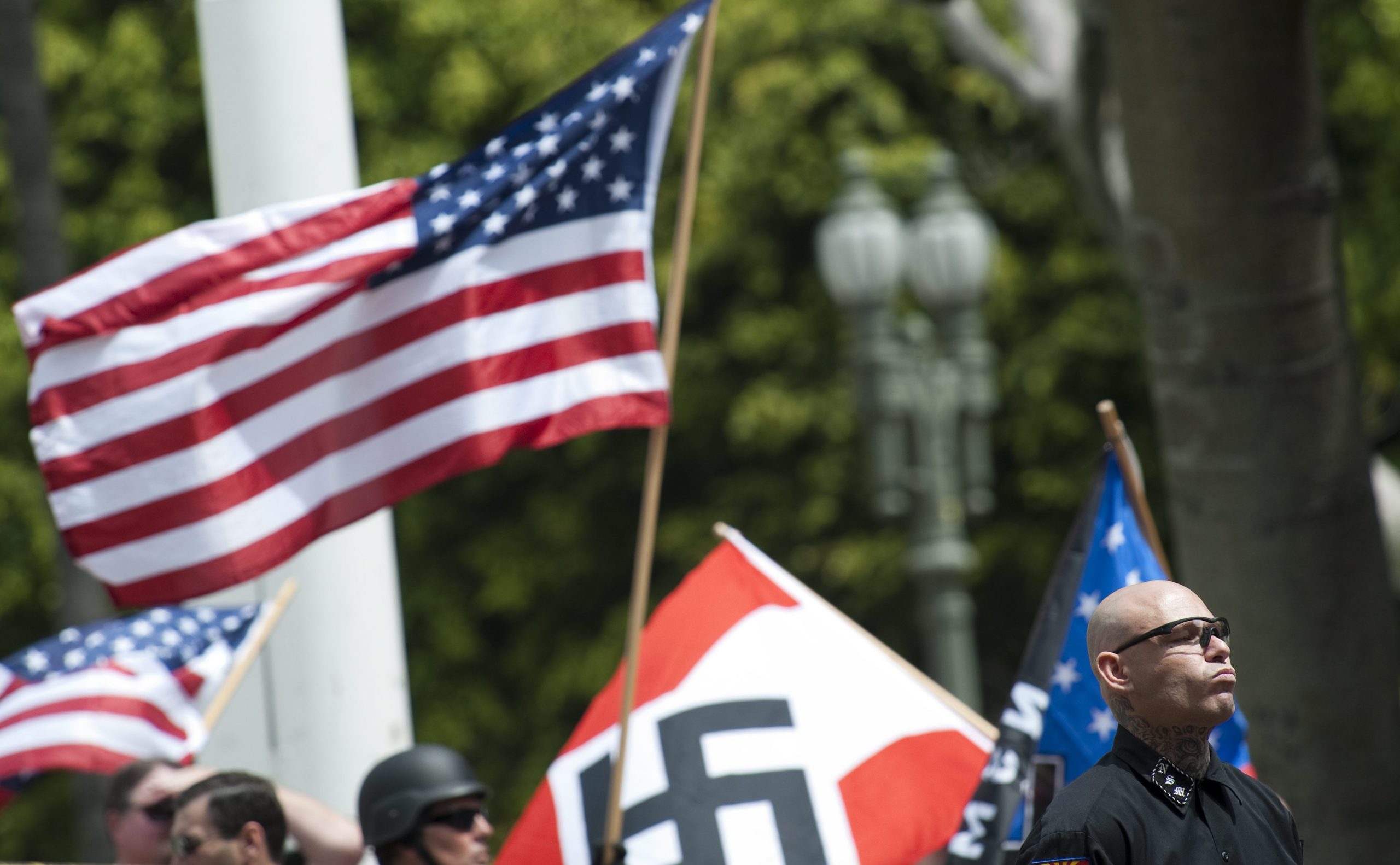 On September 2, 2023, neo-Nazis associated with Blood Tribe and the Goyim Defense League (GDL) descended on Orlando, Florida, for a joint white supremacist rally. The two groups – which have historically been distinct in their operational goals, aesthetics, and apparent membership – openly coordinated their attendance at this rally, as the leaders of each group appeared together on neo-Nazi podcasts and livestreams to advertise the event and encourage like-minded followers to sign up to attend. This Florida-based coordination between Blood Tribe and GDL is the latest illustration of what Mack Lamoureux of VICE News has described as an increasingly "incestuous" extreme right, notably one that is mobilizing behind concepts rather than organizational doctrine. Some of the key mobilizing concepts uniting seemingly disparate elements of the modern far-right ecosystem under one coalition banner are the anti-LGBTQ+ "groomer" narrative, as well as highly mainstreamed white supremacist and antisemitic rhetoric.
As these events make clear, several pervasive narratives continue to drive coalitional far-right mobilization against perceived enemies. Indeed, the constellation of white supremacist groups and movements that is increasingly coalescing online and offline against both the Jewish and LGBTQ+ communities represents a concerning manifestation of this threat. Challengingly, events like the Florida rally also demonstrate the degree to which far-right actors have been able to leverage a permissive legal and constitutional environment to engage in harassment and intimidation of outgroups.
In the weeks prior to the Orlando rally, Telegram channels associated with Blood Tribe and GDL regularly cross-promoted content and advertised collaboration between the two groups, openly planning this joint white supremacist event in Florida, which they referred to as "The March of the Redshirts." The name of the demonstration is likely a nod to the Red Shirt movement, a paramilitary active in the late 19th and early 20th century in the southeastern US, which has been described as "the symbol of Southern terrorism." It was a white supremacist movement motivated by the desire to intimidate Black voters, largely by showing up armed to voting precincts. The Orlando rally this weekend, an overt neo-Nazi march through the city, served a similar core purpose: a show of force to intimidate the local community, replete with white supremacist chants, swastika flags, and banners displayed from an overpass, and racial epithets and slurs hurled at onlookers.
The Orlando rally follows a coordinated campaign in the leadup to a separate Wisconsin Pride event in the city of Watertown on July 29, 2023, in which the same groups – Blood Tribe and GDL – took to social media to push anti-LGTBQ+ narratives and attempt to recruit individuals to attend a protest of the event. This content embraced harmful conspiracy theories and disinformation targeting the LGBTQ+ community that is frequently weaponized by such hate groups; as their posts claimed that "the demons are here for our children" and characterized the Pride event as a "pedophilic children's drag dance party." The protest was also attended by the Wisconsin chapter of Gays Against Groomers.
The coordination between Blood Tribe and GDL is particularly notable due to the inherent differences between the two groups. Blood Tribe presents itself as a traditional swastika-toting neo-Nazi group, replete with firearms and matching red and black uniforms. The group's leader, Christopher Pohlhaus has developed an online following in the white supremacist community, frequently posting neo-Nazi content and espousing violence against Jewish people, people of color, and the LGBTQ+ community. In 2022, Pohlhaus moved to Springfield, ME, in an effort to build a white supremacist community and establish a white ethnostate. Prior to the Watertown Pride event in July, Pohlhaus' neo-Nazi group had previously traveled to LGTBQ events in Ohio, including a March 2023 protest at a drag show in Wadsworth, OH, – alongside an array of far-right groups including the Proud Boys, Patriot Front, and White Lives Matter – as well as a protest of a drag brunch fundraiser in Columbus in April 2023 and a July 2023 protest against both the Toledo Love Fest and Jewish Federation of Greater Toledo.
By contrast, the Goyim Defense League (GDL) is perhaps best described as an "extremely antisemitic street theater troupe" that primarily seeks to engage in virulently antisemitic stunts and trolling efforts. GDL followers, known for propaganda displays such as antisemitic flyering and banner drops, have embraced increasingly violent means to display their hatred for Jewish people. GDL's leader, Jon Minadeo, was previously arrested at Auschwitz and fled California to avoid being prosecuted for an alleged homophobic hate crime, has developed a personal relationship with Pohlhaus, who claims he tattooed both a Totenkopf and SS bolts on Minadeo in July 2022.
However, despite the antisemitic bonds that bind together GDL and Blood Tribe, there is little to suggest that the groups would maintain close operational ties – something that has been a point of contention within Blood Tribe online chats. In a post following the Watertown demonstration, for example, Pohlhaus rebuked followers who expressed concern that their event with GDL in Florida was a "trap," doubling down on his support for Minadeo. Pohlhaus recently claimed on Telegram that he would not allow "minor ideological and strategic differences" between Blood Tribe and GDL or "the obvious influence of Jewish sabotage" to get in the way of the group's momentum. He also stated that those upset that Minadeo had "too much attention and renown" should work harder instead of being "just another feminine detractor/cry baby."
Given recent trends in the resurgent anti-LGBTQ+ movement in the United States, it is no coincidence that Blood Tribe and GDL have found common ground promoting violent opposition to drag events and LGBTQ+ actors. According to GLAAD data, 2022 saw 141 incidents of protests and threats targeting specific drag events, while ADL and GLAAD reported a total of 356 anti-LGBTQ+ incidents in the US between June 2022 and April 2023, as well as a staggering 145 incidents of anti-LGBTQ+ hate and extremism nationwide during Pride 2023 alone. As groups like Blood Tribe and GDL continue to leverage these narratives to develop deeper network connections, promote violent antisemitism, and take their hate across state lines, the continued normalization of dehumanizing us-versus-them rhetoric targeting the LGBTQ+ community represents a troubling sign of what is to come.
The Florida rally demonstrates that today's coalition of far-right groups and movements is willing to cross state lines to engage in public displays of hate, as well as coordinate with one another in support of shared narratives and shared hate of the same outgroups. Moreover, it shows that some groups have shifted their coordination into closed online spaces, a departure from the bold planning in plain sight that witnessed in the leadup to the attack on the US Capitol on January 6, 2021. The continued coordination between Blood Tribe and GDL serves as a microcosm for these broader trends in the right-wing extremist landscape as groups continue to take their online threats into offline spaces.
---
Cite this case study:
Meghan Conroy and Jon Lewis, "Anti-LGBTQ+ narratives connect disparate neo-fascist groups," Digital Forensic Research Lab (DFRLab), September 1, 2023, https://dfrlab.org/2023/09/01/anti-lgbtq-narratives-connect-disparate-neo-fascist-groups.