Newly Modified Russian Tanks Arrive Near Ukrainian Border
New video shows modified T-72B3 tanks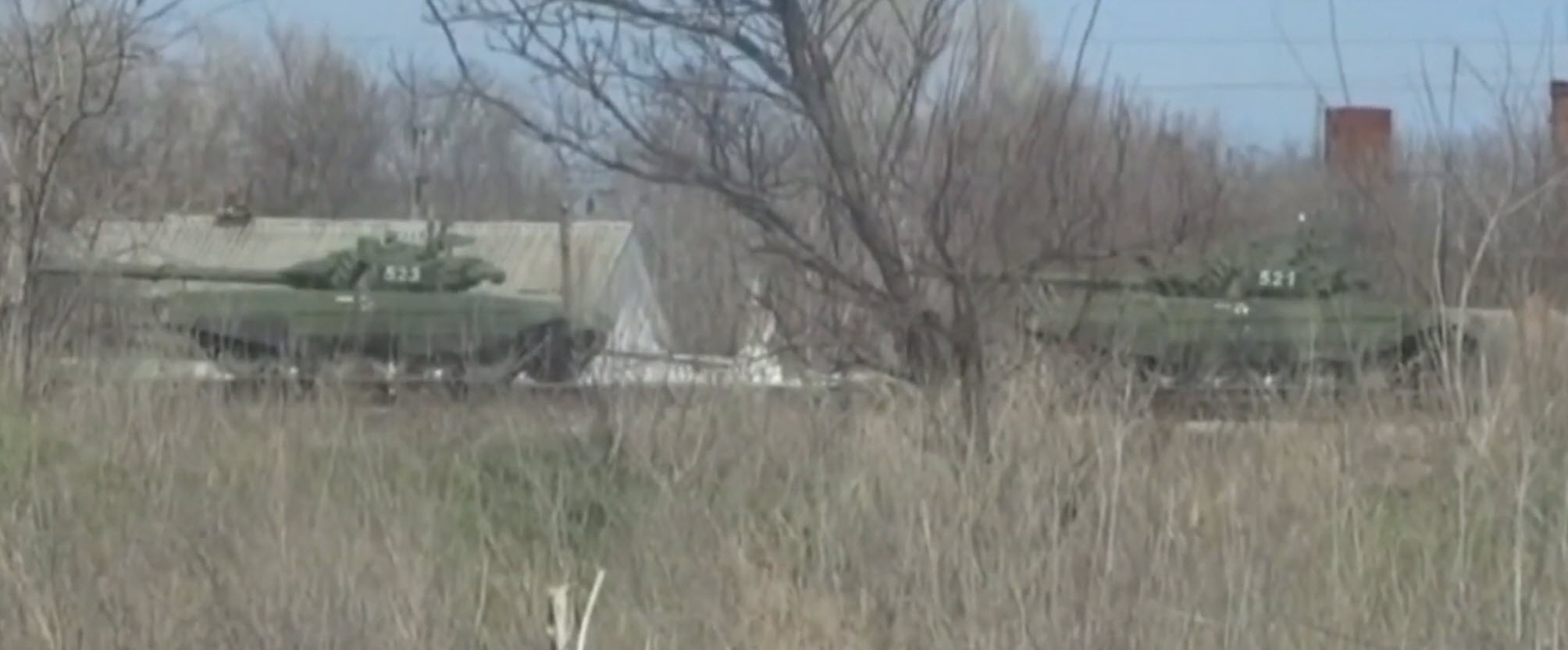 New video shows modified T-72B3 tanks in southwestern Russia
On March 24, Reuters published a video reportedly shot "at a railroad station in Pokrovskoye" in Russia's Rostov Oblast. In the video, we can see about a dozen pieces of military equipment, including T-72B3 tanks, arriving by rail, along with Russian soldiers unloading transported materials.
https://www.youtube.com/watch?v=A8-inDOfxpc
Where were the tanks unloaded?
We can confirm the location of the video as Pokrovskoye by cross-referencing the buildings in the video and visible characteristics on satellite imagery via Google Earth.
At one point in the video, a tank with the number 515 is hauled by a truck, with a grocery store with a red roof, a structure with an angular roof, and a grain elevator in the background. Near the railway in Pokrovskoye, we can find the same landmarks on Google Earth:
After the tank passes the person filming, the camera continues to track the tank. In the distance, we can observe a few white fuel tanks. After finding these fuel tanks on satellite imagery, we can deduce that the tanks were headed southeast from the rail yard.
Taken together, we can map out the path of where tank 515 was unloaded from the railway, loaded onto a truck, and then driven southeast away from Pokrovskoye.
This is far from the first time that the railway station at Pokrovskoye has been used to transport military equipment near the Ukrainian border. A comparison of the site in publicly accessible satellite images on Google Earth shows the frequent activity at the site in 2014 and 2015.
What equipment was filmed?
About a dozen pieces of military equipment were filmed in the short Reuters video, including T-72B3 tanks and an MT-LBu (multi-purpose tracked vehicle).
An interesting feature of some of these T-72B3 tanks is that they have upgraded side plating, possibly from the newer Russian T-90 tanks. Also on March 24, Russian news agency TASS reported that the Tamanskaya motorized infantry division (military unit 23626) received twenty modernized T-72B3 tanks with modified armor plates — perhaps the same type observed in the Reuters video. Additionally, the black, rubber side skirt was modified, reaching much lower than with other T-72B3 tanks.
For comparison, previously observed modified T-72B3 armor may only include three separate plates, as seen in this photograph from 2014.
Or they may not have any added plates at all, as seen in this Victory Day parade in 2014.
Bellingcat's Veli-Pekka Kivimäki noted that these T-72B3 tanks from the Reuters video had Relikt ERA panels added to the side.
That's Relikt ERA panels on T-72B3, a development which was mentioned in my @bellingcat article: https://t.co/adntzdElso (h/t @ain92ru) https://t.co/NHs4y8QgJa

— Veli-Pekka Kivimäki (@vpkivimaki) March 24, 2017
He also noted that the side armor is similar to that previously seen installed on the T-90SM tank.
.@akihheikkinen Looks quite similar to what's installed on the T-90SM. pic.twitter.com/syJLhdknTL

— Veli-Pekka Kivimäki (@vpkivimaki) March 24, 2017
For more information on the T-72B3 tank and how to identify them, see Veli-Pekka Kivimäki's guide "Tankspotting: How to Identify the T-72B3."
Where are these tanks headed?
Most likely, they were heading for the Kuzminsky firing range, a massive Russian base about twenty-five kilometers east of Pokrovskoye.
For context, the Pokrovskoye railway station is about thirty-five kilometers from the Ukrainian border, while the Kuzminsky base is about forty-five kilometers away from the border.
A major influx of soldiers from the Southern Military District has been observed at the Kuzminsky base, as detailed in last week's DFRLab Minsk Monitor piece "Geolocated: Russian Military Convoys Near Ukrainian Border." We will continue to monitor Russian military deployments near the Ukrainian border.
---
Follow the latest Minsk II Violations via the @DFRLab's #MinskMonitor.
For more in-depth analysis from our regional experts follow the AtlanticCouncil's Dinu Patriciu Eurasia Center. Or subscribe to UkraineAlert.