Kharkiv neighborhood experienced ongoing shelling prior to February 28 attack
Russian forces shelled the residential neighborhood of Saltovka for several days, causing deaths and destroying homes.
Kharkiv neighborhood experienced ongoing shelling prior to February 28 attack

BANNER: Planet labs imagery of Kharkiv after artillery strikes. (Source: Planet Labs)
Since the beginning of Russia's invasion of Ukraine, Russian forces have subjected the city of Kharkiv to ongoing artillery fire, with particularly heavy concentration on the neighborhood of Saltovka. This includes a major bombardment on February 28, which according to initial reports resulted in significant casualties.
The DFRLab analyzed large amounts of open-source evidence prior to the February 28 attack showing Russian use of artillery against the residential Saltovka neighborhood, which is made up largely of apartment buildings. All buildings were struck on their north-facing facades, in the direction of Russian lines. An article by Bellingcat illustrated Russia's use of cluster munitions in Kharkiv and other parts of Ukraine.
Recent satellite imagery from Planet Labs shows the northern area of the Saltovka neighborhood as well as Danilovka, which has also been struck by Russian artillery since February 24. Marks in the snow from Russian shelling suggest the use of different types and calibers of artillery. Clusters of large dark splotches suggest large-caliber artillery, while clusters of many smaller splotches may indicate employment of cluster munitions.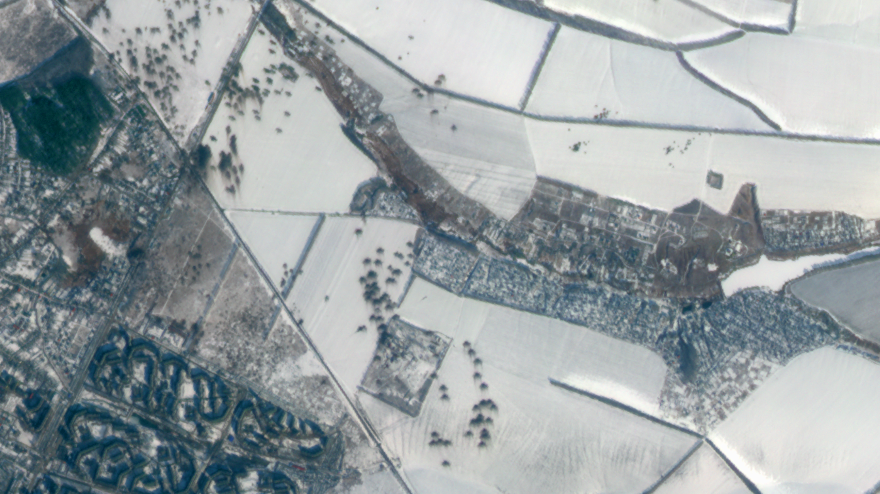 On February 25, video footage emerged of houses on Natalii Uzhvii street showing apartments facing north receiving damage to their façades, with some apartment units displaying holes blown through their walls.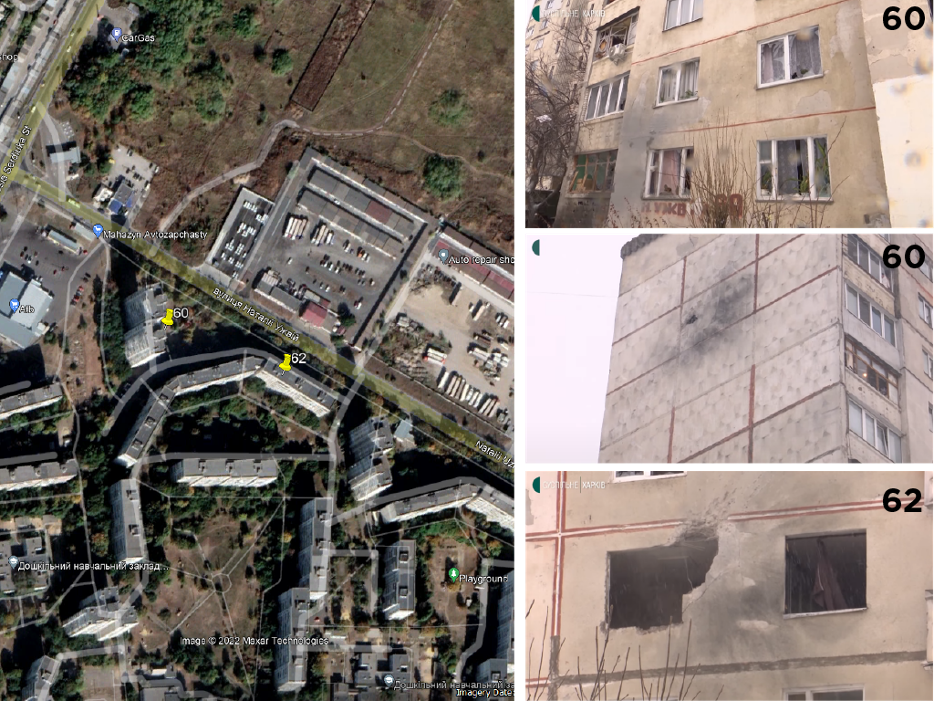 The DFRLab identified the affected buildings as 60 and 62 Natalii Uzhvii street, located in the northernmost area of Saltovka. These buildings face north into open fields, on the other side of which the Russian ground forces hold positions.
On February 26, two civilians were killed by artillery in a central part of Saltovka at the intersection of Heroiv Pratsi and Hvardiitsiv-Shyronintsiv streets, as reported by local media and verified by online users. A local resident recording sounds of artillery in the distance filmed the incident as it took place, and it became clear that several people were walking at this intersection at the time of the strike, fortunate to have survived.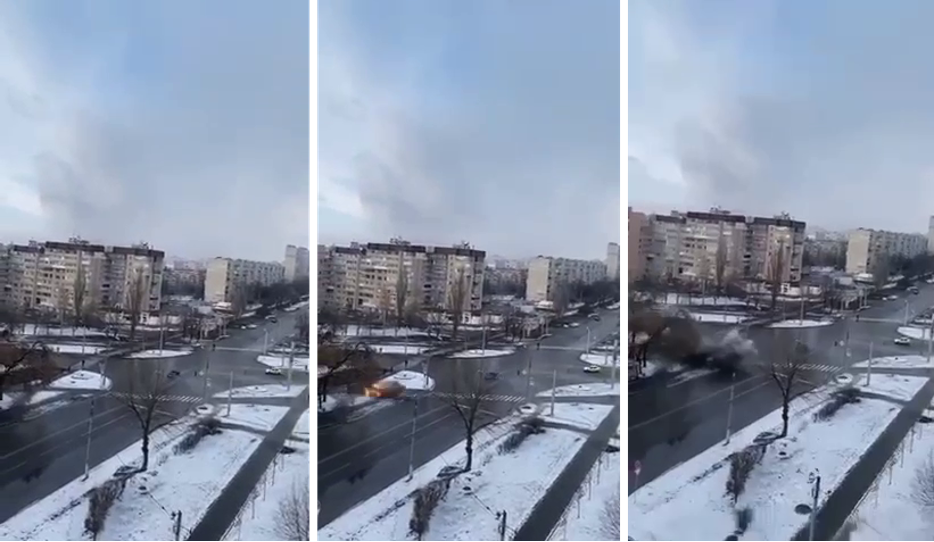 Images and videos from people passing by showed the bodies of the two unidentified persons lying lifeless on the ground.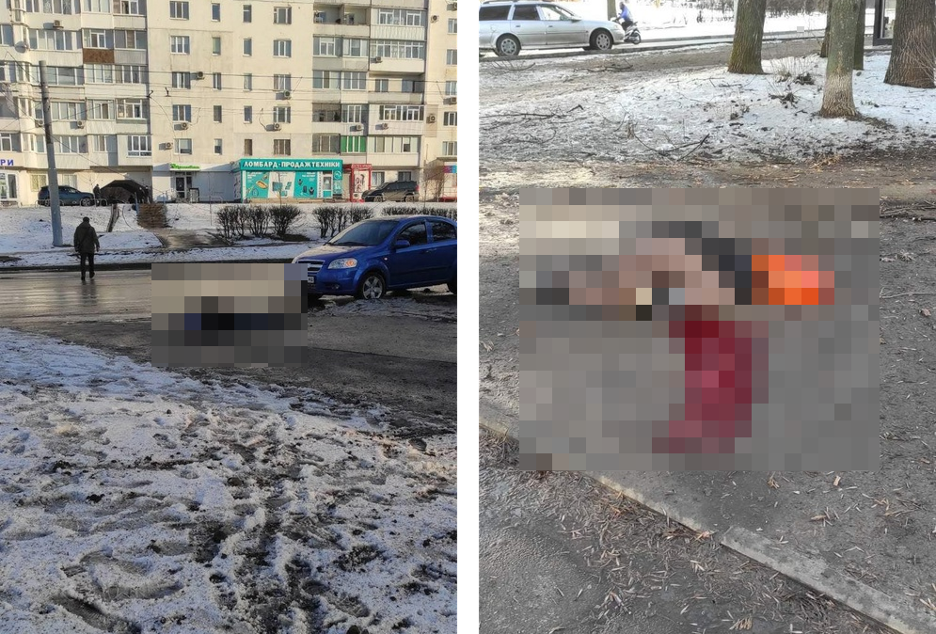 On February 27, additional footage emerged of a building which was struck by artillery overnight. A large portion of the north-facing wall collapsed, leaving a stairwell and apartments exposed. The building was geolocated to 40A Buchmy Street. Google Street View allowed a glimpse of what the building looked like before the Russian bombardment.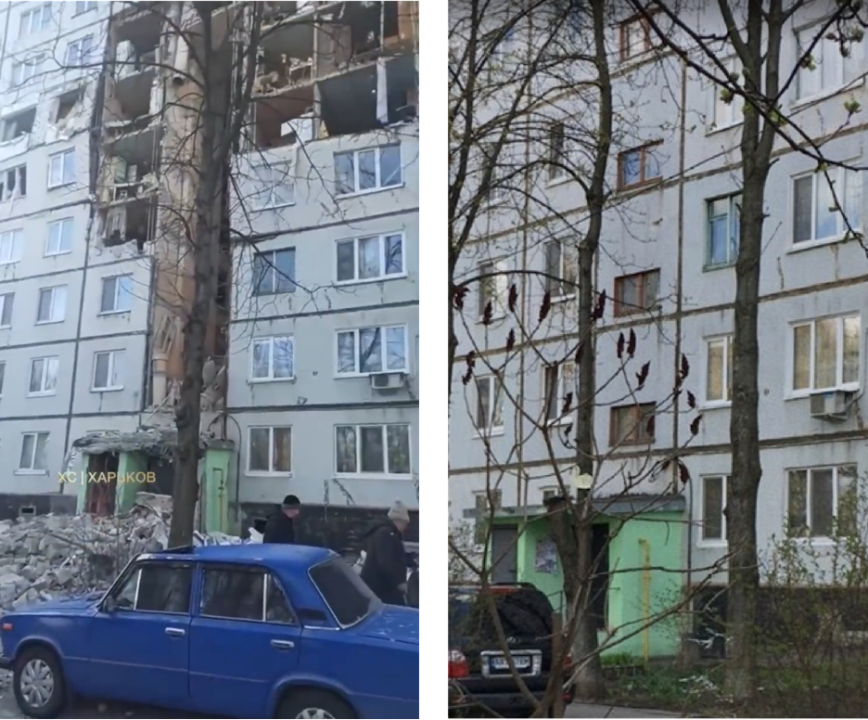 According to local media reports, the attack killed a woman and wounded two other people.
Further down the street, at a building the DFRLab identified as Buchmy 50, a fresh impact was visible at the building's entrance. The damage to the pavement resembled other damage observed from cluster munitions.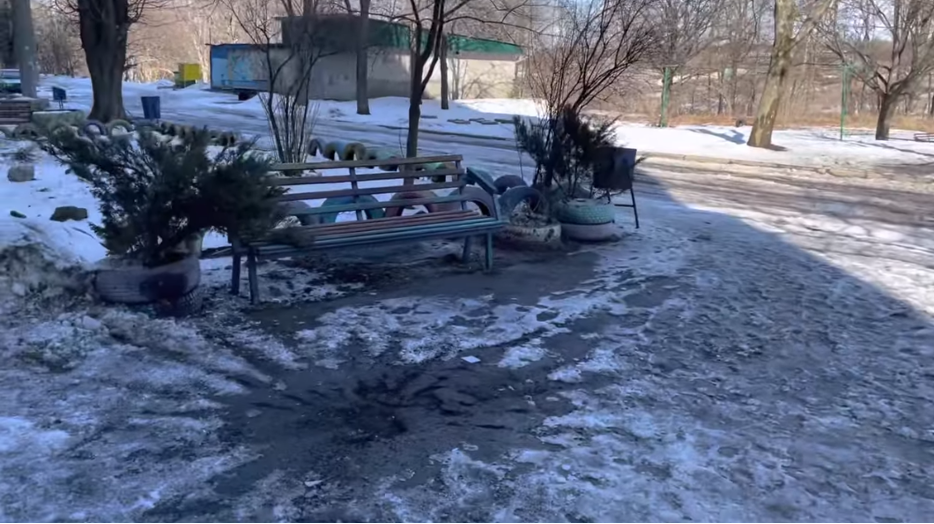 About a kilometer south of this location, a rocket component for carrying cluster munitions was discovered in a parking lot. The DFRLab geolocated this location using Google Street View, through which the same fence, buildings, trash cans, and backdrop can be observed.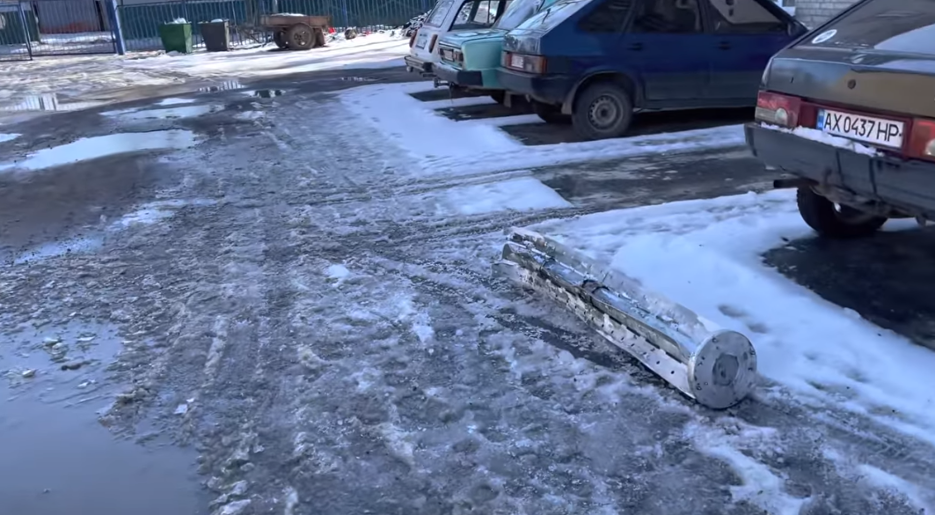 As noted earlier, Russia launched a massive and indiscriminate rocket attack against Kharkiv on February 28, causing multiple deaths among the civilian population. The DFRLab will report on it in a follow-up story.
---
Cite this case study: