Wagner Group continues involvement in Russian operations in Eastern Ukraine
Russian mercenaries maintaining a relatively low profile in Ukraine, unlike their presence in Africa and Syria.
Wagner Group continues involvement in Russian operations in Eastern Ukraine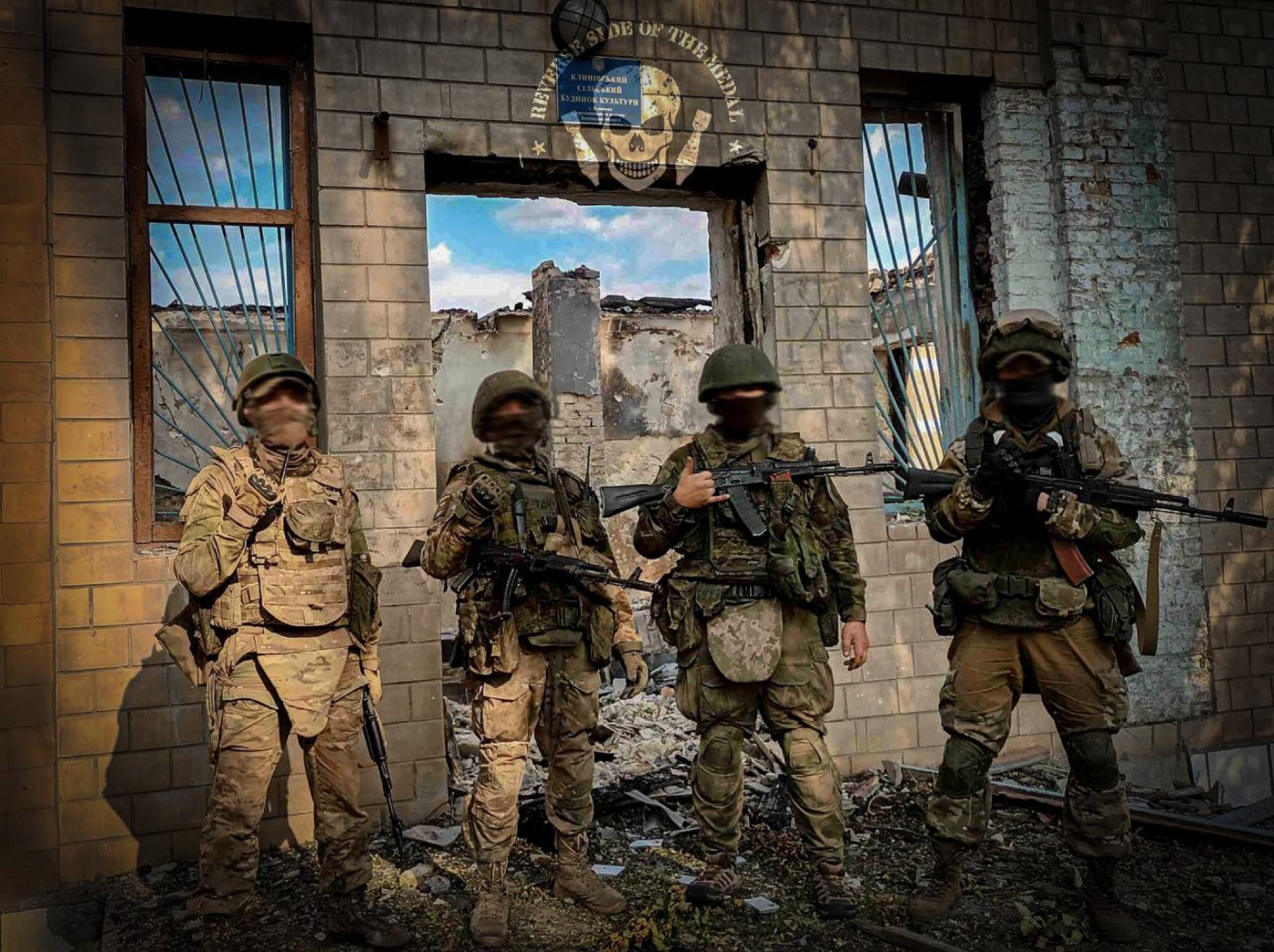 BANNER: Wagner mercenaries reportedly operating in Klynove, Donetsk oblast. (Source: Telegram/archive)
Over the first week of July 2022, the Russian army slowly advanced in Eastern Ukraine while Ukrainian forces made strategic withdrawals from settlements in the Lysychansk region. The city of Lysychansk itself was seized by Russian forces earlier this week. Recent reports suggest the participation of additional forces such as Wagner Group mercenaries and Chechen fighters of Ramzan Kadyrov alongside regular Russian military forces during military campaigns in Eastern Ukraine. If this is confirmed, the probability is high that the Russian army needs support from these experienced forces, as its own troops are so depleted that it cannot currently deliver on the Eastern Ukrainian front without additional support.
It is no surprise that Kadyrov's forces are participating in the Lysychansk campaign — Chechens played a significant role in besieging Mariupol, and are believed to have engaged in atrocities in Kyiv oblast. But the increasing emergence of members of Wagner Group, whose presence in Ukraine has provoked much speculation since Russia invaded Ukraine in February, is an increasingly important factor in current events.
To date, Wagner's presence on the eastern front has not been as visible as the group's operations in Syria or Africa, which have been widely documented on Telegram channels and by news outlets, as well as the DFRLab. In Ukraine, mercenaries have been reported in regions of strategic importance for Russia's military command. Most recently, the DFRLab has monitored their activities in Zaporizhya, Volodymyrivka, and Klynove, in Donetsk oblast. Klynove was taken on July 4 by the Russian army with the assistance of Wagner.
The fact that Wagner has not published many details about their Ukrainian operations speaks to a probable change in the group's command behavior. In parts of Africa such as Central African Republic and Mali, for example, Wagner mercenaries have not hidden their activities, even going so far as to appear during official events in the countries where they operate. In contrast, the movement of their fighters in Ukraine is secret and mostly attached to the Russian Special Forces, Spetsnaz, and other elite forces of the Russian army.
This intertwining of joint military operations is not a novelty, as Wagner often has commanding officers in common with Russian special forces. There is evidence indicating that Wagner was subordinated to the Russian military in Ukraine, and extensively relies on Russian military networks, from sharing army bases to being transported by Russian military jets. Moreover, it is not the first time that they have been noticed in the same place together during operations in Ukraine. In May 2022, Russian Spetsnaz and Wagner private military contractors were reportedly fighting in Svitlodarsk and Myronivskyi, in the vicinity of Bakhmut, Donetsk oblast. The Russian Army's 22nd Separate Guards Special Purpose Brigade is also working together with Wagner in the same areas where the mercenary group has been known to operate, including Volodmyrivka, southwest of the city of Donetsk.
Considering the finite number of fighters employed by Wagner, the group will most likely participate mainly in military operations to secure the rear of the Russian Army or take over and secure the Ukrainian fortifications moving forward. The Russian army will be increasingly dependent on the mercenary group, and there is a high likelihood of increased cooperation between Wagner and Russian Special Forces and Airborne Forces in Eastern and Southeastern Ukraine.
---
Cite this case study: