Data leak suggests crackdown on anti-war social media posts by Russia's telecom regulator
Roskomnadzor reportedly deleted 150,000 anti-war posts and intends to deploy bot farms to censor anti-war content
Data leak suggests crackdown on anti-war social media posts by Russia's telecom regulator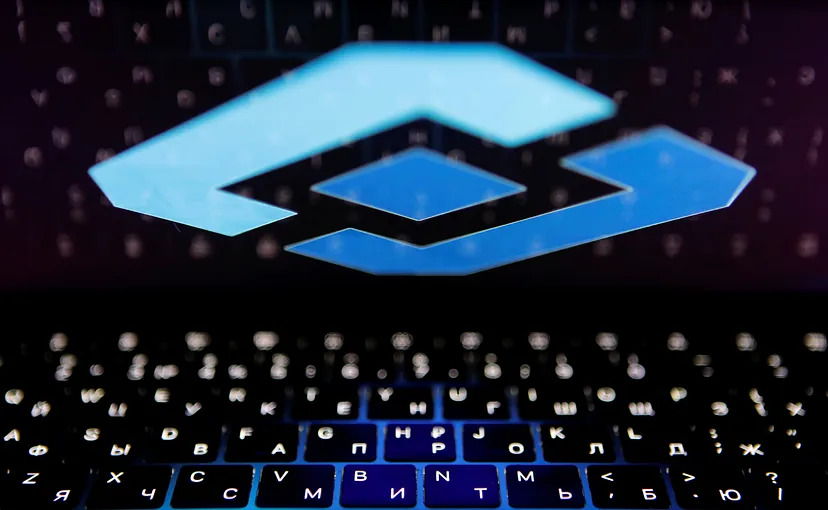 BANNER: Logo of Russian telecom regulator Roskomnadzor reflected on a laptop screen. (Source: Reuters/Maxim Shemetov)
A massive data leak from Russia telecom regulator Roskomnadzor suggests the agency has censored anti-war social media posts and is implementing a bot farm to amplify official Russian narratives. The two-terabyte data archive was retrieved and leaked by the Belarusian activist group Cyberpartisans in November 2022. It was then shared with investigative journalists and Russian media outlets, including Agentsvo, which called its contents the "biggest leak on Russian censorship."
The leaked data, attributed to a Roskomnadzor department called the General Radio Frequency Center (GRFC), contained documents discussing the the deletion of 150,000 social media posts. In the same report, the GRFC claimed to have found 160,000 "fake" posts and 40,000 posts calling for protests against the war. The agency estimated that more than 100 million users of Telegram and Youtube accessed what it referred to as "harmful information."
Some of Ukraine and Belarus' biggest Russian-language Telegram channels were flagged in the archive as "systematically spreading unverified information." Two Telegram channels, "Ищи своих" ("Look for Your") and "Легион Свобода" ("Liberty Legion) were cited as harmful because they posted personal information about Russian soldiers and prisoners.
The archive also contained personal information on journalists working for media outlets considered "foreign agents" and "undesirable organizations" in Russia. According to Agenstvo, Roskomnadzor has blocked access to seventy-two Russian-language media outlets, twenty-three foreign media outlets, and over 630 Ukrainian online resources since the beginning of the war. Leaked GRFC emails also discussed requests to block access to independent media resources Proekt and Open Media.
The archive also mentioned spreadsheets monitoring comments on Youtube, Telegram, and Odnoklassniki criticizing Vladimir Putin's health. The majority of comments in the spreadsheet contained references to the phrase, "Putin has cancer."
The archive also contained spreadsheets monitoring activity surrounding the topic of mobilization. Most of the posts and comments, which numbered around 1,700 in total, were found on Telegram and VK. An additional spreadsheet listed Russian social media accounts blocked as a result of international sanctions. The GRFC was reportedly tasked with contacting the platforms to ask for these accounts to be unblocked.
Other data from the leak also mentioned a plan by Roskomnadzor and GRFC called "Clean Internet," which mobilizes bot farms to amplify official Russian media content. The bot farms in question, which would reportedly launch in May 2023, would be able to "solve simple and complex captcha systems," while also "using the created accounts to fill their feed with content in order to imitate user activity (photos, posts, personal data and others)." According to the documentation, the bot farms would target VK, TikTok, Likee, Kwai, Facebook, Instagram, Telegram, Rutube, Yappy and Twitter.
According to Agenstvo, the bot farms are part of a bigger project, including a platform dedicated to monitoring social media use by Russian users. The project, named "Vepr" after a model of Kalashnikov rifles, is tasked with finding "information tension hotspots." Its system is reportedly designed to find these "hotspots" and determine whether members are breaking the law or spreading false information; it would then relay this information to authorities. Vepr would rely on topical tags, including "false information on war", "financial support to UAF", "use of VPN", "LGBT organizations and NGOs", "independent media" and "insults against the president," to identified the "information tension hotspots."
---
Cite this case study:
Valentin Châtelet, "Data leak suggests crackdown on anti-war social media posts by Russia's telecom regulator," Digital Forensic Research Lab (DFRLab), February 9, 2022, https://dfrlab.org/2023/02/09/data-leak-suggests-crackdown-on-anti-war-social-media-posts-by-russias-telecom-regulator/.