The Kremlin and Georgian Dream spread similar narratives about protests in Georgia
Narratives attempt to discredit protesters, blame the West for public dissent
The Kremlin and Georgian Dream spread similar narratives about protests in Georgia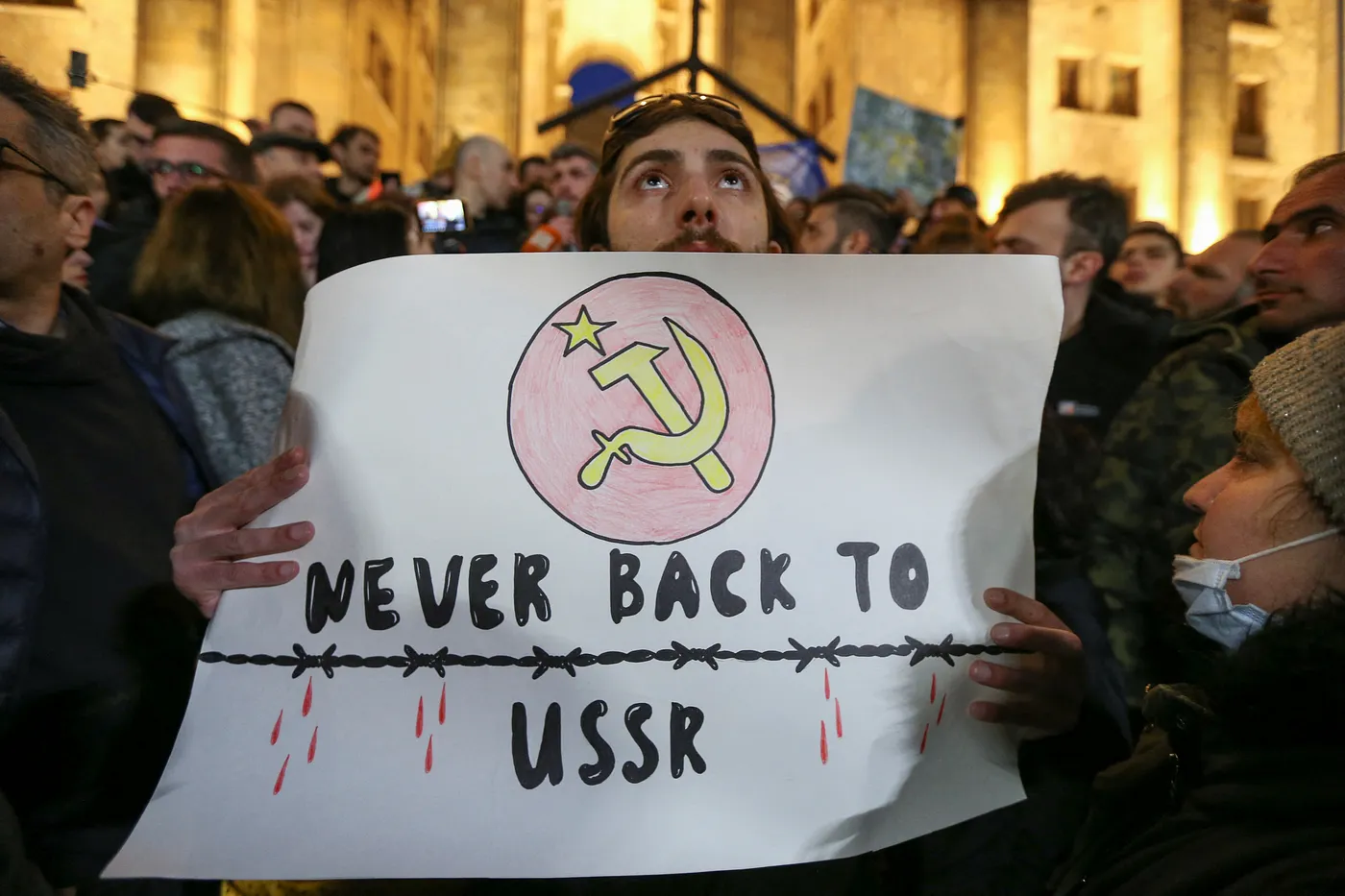 BANNER: Participants protest against a draft law on "foreign agents" during a rally outside the parliament building in Tbilisi, Georgia, March 8, 2023. (Source: Reuters/Irakli Gedenidze)
Anti-Russian, anti-government protests in Georgia forced the country's ruling party, Georgian Dream (GD), to withdraw its bill on "foreign agents," while GD officials attempted to discredit the protests by spreading anti-Western narratives, echoing Kremlin propaganda, including the threat of another Russian invasion and blaming the West for orchestrating the protests.
GD dropped the bill on Friday, after three nights of protests in Tbilisi brought thousands of people to the streets to condemn the legislation. The bill, an almost identical copy of a Russian law, required civil society organizations and media outlets that receive at least 20 percent of their annual funding from abroad to register as "agents of foreign influence." Because of its similarity to the Russian legislation, the Georgian bill was derided locally as the "Russian law." The bill was initiated by the political movement People's Power, a GD offshoot, that espouses anti-Western views.
Despite being widely condemned domestically and internationally, the law passed its first reading on March 7, prompting the protests that escalated to riots after police used water cannons and tear gas against peaceful protesters. The US Embassy in Tbilisi referred to the bill's passage as a "dark day for Georgia's democracy." The European Union High Representative said that the law was incompatible with EU values and standards.
In a statement announcing the withdrawal of the bill on Friday, GD said a "machine of lies was able to present the bill in a negative light and mislead a certain part of the public." The party pledged to "better explain to the public what the bill was for and why it was important" after the "emotional background is diminished."
Since Russia's reinvasion of Ukraine on February 24, 2022, GD members and the GD-led government have parroted Kremlin messaging by promoting an anti-Western narrative that the West is plotting against the country to drag it into a war in Ukraine.
Georgian Dream narratives
Generally, the GD's anti-Western rhetoric intensifies whenever Georgia's Western partners criticize the government for democratic backsliding. GD officials routinely label protests or criticism as orchestrated externally. On March 7, for example, Prime Minister Irakli Gharibashvili labeled protesters as "servants" of foreign countries, referring to the West. On March 10, immediately after GD gave into public pressure and dropped the legislation, GD chairperson Irakli Kobakhidze once again branded protesters as "foreign agents" intent on overthrowing the government. Russian media often pushes narratives about Western governments organizing coups and revolutions to discredit pro-democracy protests worldwide.
Echoing another common Kremlin narrative, Kobakhidze blamed Georgian civil society and nongovernmental organizations for attacking the Orthodox Church and promoting "LGBT propaganda." Accusing the West and civil society of targeting traditions and identity has been a leading theme of pro-Kremlin disinformation targeting Georgia and Eastern European countries for years.
Kobakhidze also lambasted Ukraine's 2014 Revolution of Dignity and Georgia's 2003 Rose Revolution. On March 8, he said that the Rose Revolution, which accelerated the country's democratization and closeness to the West, was, in fact, a "revolution of spies." In the Georgian and Russian languages, certain words like "spy" and "agent" carry a specific negative connotation referring to a person spying against their own country.
Alluding to Russia's invasion of Georgia in 2008, Kobakhidze blamed the Rose Revolution for the loss of 20 percent of Georgian territory. Similarly, he blamed Ukraine's 2014 revolution for bringing the war to Ukraine and losing Crimea and the Donbas Oblast to Russia. Putting the blame on countries invaded by Russia is a common Kremlin tactic to shift focus and responsibility away from Russia's culpability.
Russian Narratives
The protests in Georgia caused widespread reaction in Russia. Kremlin officials, as well as traditional and online media, commented on the demonstrations en masse, spreading false and misleading narratives similar to the ones spread by GD officials.
The official Twitter account of Russia's MFA in Crimea compared the protests in Georgia to the 2014 protests in Ukraine, which led to the country's pro-Russian government being run out of Ukraine. The tweet also threatened Tbilisi with re-invasion, warning Georgians, "We recommend to the georgian people to recall a similar situation in Ukraine🇺🇦 in 2014 and what it finally led to! #ThinkTwice" Georgia has been a target of Kremlin influence operations ever since the Russian invasion of 2008.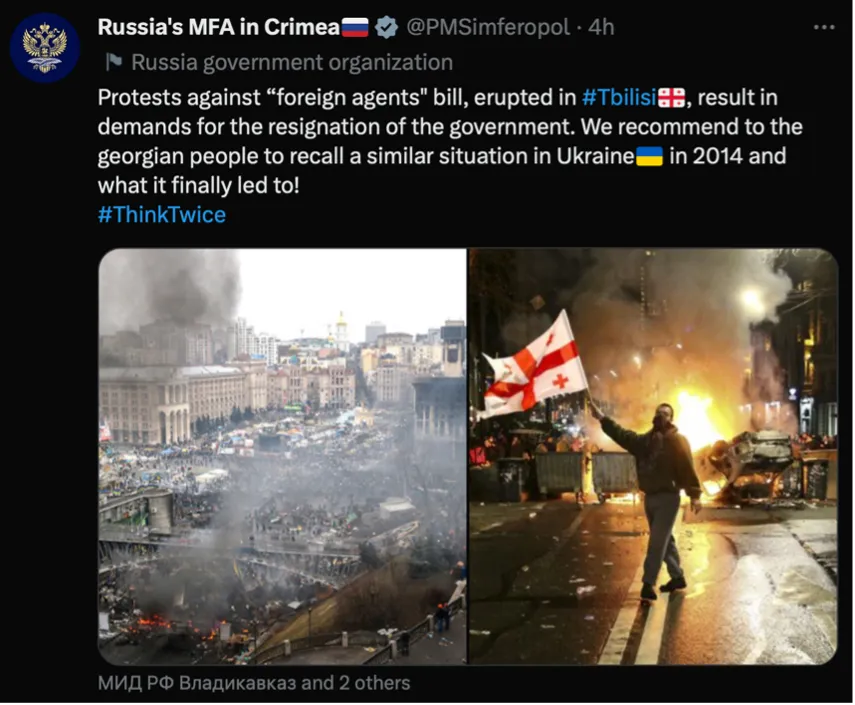 In a statement, Russian Minister of Foreign Affairs Sergey Lavrov also compared the recent Georgian protests to Ukraine in 2014 and called the latest demonstrations "attempted violent change of power" that "are, of course, being orchestrated from abroad." Putin spokesman Dmitry Peskov, meanwhile, denied any links between the GD-backed foreign agents bill and its Russian equivalent. He also stated, "[I]t is important for Russia that there is calm on the perimeter of the border." Concurrently, the Ministry of Economic Development of Russia "advised" Russian citizens to refrain from traveling to Georgia.
In a Telegram post, Margarita Simonyan, editor-in-chief of Kremlin-operated propaganda outlets RT and Sputnik, falsely claimed that the Georgian protests are "needed solely to open a second front" for Russia. She added that, in the event that Russia repeats its 2008 invasion of Georgia, Moscow "will not sent troops there, but will simply shy away [slang for "bomb"] Tbilisi, without particular discernment."
The Georgian protests were one of the main topics discussed in Kremlin-owned traditional broadcasters and online outlets. Footage from television programs on Russian state-owned broadcasters spreading Kremlin narratives about the protests surfaced online. On the television show "60 minutes," one Kremlin pundit stated, "Georgians will never live as prosperous a life as they used to during the Soviet Union." They recommended Georgian society to draw lessons from Ukraine and see what "aggressive, Nazi politics" would result in. Kremlin commentators added that it was the right decision for Georgia to avoid being dragged into Russia's war against Ukraine. On Russia's "Channel One," pundits expressed their dissatisfaction over the GD's decision to withdraw the law. They threatened the Georgian Dream-led government by paraphrasing Winston Churchill's reported rebuke of Neville Chamberlain: "Georgia's ruling party chose dishonor, therefore they will have war."
---
Cite this case study:
Eto Buziashvili and Sopo Gelava, "The Kremlin and Georgian Dream spread similar narratives about protests in Georgia," Digital Forensic Research Lab (DFRLab), March 10, 2023, https://dfrlab.org/2023/03/10/the-kremlin-and-georgian-dream-spread-similar-narratives-about-protests-in-georgia/.