Why Wagner's "Telegram mutiny" remains a dilemma for the Kremlin
Hugely popular in Russia, Telegram has mostly avoided Kremlin internet restrictions – for now
Why Wagner's "Telegram mutiny" remains a dilemma for the Kremlin
Share this story
THE FOCUS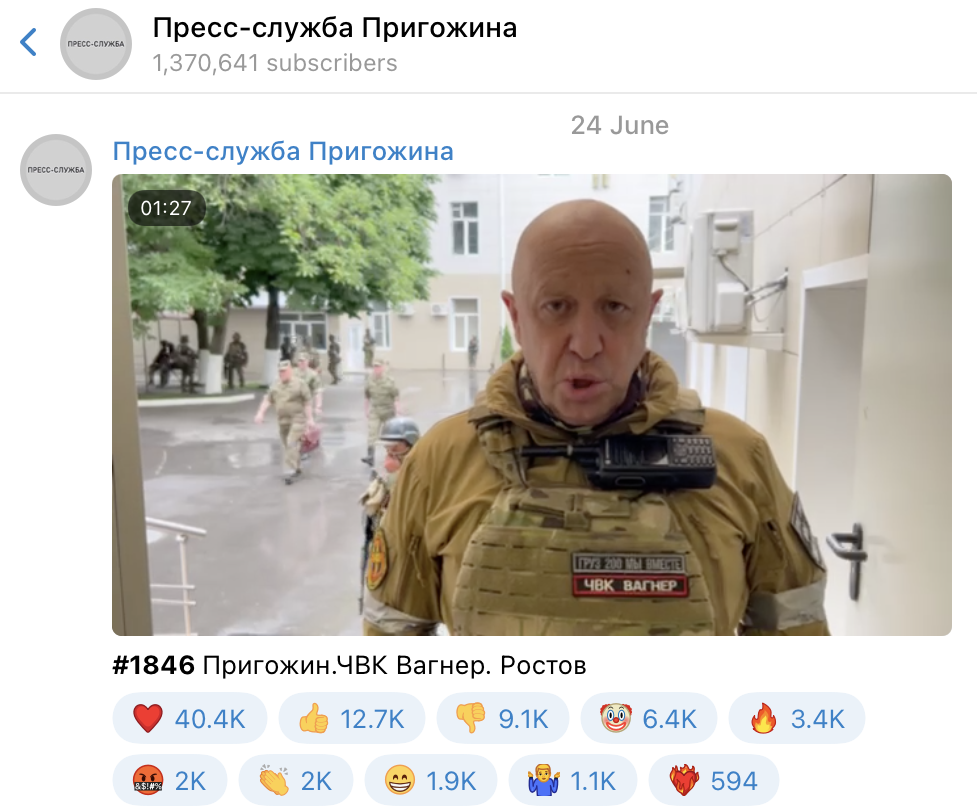 Banner: Yevgeny Prigozhin's Telegram channel serves as his primary tool for communicating to the world during his June 2023 mutiny attempt. (Source: Prigozhin Press Service/archive)
As Wagner Group financier Yevgeny Prigozhin used Telegram to promote his 36-hour mutiny across domestic and global audiences, the Kremlin struggled to limit the platform's impact. Russia's ongoing crackdown against Western online platforms has solidified Telegram's position as the go-to platform for Russian speakers since the February 2022 invasion of Ukraine; this was reaffirmed by Telegram's central role as both a propaganda and information-gathering tool throughout the mutiny. The messaging app has become a chronic dilemma for the Kremlin, serving as a vital tool for propagating Russian disinformation over the years, while simultaneously becoming a hotbed for Wagner support and criticism of the Kremlin.
How Telegram works
Telegram is a cloud-based messaging app designed to support both user privacy and public engagement, built around a hands-off content policy. Telegram is the fourth most popular messaging app worldwide, with 700 million users in 2022. It is surpassed only by WhatsApp (over 2 billion users worldwide), Facebook Messenger (over 1.3 billion users), and WeChat (also over 1.3 billion users, primarily in China and the Chinese diaspora). Initially developed in Russia, Telegram has become popular across the former Soviet Union, Eastern Europe, and other parts of the globe
Nikolai and Pavel Durov launched Telegram in 2013. The Durov brothers had previously developed the Russian social network VKontakte (VK), which is now owned by the Russian state bank Gazprombank. Previously based in Saint Petersburg, Telegram's operational headquarters is currently located in Dubai. The operational relocation occurred alongside the Durov brothers' expatriation, after a highly publicized conflict with the Kremlin over requests for backdoor access to user data in 2018. Russia banned the app at that time, then lifted the ban in 2020. Telegram quickly regained its popularity in Russia.
Like Facebook, Youtube and other social media platforms, Telegram channels are publicly accessible. Telegram allows channel owners to "broadcast" messages to an unlimited number of subscribers and live-stream to up to 200,000 participants simultaneously. Users simply need to register a username to join channels and engage with the content. In this regard, Telegram is very different from other messaging apps. Telegram's public channels offer large group sizes, ample reach, and many features for reacting to content. Thus, these public channels are well-suited for news distribution. The platform's features support multiple media formats, embedding videos, sharing external links, quoting and forwarding content from other channels, allowing comments and reactions, and live-streaming.
Some attributes of public Telegram channels may exacerbate the spread of disinformation. These include their extremely large group size, lack of identity verification for channel administrators, and the ability to easily forward and quote content from other channels. Public channels are stored in Telegram cloud servers to allow synchronization across devices; these cloud servers are located in different countries worldwide.
Telegram is a permissive messaging app in terms of what it considers to be acceptable content. Telegram only prohibits sending spam or scamming other users, promoting violence on public Telegram channels or bots, and posting illegal pornographic content on public Telegram channels or bots. Telegram usually resists takedown requests from governments. For example, a Kremlin request to take down the Prigozhin Press Service channel would have been likely refused or ignored, since Telegram does not moderate political content. Takedowns and other restrictions are not entirely unprecedented, however. In March 2022, Telegram struck a compromise with Brazil's Superior Electoral Court over monitoring electoral misinformation after a legal ban threat and months of Telegram avoiding acknowledging the request. And in November 2015, after the Paris terrorist attacks, Telegram enforced an ad-hoc policy banning Islamic State of Iraq and al-Sham (ISIS) channels. Over the weekend of June 23, the Kremlin could have attempted a takedown request under the grounds of terrorism, but officially designating Wagner Group as a terrorist organization would have posed a whole new set of political challenges for Russia.
How Russians use Telegram
Telegram emerged as an important information battlefield during Russia's February 2022 invasion of Ukraine. Following the start of the war, the Kremlin blocked and banned Western online outlets as well as several social media platforms, a move that likely played a direct role in increasing Telegram's Russian audience. In June 2022, the Wall Street Journal reported that nearly a quarter of Russia's population used Telegram. Later that summer, Forbes.ru reported a sharp increase in Russian Telegram usage in conjunction with decreases on Facebook and Instagram.
Russian interest in Telegram continues to remain high. As was the case in 2022, Russia ranks first place among countries sending traffic to Telegram's website. Throughout this period, Russia continued to advance its domestic censorship capabilities, though without directly targeting Telegram.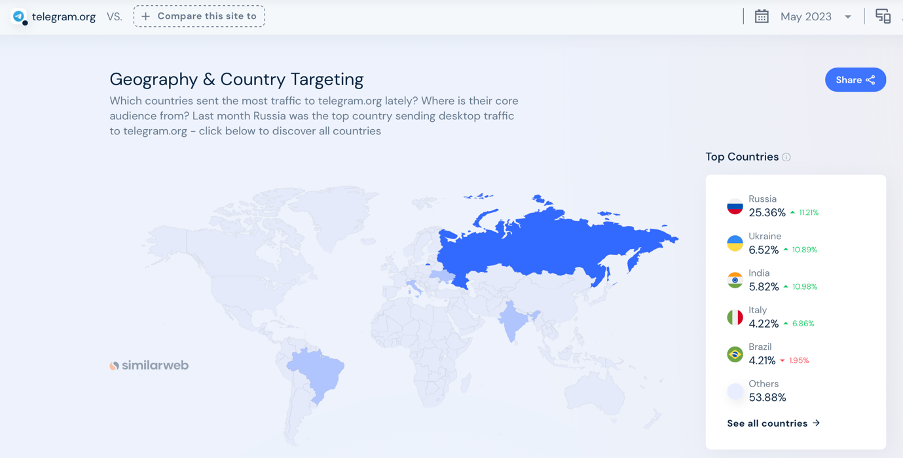 In 2022, DFRLab research found that nine of the ten most popular political Telegram channels in Russia spread Kremlin pro-war narratives. The DFRLab has also covered how Russia has used Telegram to target various audiences in their respective languages around the globe. Even though the Kremlin and its proxies have used Telegram to spread narratives about the war in Ukraine, the official narrative has increasingly been challenged by Russian pro-war military bloggers critical of the Kremlin's handling of the invasion who have emerged as a highly influential and popular community on the platform.
This community of military bloggers includes those with ties to Russian state media, current and former Kremlin officials and security officers, and individuals affiliated with Wagner. While initially supportive of Kremlin war efforts, in the second half of 2022, military bloggers started to criticize Russia's Ministry of Defense and even President Vladimir Putin himself for mishandling the war. The DFRLab has covered how criticism has increased in both scale and boldness regarding topics such as military failures and incompetence, Putin's Orthodox Christmas ceasefire, the handling of recent incursions into Belgorod, and rejoining the Ukraine grain deal, among others.
The "Telegram mutiny"
Over the course of June 23 and 24, 2023, Yevgeny Prigozhin used Telegram to effectively declare war against the Russian Ministry of Defense, publicly communicating his actions and goals throughout the mutiny. As Prigozhin continued posting on Telegram, the Kremlin attempted to limit information related to him and Wagner. The attempt included blocking of content on Russian social network VKontakte (VK) and search engine Yandex.
Separately, TASS reported on alleged Telegram disruptions in several Russian cities. Russian internet regulator Roskomnadzor notified the public that it possessed the authority to enact internet restrictions in locations where counter-terrorist operations might take place.
The regulator also stated that it had not placed restrictions on Telegram. This claim was endorsed by the War on Fakes Telegram channel, a fake fact-checking platform that Russia has used in its disinformation arsenal since the start of the war. War on Fakes claimed that information about Roskomnadzor limiting Telegram was spread by "opposition Telegram channels" and that any technical errors experienced by platform users were in the process of being resolved. In a separate post, the channel reiterated its claim: "Fake: Roskomnadzor began to restrict the work of Telegram. Truth: The problems are related to the technical glitches of the messenger."
According to data from the Open Observatory of Network Interference (OONI), Telegram functioned the majority of the time between June 23 and June 25, but anomalies within the data suggested possible attempts to disrupt Telegram's mobile app and web interface. That weekend, OONI registered two Telegram access anomalies on June 23, three on June 24, and five on June 25, which were detected within the internet service providers Penzenskaya Telephonnaya (AS47618) and PJSC MegaFon (AS20632). Other messaging apps also presented anomalies during the hours of the mutiny. On June 24, 2023 at 9:17pm UTC, WhatsApp's web interface showed signs of blocking on PJSC MegaFon (AS31163) and SFT Company LLC (AS25530). Later at 11:39pm UTC, the Signal app experienced anomalies on Baxet (AS49392). These anomalies may suggest attempts to restrict access, but false positives can also occur.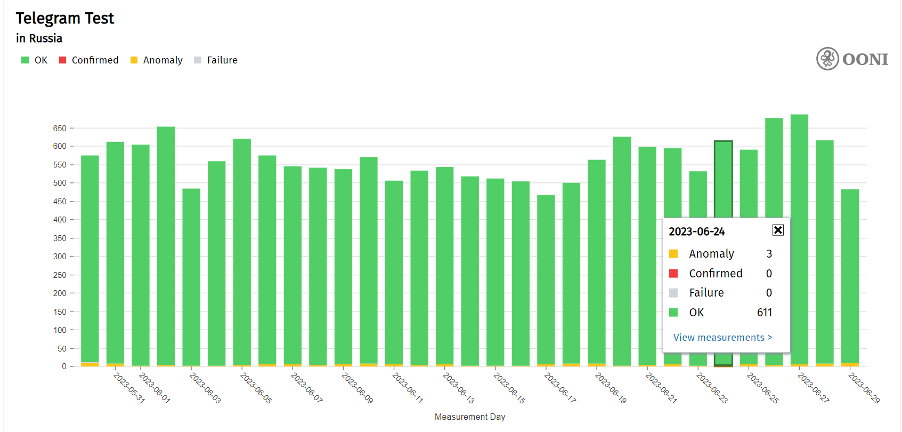 In light of Russia's information vacuum and inconsistent messaging from official Kremlin sources during the revolt, Telegram once again proved to be Russian audiences' primary platform for tracking developments inside Russia. Military blogger channels, which had already gained enormous popularity prior to the mutiny, were among the most quoted sources on Russian on social and tradition media.
As the mutiny progressed, Telegram served as ground zero for engaging with Prigozhin's statements and tracking Wagner activity. In contrast, Prigozhin's primary page on VK experienced multiple content restrictions until it was eventually blocked by internet regulator Roskomnadzor.

As Russia continues to tighten control on its domestic online information space, Telegram remains a platform largely out of the Kremlin's reach. Given how the Wagner mutiny that endangered Kremlin stability unfolded on the messaging platform, it remains to be seen how the regime will ultimately respond to its ongoing Telegram dilemma.
---
Cite this case study:
Eto Buziashvili and Iria Puyosa, "Why Wagner's 'Telegram mutiny' remains a dilemma for the Kremlin," Digital Forensic Research Lab (DFRLab), June 29, 2023, https://dfrlab.org/2023/06/29/why-wagners-telegram-mutiny-remains-a-dilemma-for-the-kremlin.